Your Mail-in Vote Will Be Rejected If It Has Any of These Errors
Election Day is coming up on November 3, and more Americans than ever may opt to vote by mail due to the coronavirus pandemic.
According to the Election Assistance Commission's 2016 presidential election report, "Nationally, by-mail voting constituted 23.7 percent of all votes cast in the 2016 election. Approximately 80.1 percent of absentee ballots that were transmitted to voters were returned and processed, with 1.4 percent of transmitted ballots returned as undeliverable and 2 percent reported as spoiled (e.g., the voter returned the ballot and asked for a replacement).
"Ninety-nine percent of absentee ballots categorized as 'returned and submitted for counting' were ultimately counted in the 2016 election. The most common reasons for rejection in 2016 were missing the deadline, the signature on the ballot not matching the signature on the state's records, and the ballot not having a signature."
How to make sure your mail-in vote is counted
Absentee voting rules vary by state, but restrictions may be altered or lifted due to the coronavirus pandemic.
For example, some states typically require an excuse for voting by mail, (such as being unable to get to your polling place due to illness, injury, or disability, being on business travel or vacation outside of your county of residence on Election Day, or being a student at an out-of-state college or university), but due to the coronavirus, some states are giving all voters an excuse to vote by mail for certain elections.
Also due to the coronavirus, some states may automatically send out absentee ballots or forms to request one.
If you are planning to vote by mail in the 2020 election, make sure your vote counts by avoiding these common mistakes, according to "The Election Administration and Voting Survey, 2016 Comprehensive Report."
Most Common Reasons Mail-In Votes Were Rejected
Non-matching signature (27.5 percent)
Ballot not received on time/missed deadline (23.1 percent)
No voter signature (20 percent)
"Other" reason given (14.8 percent)
Uncategorized (5.7 percent)
No witness signature (3 percent)
Problem with return materials e.g., ballot missing from the envelope (1.9 percent)
Voter deceased (1.5 percent)
Voter voted in person (1.3 percent)
First-time voter without proper identification (1.1 percent)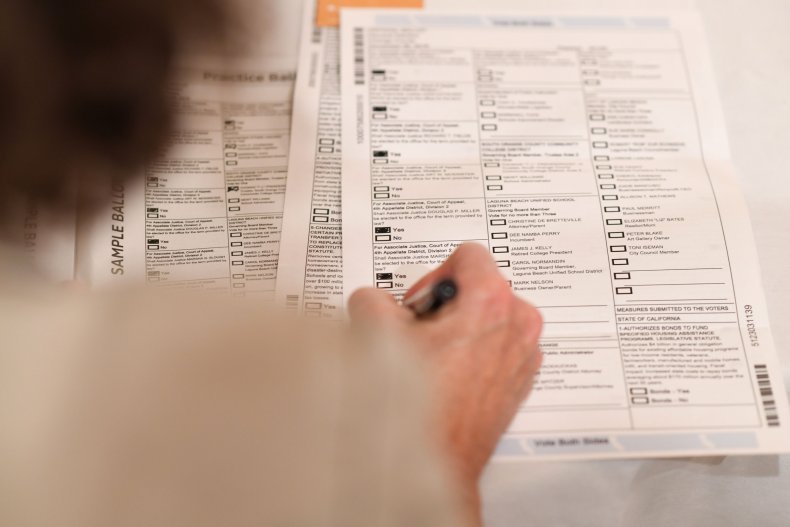 A non-matching signature or no voter signature
More than a quarter of the rejected mail-in votes did not count because the signature did not match, and a fifth of the rejected mail-in votes was rejected as they did not have a voter's signature.
Make sure your vote is counted by signing your absentee ballot and making sure your signature matches the one held by the state.
Ballot not received on time/missed the deadline
Nearly a quarter of mail-in votes were not counted as they were received beyond the deadline. Deadlines to submit your absentee ballot vary by state, so check with your state far ahead of the election to ensure that you have enough time to send in your ballot.
Additionally, due to delays caused by the pandemic as well as changes made by new Postmaster General Louis DeJoy, the U.S. Postal Service (USPS) has warned that nearly every state may not have their mail-in ballots delivered in time.
Make sure to post your ballot as early as possible, and if you think you may miss the deadline, check with your state for guidelines around voting in person by exchanging an unfilled ballot.
No witness signature
Some states, such as Alaska, Louisiana, North Carolina, South Carolina, Virginia, and Wisconsin require witness signatures, though Minnesota and Rhode Island dropped this requirement due to the pandemic.
Check with your state ahead of time to see whether you will need a witness signature on your absentee ballot.
Problem with return materials
A problem with the return materials was the reason for 1.9 percent of the rejected 2016 ballots not being counted. A "problem with return envelope" could mean that the envelope was returned but was missing the ballot or that multiple ballots were returned in one envelope.
Before posting your ballot, ensure that the ballot, and only one ballot, is in the return envelope.
"Other" reasons
Nearly 15 percent of the votes not counted were for "other" reasons, which could mean the ballot was not properly notarized.
For example, according to CBS, Mississippi, Missouri, and Oklahoma require the envelope to be signed by a public notary, while Alabama requires a copy of the voter's ID, and either a notary or signatures from two witnesses over the age of 18. North Carolina requires that ballots are signed by either two witnesses over the age of 18 or by a public notary.
Another reason that the vote could get rejected could be that the voter had already cast an absentee ballot, or there was incomplete information on the ballot envelope.
Be sure to follow the instructions on your absentee ballot and contact your state if you have any questions about mail-in voting.