Internet Slams Millionaire YouTubers ACE Family After Self-Congratulatory Fast Food Shift
In their latest video, the ACE Family treated their nearly 18 million subscribers to a working shift at Crave Cafe in Los Angeles, but the wealthy couple's self-congratulatory approach to restaurant work quickly drew scorn on social media.
The ACE family is former NCAA basketball player Austin McBroom, fiancée Catherine Paiz (their on-again, off-again wedding has been fodder for several videos) and their daughters. While their channel, begun in 2016, initially focused on "pranks," the ACE Family has become more of an aspirational family lifestyle channel, with videos showcasing their multi-million-dollar wealth.
In a video titled "WORKING AT A RESTAURANT FOR 24 HOURS," McBroom and Paiz announced their intention to experience a workday at a restaurant owned by a friend.
"Austin and I thought it would be a cool idea if we would work at a restaurant for the day," Paiz says, describing the video's genesis.
"I never got the opportunity to work a 9 to 5, because after college we started creating videos," McBroom added.
While a half-hour video of their working day at the cafe was uploaded to The ACE Family YouTube channel on Tuesday, it was a Snapchat post from Paiz that went viral on Twitter, attracting ire from audiences less familiar with ACE family antics.
"Guys, we are literally working right now, at a restaurant. Austin has been making food for the past hour and I've been taking orders," Paiz says in the Snapchat video. "Do you understand how cool that is?"
"I've never experienced being working class before so it's really cool to cosplay as one for a day just to see how much it f--king sucks and then go back home to my multi-million dollar estate and pay people to rub my feet," wrote makeup artist Mia Freda, who posted Paiz's Snapchat, wrote on Twitter, characterizing what many have seen as the video's underlying message.
Her post of the Paiz's Snapchat garnered more than 300,000 likes, attracting responses to the out-of-touch message from Chrissy Teigen and other popular accounts.
"Imagine being so disconnected from reality that you get this excited about pretending to work at a restaurant for two hours," YouTuber Drew Gooden tweeted.
The reaction among their own viewers was similar, with YouTube commenters mocking the couple for their detachment from working-class realities.
"Me: working mostly the whole day, trying to survive to feed myself and struggling to pay rent. The aces: lol guys we're working can't you believe that lol," one comment read.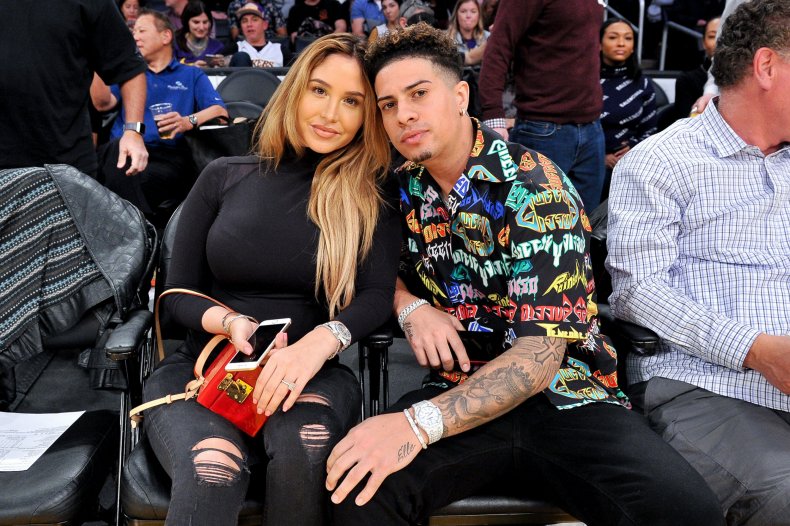 McBroom responded on Twitter, essentially describing the critics as jealous, adding in a subsequent tweet, "I will always live my life how I want no matter what people think. For the people who support us, I will love y'all till end. And for the people who don't support us but still watch us, y'all need a hug."
While leaning heavily into family values, McBroom has been criticized for social media posts about the various qualities of "black chicks," complaints about "females morals these days" [sic], and even "sexualizing a little kid," as one commenter described a Snapchat post in which McBroom bought a phallic lollipop for a young girl.
By the end of their restaurant shift, word had spread and the line to see the Paiz work the register stretched out the door.