ACLU Backing Trump's Reinstatement to Facebook Sparks Debate
Social media users debated online about whether reinstating the Facebook and Instagram accounts of former President Donald Trump is a good decision after the nonprofit American Civil Liberties Union (ACLU) on Wednesday welcomed Meta's decision to end the two-year suspension of Trump's accounts.
Meta on Wednesday announced that it will reinstate Trump's accounts within the "coming weeks" after he lost his accounts following January 6, 2021, when his supporters stormed the Capitol.
"This is the right call. Like it or not, President Trump is one of the country's leading political figures and the public has a strong interest in hearing his speech," the ACLU tweeted in response to the announcement.
However, the nonprofit organization came under fire from some Twitter users for backing this decision, including British broadcaster Anthony Davis, who pointed out the difference between hate and free speech.
"#ACLU just lost all credibility for not being able to distinguish the difference between free speech and hate speech. I personally blame Merrick Garland. Trump should have been indicted 2 years ago. #Fascism," he said.
But conservative commentator and ACT for America founder Brigitte Gabriel agreed with the ACLU's remark, commenting, "Correct."
Meanwhile, culture writer Jill Krajewski tweeted: "'free speech for fascists ❤️' what are you on @ACLU."
Another Twitter user criticized the ACLU's comment, saying, "Using a private platform for hate and to incite an overthrow of the government has nothing to do with free speech."
"Two things can be true at once: Allowing a 'leading political figure' like Trump back on big social media may be the 'right call' in terms of speech, as @ACLU puts it. But make no mistake: It will also result in Trump stirring up more political violence," tweeted Mark Follman, author of Trigger Points: Inside the Mission to Stop Mass Shootings in America.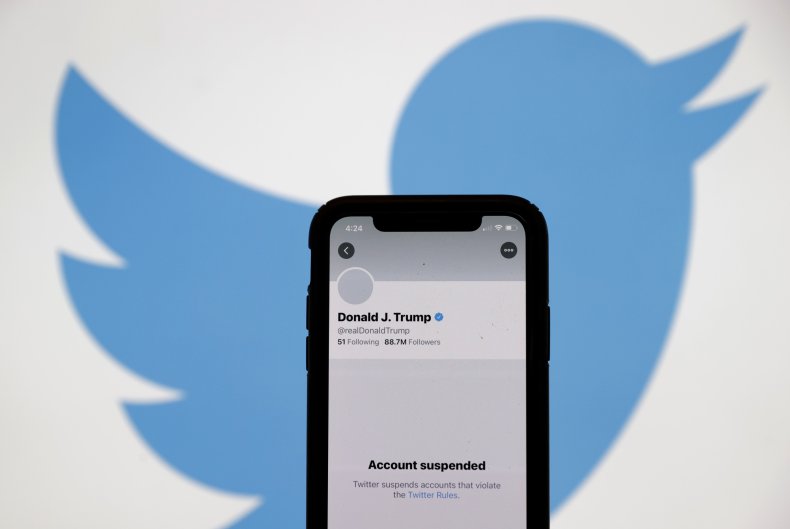 Meanwhile, author Brandon Bird said, "Hey ACLU, quick question: do you think Trump's term was a net positive or negative for people's civil rights?"
"The ACLU, aka America's 'guardian of liberty,' is just fine with Trump's Facebook return," tweeted Tara Dublin, a contributor to Occupy Democrats.
In a statement emailed to Newsweek, Anthony D. Romero, the ACLU's executive director, insisted that the public has a "strong" interest in hearing Trump.
"Indeed, some of Trump's most offensive social media posts ended up being critical evidence in lawsuits filed against him and his administration. And we should know—we filed over 400 legal actions against him. While the government cannot force platforms to carry certain speech, that doesn't mean the largest platforms should engage in political censorship," Romero said.
"The biggest social media companies are central actors when it comes to our collective ability to speak—and hear the speech of others—online. They should err on the side of allowing a wide range of political speech, even when it offends," he added.
On Wednesday, Meta said that Trump's accounts will be reinstated "with new guardrails in place to deter repeat offenses."
"Like any other Facebook or Instagram user, Mr. Trump is subject to our Community Standards. In light of his violations, he now also faces heightened penalties for repeat offenses—penalties which will apply to other public figures whose accounts are reinstated from suspensions related to civil unrest under our updated protocol.
"In the event that Mr. Trump posts further violating content, the content will be removed and he will be suspended for between one month and two years, depending on the severity of the violation," Meta said in a statement.
Still, Trump lashed out at Meta's announcement by reiterating similar claims he made this month in which he said the social media giant had "lost Billions of Dollars in value since 'deplatforming' your favorite President, me."
"Such a thing should never again happen to a sitting President, or anybody else who is not deserving of retribution!" Trump wrote in response to Meta's announcement. "THANK YOU TO TRUTH SOCIAL FOR DOING SUCH AN INCREDIBLE JOB. YOUR GROWTH IS OUTSTANDING, AND FUTURE UNLIMITED!!!"
Meanwhile, Trump's Twitter account has been reinstated after American billionaire Elon Musk became the platform's CEO.
Newsweek reached out to the media offices representing Trump and to the ACLU for comment.
Update 1/26/23, 2:55 p.m. ET: This story has been updated to include emailed comments from ACLU's Executive Director Anthony D. Romero.