Action Bronson Cut From University Concert: Another Free Speech Violation?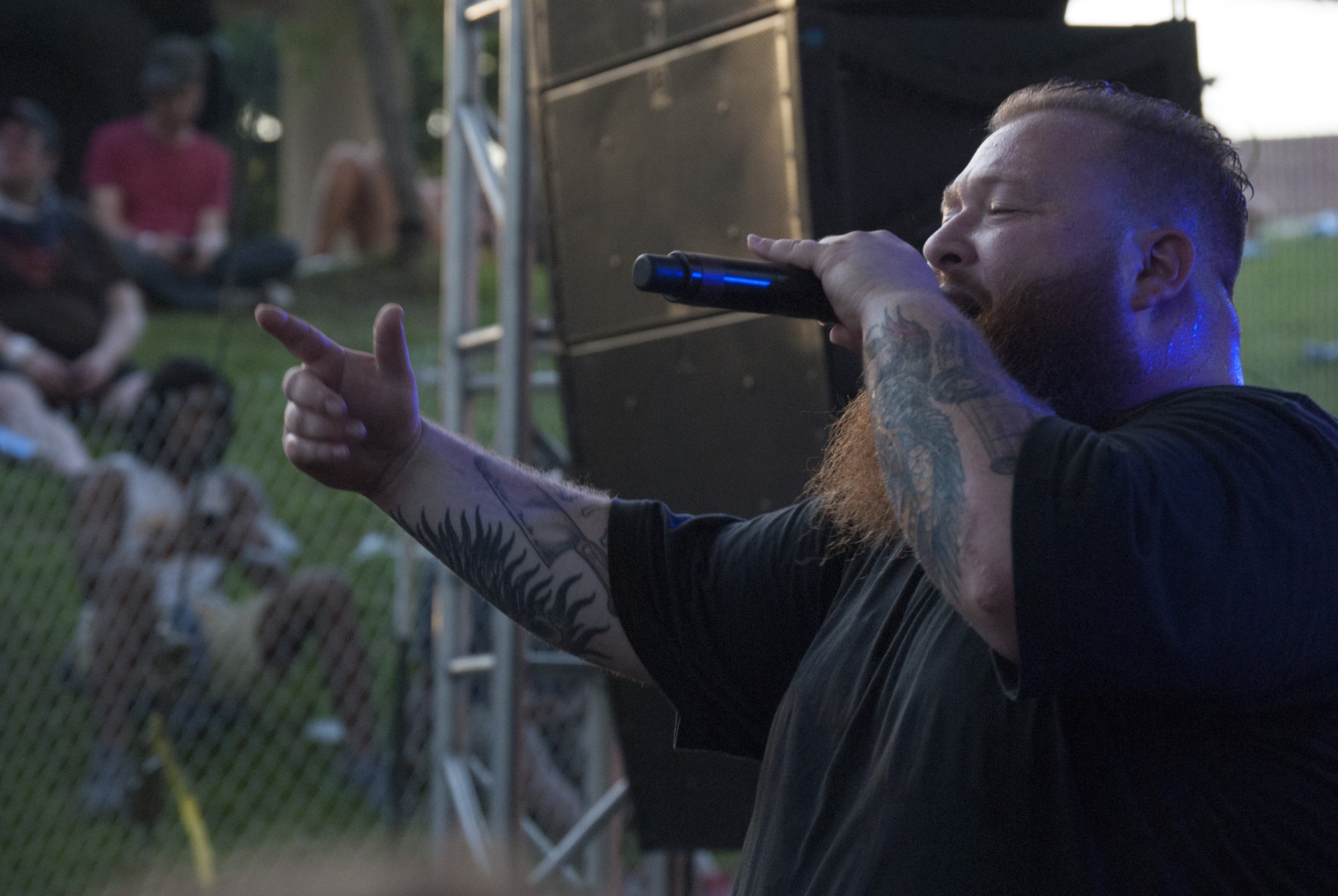 In what is being called another attack on free speech at American colleges by campus liberals, a student-run programming board at George Washington University (GW) has responded to student outcry by removing a controversial rapper, who some say is transphobic and promotes rape, from an upcoming concert lineup.
Action Bronson was hired to headline GW's annual Spring Fling, which is set for Saturday at the school's Washington, D.C., campus. But on Thursday, the student-run GW Program Board announced it had cut the rapper from the event lineup.
"We apologize to the GW community for causing distress over the past few days and for attempting to bring an artist who is not consistent with our values of diversity and inclusion," the Program Board said in a statement. "Spring Fling is intended to be an event for all students to enjoy, and including Action Bronson in the day would go against this."
The controversy began after the Program Board announced on March 25 that Action Bronson, a rapper from Queens, New York, who also has a series on the TV channel Viceland, would headline the concert. Three days later, Emily Milakovic launched a petition, saying, "His music promotes rape, his videos promote violence against women, and his social media promotes violence against the trans community. He is violently transphobic and misogynistic."
Milakovic, a GW freshman, tells Newsweek, "After looking into Action Bronson, not just his music but his history in general, I felt very strongly, as did other people I talked to, that he's not the kind of performer our Program Board should be using our funds to hire." Milakovic's petition especially takes issue with Bronson's 2011 song "Consensual Rape" and a music video that depicts violence against women.
The Program Board at first said earlier this week that it was "aware of the criticism surrounding Action Bronson" and that it had "received assurances from Mr. Bronson's team that ["Consensual Rape"] will not be performed at Spring Fling."
But Milakovic says that song wasn't the only problem and points to comments he has made about women and the transgender community. ("I love Gay People. Trannies not so much," he once posted on Twitter.) "Regardless of whether he sang that particular song, he still had promoted rape culture in the past," she says.
The petition gained 349 supporters, and an opinion article in the student newspaper also criticized the Program Board's decision to hire the performer.
But not all students supported the calls to remove Action Bronson or agree with the Program Board's ultimate decision. A separate petition to "reinstate" the performer has 691 supporters as of Friday afternoon.
"They are just offended by the slightest thing. They'll voice their opinions loud enough so that it gets played that way," says Kathleen Corrigan, a GW freshman who commented online about the controversy. She says she is a Republican and holds conservative political views, which she says has made her experience on GW's campus challenging. Corrigan even has plans to transfer out of GW next semester, a decision she says largely had to do with the political climate at the school.
"They advertise to be a really open and welcoming community, which I think is great. I think they are really open and welcoming to the gay community, the transgender community," Corrigan says. "However, I don't find it to be a welcoming place towards people who are conservative. I think it's really unfair to our minority."
Corrigan adds that classmates have made fun of her and criticized her for her political beliefs. "It's hard to be happy in a place where I don't feel comfortable voicing my views and I have to hide the fact that I'm Republican from those I don't know, because I feel that I will be judged and labeled if I do voice that."
She isn't alone in thinking students on the political left are unfairly demanding that universities suppress free speech. Last week, Emory University made headlines and was mocked by many when students protested after "Trump 2016" and similar messages appeared in chalk around campus and the university president condemned the chalkings. However, students there told Newsweek that those protests were part of a larger issue of race relations at Emory.
Though it appears that revoking an invitation for a musician to perform is rare, many colleges and universities have disinvited speakers or attempted to do so after student protest, often for political reasons. The Foundation for Individual Rights in Education keeps a database of such "disinvitation attempts," listing 286 since 2000. Recently, for example, Cornel West was disinvited from appearing at UCLA over his views of the Israeli-Palestine conflict, while Rudolph Giuliani was disinvited from appearing at St. John Fischer College over what FIRE calls "racial issues, other political views or positions."
Robert Shibley, executive director of FIRE, says that because it was students at GW who petitioned and decided to remove Action Bronson, the incident isn't as concerning as cases in which the university steps in to suppress speech.
"It doesn't have the same aspect of censorship as it does when an outside authority says, 'This expression that you students have arranged to have on campus is not acceptable,'" he says.
Seth Gold, a GW senior who is on the Program Board, says that while the board spoke with the university administration about the controversy, it was ultimately the board's decision. The annual concert "is always meant to be a welcoming and fun event for all students, and we just felt going forward that Action Bronson wasn't conducive to that," he says.
Speaking of those who have contacted her and expressed opposition to her petition, Milakovic says that "predominantly they've been privileged white men…. It's coming from people who haven't experienced violence as a woman or sexual assault or had the experience as a trans person."
After the Program Board announced its decision to remove Action Bronson, the performer published an open letter to students. He said his song "Consensual Rape" was "never meant to represent who I am, but rather to depict a story." He continued, "The songs I make aren't any different than a director creating a movie, or an author writing a book, meaning they contain scenes or things happen in them that aren't meant to be anything but an artistic expression." He said he has never performed that song in concert.
Bronson also apologized if the song had caused pain. "I think rape and acts of violence toward woman [sic] are DISGUSTING. I would never condone anything remotely close to that type of behavior, and it's certainly not what I'm about at all."
He also addressed social media posts from 2012 in which he posted a photo of a person whom he called a "drunk Mexican tranny" and wrote, "If u DONT wanna get pissed on spit on and put on Instagram DONT GET DRUNK TO THE POINT U CANT STAND OR TALK." He said in the open letter, "I have sat with members of the LGBT community recently in an effort to understand how to avoid being hurtful and insensitive towards these issues moving forward. I have never had any issues with anyone's sexual orientation or gender transitioning."
Last year, a petition to stop an Action Bronson concert in Toronto, which claimed the rapper "glorifies gang-raping and murdering women," reached more than 44,000 supporters.
GW also issued a statement about the incident. "The university is committed to fostering a diverse, inclusive environment for all members of the GW community, and we encourage student organizations to plan events that are based on our core values and input from their peers. We will continue to work closely with the student-run Program Board to support a successful Spring Fling this year and in the future."
Gold says he cannot comment on contract details or whether Action Bronson will still receive payment.
The act Goldlink, originally slated to open for Action Bronson, will now headline the concert. A student DJ called Lean Quatifah will also perform, as originally planned. Past performers have included Diplo, MØ and Childish Gambino.