Active Shooter Prompts Hospital Lockdown, Manhunt as Victim Shot: Police
An active shooter situation prompted the lockdown of a hospital in North Carolina on Sunday night as officials reported one person was injured in a targeted shooting.
Law enforcement officials responded to an active shooter call at 8:17 p.m. at Wayne UNC Hospital in Goldsboro, Public Affairs Director Joel Gillie with Wayne County told Newsweek in an email.
"The hospital was placed on lockdown, and one victim was located with a non-life-threatening gunshot wound," he said.
Gillie described the shooting as "domestic in nature" and said the "suspect fled the scene after the shooting."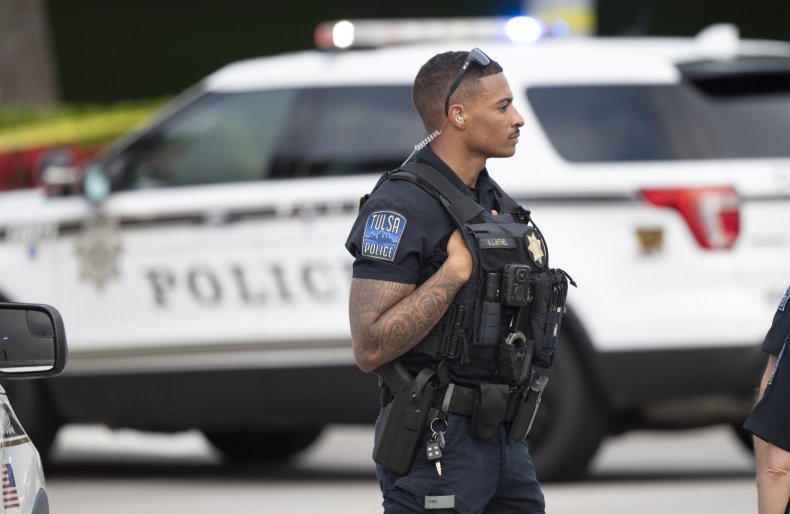 "The suspect's identity is known, and law enforcement is working to apprehend the suspect," Gillie said. "The incident is still under investigation, and no further details are available at this time. Additional updates will be provided as available."
Goldsboro Police Department and the Wayne County Sheriff's Office are investigating.
A UNC Health official said the shooting victim was a "non-employee visitor inside of Wayne UNC hospital."
"At this early point in the investigation, details remain unclear," Phil Bridges, UNC Health's executive director, integrated communications, told Newsweek in an email. "We can share that the hospital went into lockdown immediately after the shooting. The perpetrator fled the building and the hospital was swept floor-by-floor by a local SWAT team. Following the security sweep, the hospital re-opened."
The lockdown ended at 9:10 p.m.
Newsweek reached out to law enforcement officials for additional information.
Sunday's incident followed recent tragedies at other hospitals.
On Wednesday in Tulsa, Oklahoma, at St. Francis Hospital, a mass shooting left five people dead, including shooter Michael Louis, according to police.
Tulsa Police Chief Wendell Franklin said Louis, 45, had targeted Dr. Preston Phillips, one of the four deceased victims, after he continued to experience back pain following surgery performed by Phillips.
Louis, who had been released from the hospital on May 24, had seen Phillips the day prior to the shooting for additional treatment and called on June 1 to complain and ask for more help, Franklin said.
In California on Friday, a stabbing injured three people at Encino Hospital Medical Center, according to police.
A doctor and two nurses were injured in the stabbing, a hospital spokeswoman told Newsweek.
That suspect, who presented at the hospital as a patient, barricaded himself inside a room in the facility after the incident, according to the Los Angeles Police Department.
According to NBC Los Angeles, he was identified by police as Ashkan Amirsoleymani and arrested on charges of three counts of attempted murder after a four-hour standoff.