Tulsa Hospital Shooting Sparks Anger: 'Sure It's Another Door Problem'
In the wake of a mass shooting at a hospital in Tulsa, Oklahoma, a number of social media users have mocked and criticized the Republican response to the Uvalde school attack while also calling for stricter gun laws in the country.
Four people were killed after a gunman opened fire at the campus of Saint Francis Hospital on Wednesday evening.
The suspect, who has not been identified, was later found dead by police as they entered the building within minutes of the shooting breaking out, CNN reported. Police believe the gunman took his own life after shooting his four victims, who have also not yet been identified.
Following the latest mass shooting in the U.S., which follows just days after the Uvalde massacre which left 19 children and two teachers dead, a number of people have expressed anger at the ideas suggested by right-wing figures to prevent such attacks from occurring, instead of gun law reforms.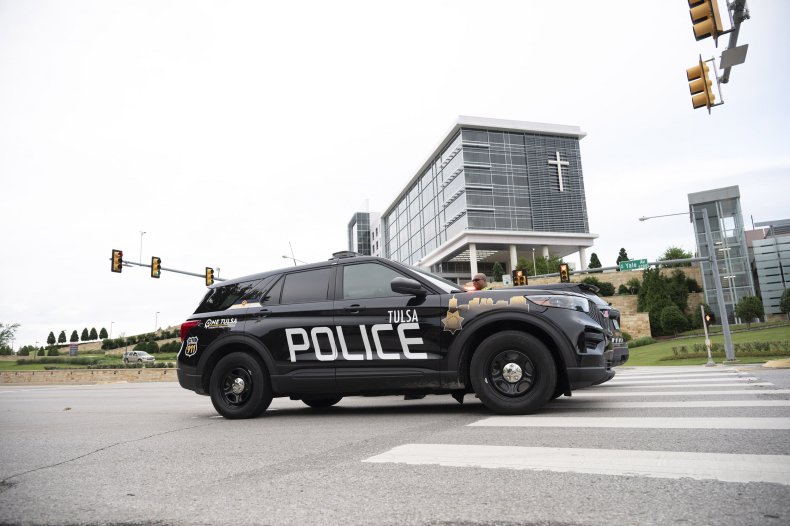 Texas Senator Ted Cruz is one of those who has been heavily criticized for his response to the Uvalde shooting after he suggested that "having one door that goes in and out of the school" would have helped prevent the 18-year-old gunman from carrying out the May 24 attack.
"I'm sure it's another door problem, not a gun problem," Frank Figliuzzi, the former FBI Assistant Director of Counterterrorism, tweeted while sharing an article about the Tulsa hospital shooting.
Russell Foster, a former Texas congressional candidate, added: "Is Ted Cruz & the GOP going to tell us we have too many doors in hospitals after this Tulsa mass shooting? The hospital I worked for 12 years only had 3 public entrances & 2 of them closed after visiting hours.
"Do we have to do this to every building? It's the guns, not the doors."
Former Georgia attorney Eric Owens tweeted: "If only there was one door to this clinic in Tulsa, today's shooting could have been prevented. Tomorrow will bring another mass shooting because of too many doors."
Cruz, who has dismissed all suggestions that stricter gun laws are needed in the U.S. following the latest mass shooting as "politics," also suggested that stationing armed law enforcement officers on school grounds would have prevented the mass shooting in Uvalde.
Other Republican figures brought up the idea which was previously suggested in the wake of the Sandy Hook school shooting that arming teachers would be the best solution to preventing further tragedies.
Social media users also condemned these suggestions while questioning how similar solutions would have prevented the mass shooting at Saint Francis Hospital instead of stricter gun control.
"What are the 'solutions' the GOP will pitch after today's Tulsa hospital shooting? Fewer hospital doors? Arm the nurses? Teach the patients self-defense as they are admitted? Do you see how stupid these ideas sound? Enough," tweeted the anti-Donald Trump political group MeidasTouch.
Shannon Watts, founder of Moms Demand Action for Gun Sense in America, a group set up in the wake of the Sandy Hook school shooting, added: "Right now there are Republican Oklahoma lawmakers and gun lobbyists trying to figure out how to use the Saint Francis Hospital shooting tragedy in Tulsa as an excuse to arm doctors and nurses. I promise you."
Tulsa Police Department Captain Richard Meulenberg told CNN that the suspect in the hospital shooting was armed with a semiautomatic rifle and a semiautomatic pistol, both of which he is believed to have used to carry out the attack.
A further 10 people were also injured in the mass shooting at the Natalie Building on the St. Francis Hospital campus.
Tulsa Police have been contacted for an update on the attack.