Teachers March to Ted Cruz's Office in Search of Gun Violence Solutions
A teachers union in Texas marched to Senator Ted Cruz's office on Tuesday calling on the Republican lawmaker to take further action in response to the recent Uvalde school shooting.
Members of the Texas American Federation of Teachers (AFT), which represents nearly 70,000 teachers in the state, marched to Cruz's office in Texas as they could be heard chanting for safer classrooms.
"Sen. Cruz's response to the Uvalde shooting has been abominable. The senator is beating a drum promoting the status quo (a status that has brought us six deadly mass shootings in Texas in the past five years) instead of leading in the U.S. Senate to establish simple first steps to gun access that a majority of Texans and Americans support," the Texas AFT said in a statement prior to the march.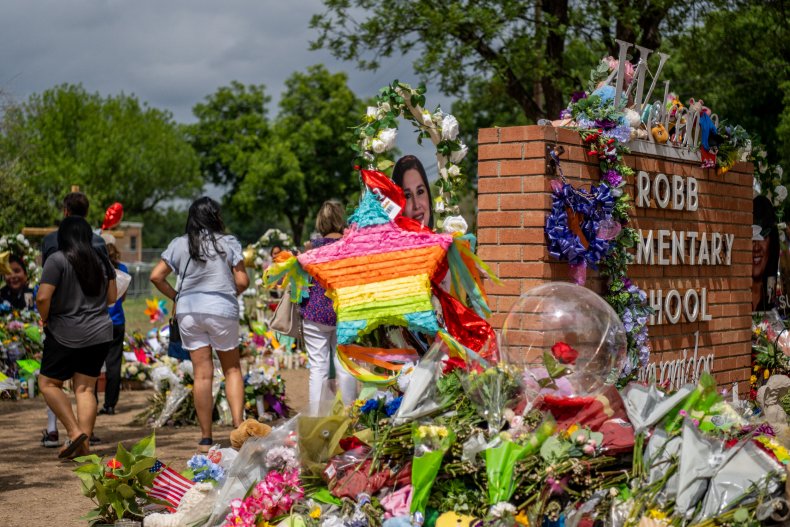 The march on Tuesday comes a week after 21 victims, including 19 children, were killed at the Robb Elementary School in Uvalde, Texas. Suspected shooter, Salvador Ramos, 18, fatally shot all 19 students and two teachers in one classroom. Ramos was eventually killed by responding officers, roughly an hour after he entered the school last Tuesday.
In a tweet shortly after the shooting incident, Cruz wrote, "Heidi & I are fervently lifting up in prayer the children and families in the horrific shooting in Uvalde. We are in close contact with local officials, but the precise details are still unfolding. Thank you to heroic law enforcement & first responders for acting so swiftly."
While speaking to reporters in the subsequent days, Cruz also spoke about having armed officers on school campuses to prevent future school shootings.
"We know from past experience that the most effective tool for keeping kids safe is armed law enforcement on the campus," Cruz told MSNBC.
In addition to marching to Cruz's office, Zeph Capo, the president of the Texas AFT delivered a letter to members of the senator's staff.
"We're sick and tired of politicians and the NRA putting their warped interpretation of the Second Amendment above the lives of children. It's sick and wrong. Last week they were calling us groomers; this week, they want to arm us as soldiers," the Texas AFT said in a statement, urging members and teachers across the state to send a letter to Cruz and fellow Texas Senator John Cornyn.
After marching to Cruz's office, Capo spoke to reporters outside and said, "I don't hold out a lot of hope that it's gonna change his [Cruz's] mind but that's not really what today is about. What today was about was making sure that nobody could say he wasn't told."
"Nobody could say that he wasn't formally put on notice, that the overwhelming majority of educators in this state do not want to bear the burden of being armed on their public school campuses," Capo added.
In a statement sent to Newsweek, a spokesperson for Cruz said, "From His School Security Enhancement Act to his Protecting Communities Act, Sen. Cruz has introduced numerous pieces of legislation to keep our kids safe by improving background checks and securing schools. Moreover, research has shown that the presence of police officers in schools decreases violent crime and disorder."
Cruz's spokesperson also directed Newsweek to the senator's recent speech where he said, "We must not react to evil and tragedy by abandoning the constitution or infringing on rights of our law abiding citizens."
Update 5/31/22, 4:16 p.m. ET: This story was updated with further information from Cruz's office.