Salvador Ramos Killed 21 Victims in 1 Classroom After Barricading: Official
Salvador Ramos, the suspect in Tuesday's shooting at the Robb Elementary School in Uvalde, Texas, reportedly killed 21 people in one classroom after barricading himself inside.
The new information was reported by CNN on Wednesday, citing Texas Department of Public Safety spokesperson Lt. Chris Olivarez. The 21 killed included 19 children and two teachers, all of whom were located in one classroom.
"It's a small classroom, you can have anywhere from 25 to 30 students in there, plus there were two teachers in there....So don't have exact number of how many students were in that classroom, but it could vary," Olivarez told CNN on Wednesday. "It was a classroom setting, a typical classroom setting where you have mass groups of children inside that classroom all together, with nowhere to go."
The Uvalde Consolidated Independent School District first reported the shooting on Facebook, writing: "There is an active shooter at Robb Elementary. Law enforcement is on site. Your cooperation is needed at this time by not visiting the campus."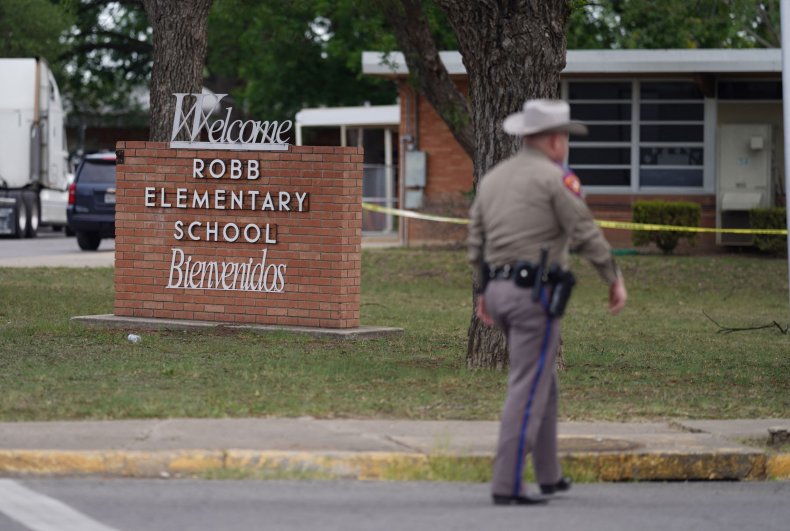 Shortly after the shooting, Texas Governor Greg Abbott reported that at least 14 children and one teacher were killed, but the number grew. Abbott confirmed that Ramos had died in the school.
"There are families who are in mourning right now and the state of Texas is in mourning with them for the reality that these parents are not gonna be able to pick up their children," Abbott said during a press conference on Tuesday.
Newsweek reached out to the Texas Department of Public Safety for comment.
In a series of tweets, Department of Homeland Security Assistant Secretary for Public Affairs Marsha Espinosa wrote that several border patrol agents responded to the shooting.
"Risking their own lives, these Border Patrol Agents and other officers put themselves between the shooter and children on the scene to draw the shooter's attention away from potential victims and save lives," Espinosa wrote.
"At least one Border Patrol Agent was wounded by the shooter during the exchange of gunfire. On-and-off duty Border Patrol Agents arrived on the scene to assist with transferring students safely to their families and providing medical support."
The shooting prompted an array of responses from officials across the U.S., as well as other countries, with many calling for stricter gun laws.
"I am sick and tired of it. We have to act. And don't tell me we can't have an impact on this carnage," U.S. President Joe Biden said on Tuesday night. "I spent my career as a senator and as vice president working to pass commonsense gun laws.
"We can't and won't prevent every tragedy. But we know they work and have a positive impact. When we passed the assault weapons ban, mass shootings went down. When the law expired, mass shootings tripled."
Update 5/25/22, 10:12 a.m. ET: This story has been updated with additional information.