Ted Cruz, Ken Paxton Propose Guns in Schools After Texas Shooting Horror
Texas Republican Senator Ted Cruz and the state's attorney general Ken Paxton have suggested that placing more armed officers in schools or giving teachers guns would prevent mass shootings, in the wake of the massacre at Robb Elementary School in Uvalde.
Twenty-one people, 19 children and two adults, were killed at the elementary school on Tuesday and Cruz's comments drew fury from some Democratic lawmakers.
The gunman, identified as 18-year-old Salvador Ramos, was shot and killed by police. It was the most deadly school shooting since the Sandy Hook massacre in Newtown, Connecticut, where 20 children and six adults were murdered.
Paxton reignited a debate that followed the Sandy Hook shooting in 2012, suggesting that giving teachers guns could have prevented the tragedy.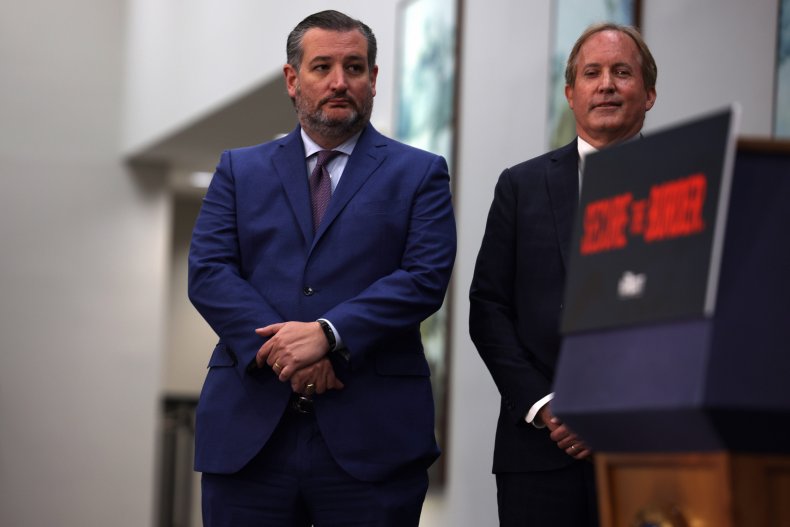 Speaking on Newsmax, Paxton said one way to prevent mass shootings would be to make it "more difficult for people even to get in that point of entry," by having "teachers and other administrators who have gone through training and who are armed."
He added: "First responders typically can't get there in time to prevent a shooting, it's just not possible unless they have a police officer on camera on every campus, which for a lot of these schools is almost impossible.
"I think you're gonna have to do more at the school, because it typically involves very short periods of time, and you have to have people trained on campus to react."
Paxton also spoke in favor of arming teachers during an interview on Fox News.
"The reality is, we don't have the resources to have law enforcement at every school," he said. "It takes time for law enforcement, no matter how prepared, no matter how good they are to get there. So, having the right training for some of these people at the school is the best hope."
Senator Cruz proposed stationing more armed law enforcement officers at schools, saying this would be more effective than tightening gun control laws.
"We know from past experience that the most effective tool for keeping kids safe is armed law enforcement on the campus," Cruz told reporters.
"Inevitably, when there's a murder of this kind, you see politicians try to politicize it. You see Democrats and a lot of folks in the media whose immediate solution is to try to restrict the constitutional rights of law-abiding citizens," Cruz added. "That doesn't work."
A number of Democratic lawmakers have criticized Cruz for his comments.
"F*** you Ted Cruz you care about a fetus but you will let our children get slaughtered. Just get your ass to Cancun. You are useless," tweeted Rep. Ruben Gallego of Arizona, in response to the "politicize it" remark.
Senator Chris Murphy of Connecticut tweeted: "As we look for solutions, this is important. Because over and over—from Parkland to El Paso to Dayton to Uvalde—armed personnel on site couldn't stop mass shooters who only needed minutes for mass slaughter."
Rep. Dean Phillips of Minnesota posted: "I'm a gun owner. Do not tell me our Founders conceived of this carnage when they wrote the Constitution.
"Do not tell me they would have tolerated this madness. Do not tell me that teachers must be armed. And do not tell me your AR-15 is worth more than another 14 children's lives," he wrote, before the death toll at Uvalde rose.
Fred Guttenberg, whose daughter Jamie was one of 17 people killed during the Parkland school shooting in 2018, condemned officials who have "f****** failed our kids again."
"I've had it. How many more times are we gonna sit back?" Gutenberg told MSNBC.
"I'm gonna listen to that governor of Texas [Greg Abbott] talk about why he pushed the fight for laws in Texas that made it easier for the guns to be had by those that want to kill? How many more times?
Guttenberg also targeted Cruz for criticism in his interview.
"I am begging, Senator Cruz. I sat with you in your office two years or so ago. I listened to your nonsense. I listened to your BS. I listened to you explain to me why you thought we didn't need the bare minimum of effective background checks," Guttenberg said.
"March into Senator Murphy's office right now, tonight, and be the Republican who says, 'I've had enough,'" he told Cruz. "Because if you don't, get your ass out of office. You don't belong there. I'm sorry."
Cruz has been contacted for comment. Attempts have been made to reach Paxton's office.