Parkland Father Left 'Shaking' After Uvalde School Shooting
Fred Guttenberg, whose daughter was killed in the 2018 Parkland school shooting, has been left "shaking" and "speechless" after learning of Tuesday's mass shooting at a Texas elementary school that left at least 21 people dead.
Reacting to the news, Guttenberg told MSNBC's Nicolle Wallace: "I'm trying hard not to curse, Nicolle. But I'm shaking."
"They f***ing failed our kids again, OK? I'm done. I've had it. You know, how many more times?" he asked. "I'm going to listen to that governor of Texas talk about why he pushed ... for laws in Texas that made it easier for the guns to be had by those who want to kill? How many more times? I don't—I mean, I'm sorry. I'm speechless. I don't know what to say."
On Tuesday, an 18-year-old gunman opened fire at Robb Elementary School in Uvalde, killing 20 people—of which 18 are reportedly children—Texas Governor Greg Abbott said at an afternoon press conference. The suspect, Salvador Ramos, was also killed by police.
The death toll in the Uvalde shooting surpassed that of the Parkland shooting making Tuesday's tragedy the deadliest school shooting since the Sandy Hook shooting in 2012.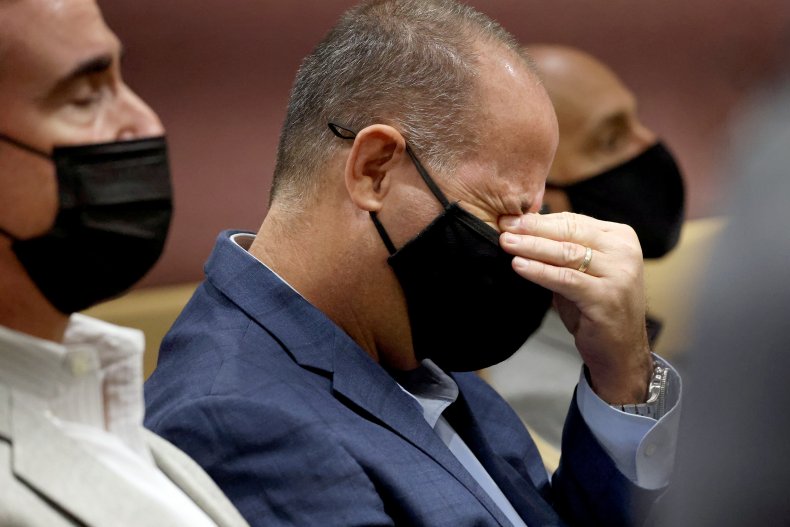 Describing his frustrations with Texas GOP officials who have defended the Second Amendment, Guttenberg said: "I'd like to tell them all to go F off because what they did, what they do, the way they politicize guns and violence led us to this day where—and I don't know what the latest number is—I think we have 14 dead."
He specifically called out Texas Senator Ted Cruz, whom he met with in the aftermath of the Parkland shooting, and urged him to resign if the Uvalde shooting was not enough for the Republican to change his stance on gun control legislation.
"I am begging Senator Cruz—I sat with you in your office two years or so ago. I listened to your nonsense. I listened to your B.S. I listened to you explain to me why you thought we didn't need the bare minimum of effective background checks," Guttenberg said.
"March into Senator [Chris] Murphy's office right now, tonight, and you be the Republican who says, 'I've had enough,'" he told Cruz. "Because if you don't, get your ass out of office. You don't belong there. I'm sorry."
In his remarks, Guttenberg thanked Democratic Senator Chris Murphy, who gave an impassioned speech on the Senate floor pushing for stricter gun laws on Tuesday, as well as President Joe Biden for being ready to sign gun legislation into law and for offering his condolences after his daughter Jaime's death in 2018. He also urged Republican lawmakers to break from their party and join the Democrats in their efforts to enact tighter restrictions on guns.
"I hope any member of that party—I'd like to see it be the senators from Texas since this just happened in Texas—but any member of that party, I'd love to see them walk up to Senator Murphy right now and say, 'I was wrong. Let's do this.' Because that's what it's going to take," he said.