Uvalde School Shooting Is Deadliest Since Sandy Hook
A mass shooting at an elementary school in Uvalde, Texas, on Tuesday became the deadliest school shooting since the one at Sandy Hook Elementary School in 2012.
Texas Governor Greg Abbott initially confirmed that 15 were dead at Robb Elementary School, where the suspected shooter entered the building with a handgun and rifle early Tuesday afternoon. Texas state police later updated the death toll to 21, including 18 children. Abbott stated that the shooter is believed to be deceased as well.
After the Sandy Hook Elementary School shooting in Newtown, Connecticut, on December 14, 2012, the deadliest school shooting was at Marjory Stoneman Douglas High School, in Parkland, Florida, on February 14, 2018.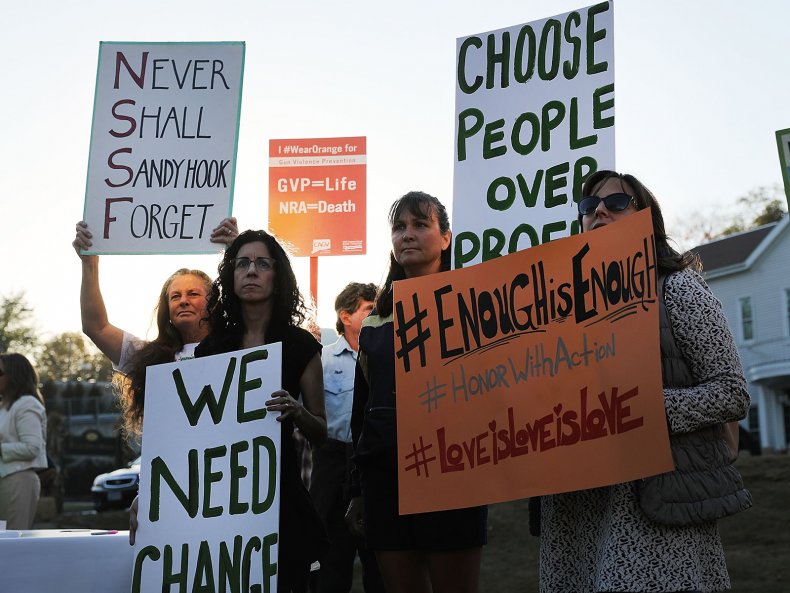 Seventeen students died in Parkland, making the Uvalde shooting the second deadliest school shooting since 2012.
The Uvalde Consolidated Independent School District (CISD) reported an active shooter situation around 1:15 p.m. on Tuesday afternoon, announcing that law enforcement was already on site. Parents were urged not to come to the campus.
The suspected shooter, 18-year-old Salvador Ramos, was a resident of Uvalde. In a press conference, Abbott said, "He abandoned his vehicle and entered into Robb Elementary School in Uvalde with a handgun—and he may have also had a rifle, but that is not yet confirmed. He shot and killed, horrifically, incomprehensibly, 14 students and killed a teacher."
Abbott added, "Mr. Ramos, the shooter, he, himself, is deceased and it is believed that responding officers killed him."
According to San Antonio news station KSAT, Ramos allegedly also shot his grandmother before the shooting at the school. Her condition is currently unknown.
A Sandy Hook organization issued a statement on Twitter following the shooting: "DEVELOPING: a mass shooting at Robb Elementary School in Uvalde, Texas. We are devastated about reports that multiple people are dead, including children. Our hearts are with the families and community as this tragic story unfolds."
Texas Senator Ted Cruz released a statement as well, writing on Twitter, "Heidi and I are fervently lifting up in prayer the children and families in the horrific shooting in Uvalde. We are in close contact with local officials, but the precise details are still unfolding. Thank you to heroic law enforcement and first responders for acting so swiftly."
According to White House press secretary Karine Jean-Pierre, President Joe Biden will address the shooting later this evening, and his "prayers are with the families impacted by this awful event," Jean-Pierre said in a tweet.
Uvalde Memorial Hospital told reporters that two children arrived dead at the hospital from presumed gunshot injuries, while several other students were sent to the emergency department for treatment. A second hospital, University Health in San Antonio, wrote on Twitter that it had also received two patients, a 10-year-old child, and a 66-year-old woman who are both in critical condition.
Follow Newsweek's live blog for more updates.
Update 5/24/2022 at 6:30 p.m. EDT: This story has been updated to include more information about the shooting.
Update 5/24/2022 at 8:11 p.m. ET—This article has been updated to reflected the rising death toll. Tuesday's shooting is now the deadliest school shooting since the Sandy Hook shooting in 2012.