Uvalde School Shooting Happened Just Two Days Before Summer Break
A mass shooting Tuesday at an elementary school in Uvalde, Texas, resulted in the deaths of nearly 20 children just two days before students were set to go on their summer break.
An active shooter was reported at Robb Elementary School around noon local time, according to the Uvalde Consolidated Independent School District (UCISD). Nineteen children and two teachers were killed, while others were being treated for injuries related to the attack.
The suspected shooter was identified as an 18-year-old male who entered the school with a handgun and possibly a rifle, Texas Governor Greg Abbott said at an afternoon news conference. He is believed to have been killed by police.
"He shot and killed horrifically, incomprehensibly, 14 students and killed a teacher," the Texas governor said in a statement at the time, before the number of reported fatalities rose.
Uvalde Memorial Hospital told reporters earlier on Tuesday that two children arrived dead at the hospital from presumed gunshot injuries, while several other students were sent for treatment in the emergency department. A second hospital, University Health in San Antonio, said on Twitter that it had received two patients, one child and one adult, who were both in critical condition. The adult is a 66-year-old woman, and the child is a 10-year-old girl.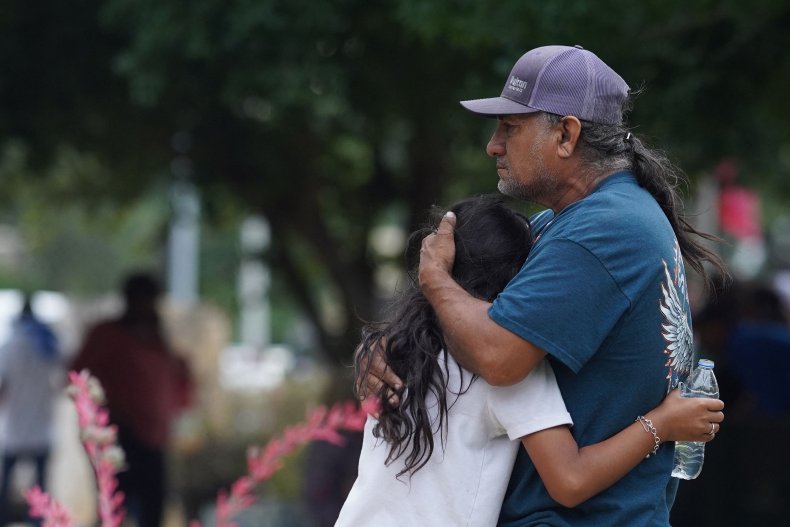 The last day of school before the summer break is Thursday, according to UCISD's website.
The school district issued a statement about the shooting earlier on Tuesday, tweeting: "There is an active shooter at Robb Elementary. Law enforcement is on site. Your cooperation is needed at this time by not visiting the campus. As soon as more information is gathered it will be shared."
Initial media reports said that a shooting had taken place a block away from the school and that the shooter had fled to the school afterward, barricading himself in the building.
Parents were told they could reunite with their children at the nearby Willie de Leon Civic Center once students were accounted for.
The event marks the deadliest mass shooting in the U.S. this year and is the second-worst attack on a school since the Sandy Hook Elementary School shooting in Newtown, Connecticut, in 2012.
The attack also came just days after two other mass shootings across the country. On May 14, 10 people, primarily Black individuals, were shot and killed in an attack on a supermarket in Buffalo, New York. A day later, one man was killed and five others injured at a church shooting in Laguna Woods, California, by a man who reportedly held anti-Taiwanese views.
Update 5/25/22, 10:22 p.m. ET: This story was updated with additional information and background.