Uvalde School Shooting: 14 Children, 1 Teacher Dead, Others Injured
Fourteen children and one adult have been killed in a mass shooting at a Texas elementary school, Texas Governor Greg Abbott confirmed in a press conference.
The Uvalde Consolidated Independent School District in Uvalde, Texas, confirmed on Tuesday, at approximately 1:17 p.m. local time, that there was an active shooter at Robb Elementary School. Law enforcement later confirmed that the shooting began at around 11:30 a.m. local time. Students at the school range from 2nd to 4th grade.
"There is an active shooter at Robb Elementary," the district said in a tweet. "Law enforcement is on site. Your cooperation is needed at this time by not visiting the campus. As soon as more information is gathered it will be shared."
The shooter, later identified as Salvador Ramos, 18, is reportedly dead, according to two sources who spoke to ABC News. Ramos, according to some reports, shot his grandmother prior to going to the school. During a press conference, law enforcement officials reported that Ramos acted alone and planned to carry out the shooting at the school. The suspect reportedly carried a handgun and possibly a rifle.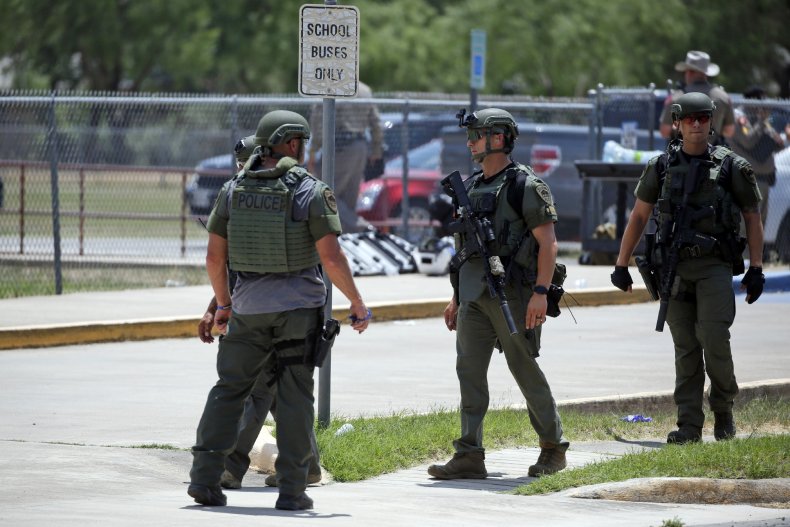 Multiple reports from the scene have indicated fatalities, with KSAT 12 reporter Leigh Waldman tweeting that at least two students were dead on arrival at Uvalde Memorial Hospital, though she could not confirm whether they had died from gunshot wounds.
The hospital also confirmed that 13 children had arrived at the facility for treatment, two of which were transported to hospitals in nearby San Antonio with another transfer pending. Another adult victim, 45, was also reportedly grazed by a bullet.
University Health in San Antonio confirmed to ABC News that it had received two patients from the shooting, one child and one adult. It reported that the adult, 66, is in critical condition, but was unable to confirm the condition of the child, a 10-year-old girl.
Fox News reporter Bill Meluga was also able to confirm multiple fatalities due to the shooting with local law enforcement.
"This is a very bad situation," Uvalde Mayor Don McLaughlin told ABC News via text.
McLaughlin was unable to confirm casualties to the outlet, stating that parents had to be notified first. A press conference is scheduled to take place later in the day.
Parents were urged to stay away from the scene as law enforcement dealt with the shooter. They were advised by the school district that they could reunite with their children at a nearby civic center once each student was accounted for.
"Texans across the state are grieving for the victims of this senseless crime and for the community of Uvalde," Governor Abbott, a Republican, said at a press conference.
"Cecilia and I mourn this horrific loss and we urge all Texans to come together to show our unwavering support to all who are suffering. We thank the courageous first responders who worked to finally secure Robb Elementary School.
"I have instructed the Texas Department of Public Safety and the Texas Rangers to work with local law enforcement to fully investigate this crime. The Texas Division of Emergency Management is charged with providing local officials all resources necessary to respond to this tragedy as the State of Texas works to ensure the community has what it needs to heal."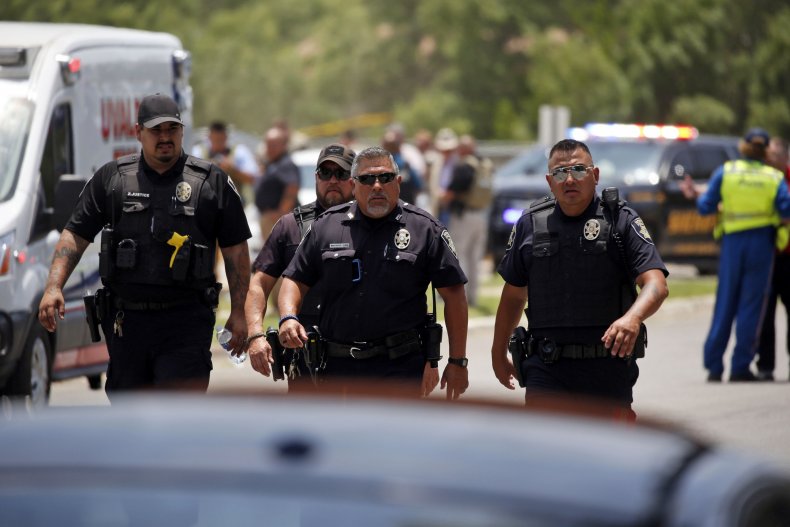 This latest incident in Uvalde comes shortly after notable mass shootings in Buffalo, where a suspect with a history of white supremacist beliefs killed 10 people at a Tops grocery store in a predominantly Black neighborhood on May 14, and another the following day in Laguna Woods, California, where a man believed to hold anti-Taiwanese killed one and injured five at a church.
The shooting is the deadliest carried out at a school in Texas history, according to KSAT News, surpassing the 2018 shooting in which a 17-year-old student opened fire at Sante Fe High School in Santa Fe, Texas, killing eight students and two teachers.
It is also the second-deadliest school shooting in U.S. history, behind the 2012 shooting at Sandy Hook Elementary School in Newtown, Connecticut, where a 20-year-old gunman killed 20 young students and six students.
Update: 05/24/22 5:13 p.m. ET: This article was updated to reflect current injuries and fatalities.
Update: 05/24/22 5:27 p.m. ET: This article was updated to reflect the shooter's name.
Update: 05/24/22 5:58 p.m. ET: This article was updated with a statement from Governor Abbott.
Correction: 05/24/22: 6:25 p.m. ET: This spelling of Ramos was corrected.