Obama Joins Biden's Call to Action Against 'Gun Lobby' Following Shooting
Former President Barack Obama joined President Joe Biden's call to action against the country's "gun lobby" after an elementary school shooting in Texas left at least 21 people dead on Tuesday.
Texas authorities have confirmed the deaths of at least 19 children and two adults following the shooting at Robb Elementary School in Uvalde, Texas, including the alleged 18-year-old gunman Salvador Ramos. The incident was the 27th school shooting to take place in the U.S. during the first half of 2022, and the most deadly since the 2012 massacre at Sandy Hook Elementary School in Newtown, Connecticut.
Biden ordered that U.S. flags be flown at half-staff until sunset on Saturday as "a mark of respect for the victims" of the shooting. The president said during an address from the White House on Tuesday night that it was time for the country to "act" by making an effort to "stand up to the gun lobby," asking "where in God's name is our backbone to have the courage to deal with and stand up to the lobbies?"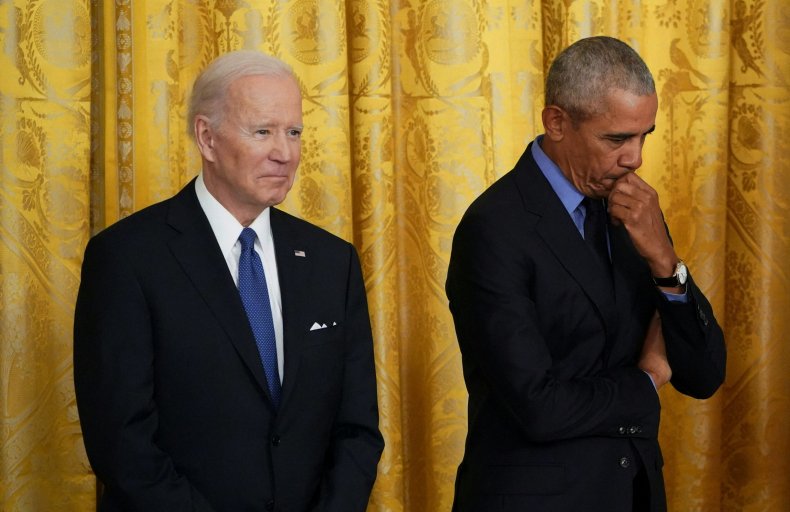 At around the same time, Obama weighed in on the tragedy in a series of tweets, lashing out at Republicans for opposing gun control and similarly calling for action against the gun lobby, citing the Sandy Hook shooting and the supermarket shooting that recently left 10 people dead in Buffalo, New York. Obama said that he and former first lady Michelle Obama were grieving with the families of victims, while also being "angry for them."
"Nearly ten years after Sandy Hook—and ten days after Buffalo—our country is paralyzed, not by fear, but by a gun lobby and a political party that have shown no willingness to act in any way that might help prevent these tragedies," Obama wrote.
"It's long past time for action, any kind of action," he added. "And it's another tragedy—a quieter but no less tragic one—for families to wait another day."
During an impassioned speech from the Senate floor on Tuesday, Democratic Senator Chris Murphy of Connecticut lamented failed efforts at gun control and charged that those who believed the Texas shooting was explained by a national mental health crisis instead of easy access to guns believed in "bulls**t."
While Democrats were speaking out against the gun lobby and demanding stricter gun control in the wake of the shooting, Republican figures like Representative Marjorie Taylor Greene of Georgia spoke out against gun control and instead suggested that a solution could be found in prayers and the country making a "return to God."
Texas Governor Greg Abbott is one of many prominent GOP figures who are expected to appear at the annual conference of the nation's biggest gun lobby, the National Rifle Association (NRA), only days after the tragedy.
The conference, which starts in Houston on Friday, will be headlined by former President Donald Trump. Others making scheduled appearances include Texas GOP Senators Ted Cruz and John Cornyn. Notably, guns will be banned at the event, with the NRA citing Trump's appearance and the requirements of the Secret Service when announcing the ban.
Newsweek reached out to the NRA for comment.