Uvalde Student's 911 Calls From Class Timelines Shooter, Police Response
Officials with the Texas Department of Public Safety provided a timeline on Friday of 911 calls made during the Uvalde school shooting from students inside the classroom where the suspected shooter is believed to have been located.
The timeline of 911 calls made by children in the school was laid out by Texas Department of Public Safety Director Steven McCraw. During the press conference, McCraw said that the suspected shooter, 18-year-old Salvador Ramos is believed to have fired numerous shots in either room 112 or room 111.
According to McCraw, at around 12:03 p.m. local time, a student identified herself and "whispered" that she was located in room 112.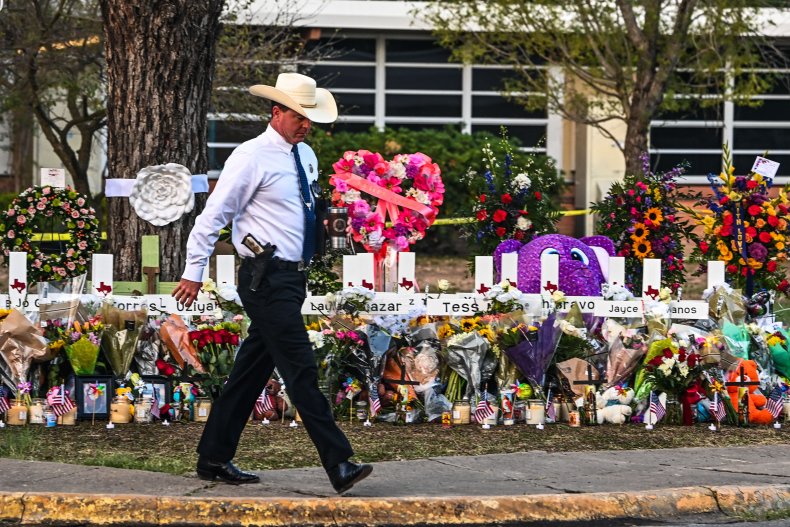 At 12:10, the same student called back and advised police that there were "multiple dead" within the classroom. At 12:13, she called for a third time, and three minutes later, she called a fourth, informing police that there were around eight to nine students still alive inside the classroom.
At 12:19, another student called from room 111, according to McCraw, but this student hung up shortly after she was told by another student to do so.
"At 12:21, you could hear over the 911 call, three shots were fired," McCraw said.
"At 12:36, 911 call that lasted for 21 seconds. The initial caller called back, student-child called back, and was told to stay on the line and be very quiet. She told 911 that he shot the door."
According to McCraw, two more 911 calls were made by the same student in room 112 at 12:43 and 12:47 and asked 911 to "please send the police now."
"At 12:50 shots are fired and can be heard over the 911 call and at 12:51 it's very loud and sounds like officers are moving children out of the room," McCraw said.
During the press conference on Friday, McCraw also clarified the time it took for police to respond and fatally shoot the suspect, with the first 911 call made at around 11:30 a.m.
At around 11:33, more than 100 gunshots were heard from inside the school and just three minutes later, at least three cops entered the school. Border Patrol Tactical Unit (BORTAC) agents eventually breached the classroom door and fatally shot Ramos at around 12:50.
While the incident was initially believed to be an active shooter situation, the incident commander, Pete Arredondo, chief of police of the Uvalde school district, determine that since Ramos was inside the classroom, the incident was considered to be a barricaded subject. However, during this time, police received the 911 calls from students inside the classroom and heard gunshots over the phone.
During the press conference, McCraw responded to questions about the transition from an active shooter situation to a barricaded subject saying, "With the benefit of hindsight, from where I'm sitting now, of course it was not the right decision. It was the wrong decision, period."
"There were plenty of officers to do what needed to be done, with one exception, is that the incident commander inside believed he needed more equipment and more officers to do a tactical breach at that time," McCraw added.
Update 05/27/22 2:48 p.m. ET: This article was updated with additional information.