Uvalde Shooting Update Leaves Questions Unanswered, Timeline Confusion
A Thursday update on the Uvalde school shooting in Texas left dozens of questions unanswered and confusion surrounding the timeline of the incident.
During a press conference regarding the investigation into Tuesday's shooting at Robb Elementary School in Uvalde that left 19 children, two educators and the suspect dead, Texas Department of Public Safety official Victor Escalon laid out a timeline of events.
Escalon said that at about 11:28 a.m. local time, Salvador Ramos, 18, wrecked his car near the school and, at 11:30, police first received reports of a man with a gun near the school. According to Escalon, roughly 12 minutes after crashing his car, at 11:40 a.m., Ramos entered the west side of the school.
However, when further asked about the 12-minute period, Escalon said: "11:30 a.m. the PD gets a crash and a man with a gun, then we have responding officers, that's what it is, if it's 12 minutes from 11:30 to 11:40, that's the information we have now.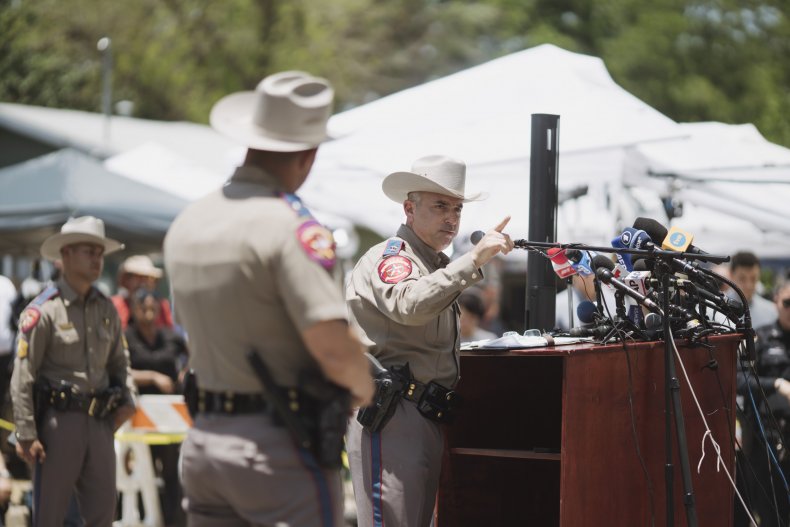 "So the first 911 call was at 11:30. I will get the time what it took to respond to," he added, prompting dozens of reporters to yell out further questions about the timeline.
Escalon was also asked if the door to the classroom where Ramos entered was locked prior to his entry.
"So right now, during the investigation, it appears that it was unlocked, so we're gonna look at that and try to corroborate that as best as we can," he said. "We will find out as much as we can why it was unlocked, or maybe it was locked, but right now it appears it was unlocked."
As the press conference continued, dozens of reporters were heard shouting an array of questions to Escalon. While he was able to provide further information, he also declined to answer several questions, saying that "as we do that investigation, we have all these questions we want to answer.
"At the end of the day, our job is to report the facts and have those answers. We're not there yet. Once we interview all those officers, what they were thinking, what they did, why they did it, the video, the residual interviews, we'll have a better idea."
Escalon was also asked about a recent report from the Associated Press that detailed parents urging police officers to go inside and even some planning to go in on their own to stop the shooter.
"I have heard that information," Escalon said, "but we have not verified that yet....We have not verified if that's a true statement or not, or if it's just rumor out there."
As Escalon ended the press conference, dozens of reporters could be heard yelling additional questions that went unanswered.
Newsweek reached out to the Texas Department of Public Safety for comment.