Active Wildfires Burn Over 1 Million Acres Across Several States
As several states are currently facing large active wildfires, more than 1 million acres have been burned, according to new data.
In an update on Tuesday, the National Interagency Fire Center said, "Forty large fires have burned 1,192,672 acres in six states. Seven new large fires were reported yesterday, three in Alaska and Arizona and one in Utah."
"So far in 2022, 29,827 wildfires have burned 2,687,539 acres across the country. This is well above the 10-year average of 23,070 wildfires that burned 1,106,468 acres," the National Interagency Fire Center added in the update.
The update comes as several large wildfires in California and Arizona forced evacuations earlier this week.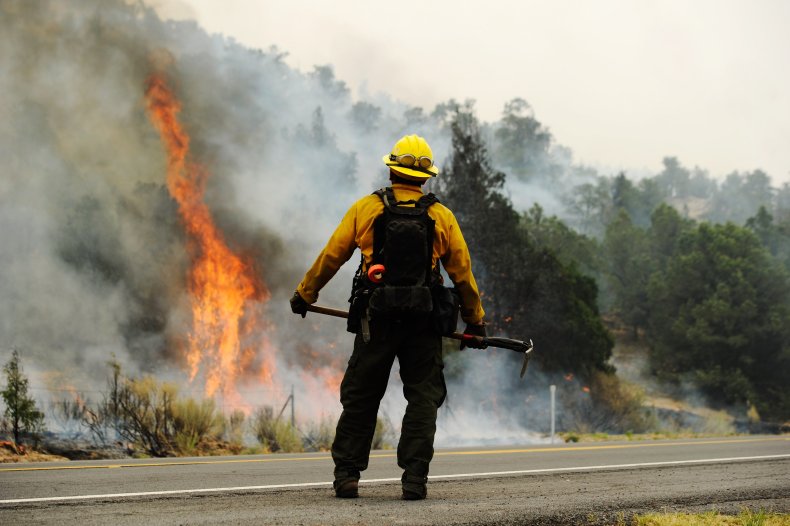 In Arizona, the largest active wildfire is the Pipeline Fire, which is located near the city of Flagstaff. On Monday, the U.S. Forest Service in the Coconino National Forest reported that the Pipeline Fire was estimated to be around 5,000 acres in size, however they noted that "the exact size the the Pipeline Fire is unknown due to the inability for an overnight infrared flight."
On Tuesday, data from Inciweb, the national wildfire incident information system, showed that the Pipeline Fire had grown, with just over 20,000 acres now burned from the fire.
In an update posted on Inciweb on Sunday, officials said, that a 57-year-old man was arrested in connection to the Pipeline Fire.
Close to the Pipeline Fire, Arizona is also battling the Haywire Fire, which has burned over 4,000 acres as of Tuesday. Earlier this week, the two fires prompted evacuations in nearby areas, however, in a statement on Tuesday, the Arizona Emergency Information Network said, "The Coconino County Sheriff's Office is pleased to announce that the communities of North Doney Park, Macann Estates (Silver Saddle Drive), and Silver Saddle Trailer Park are being moved from "GO" to "SET." Residents are being allowed to return to their homes immediately."
In addition to Arizona, data from the National Interagency Fire Center shows that several other states including Alaska, California, New Mexico, Texas and Utah are also facing active wildfires. The data shows that Alaska currently has the most acres burned from active fires, with over 460,000 acres burned.
In California, data from Cal Fire shows the state currently batting seven active blazes. A map published by Cal Fire shows that the state's largest active wildfire is the Sheep Fire, which has burned over 900 acres and is currently 27 percent contained. Following the Sheep Fire is the Rancho Fire (700 acres, 30 percent contained) and the Border 13 Fire (577 acres, 15 percent contained).