Arizona Pipeline Wildfire Ignited by Man Burning Toilet Paper, Feds Say
The Arizona wildfire that has spread uncontrollably since Sunday morning was started when a man attempted to burn toilet paper, authorities said.
Matthew Riser, 57, was arrested Sunday. In an argument for his pretrial detention on Monday, the U.S. Attorney's Office in Flagstaff charged Riser caused the blaze after attempting to burn a pile of toilet paper while camping roughly 80 yards from where the "pipeline fire" later began, according to court documents obtained by AZ Daily Sun.
Riser was stopped by police after being observed "driving rapidly away from the wildfire" in a white pickup truck on Sunday, police said. He later told authorities that he had set the paper on fire and placed it under a rock around noon the day before the blaze started, but did not know that it would smolder throughout the night, authorities said. He also told authorities that he attempted to put out the flames with a sleeping bag before leaving the scene.
The pipeline fire began about 10:30 a.m. Sunday, in the Coconino National Forest near Flagstaff, where Riser was reportedly camping. The blaze garnered its name after spreading to engulf the Pipeline Trail near Buffalo Park, which itself follows the path of an oil pipeline around Mount Elden. Roughly 270 fire personnel were working to fight the fire as of Monday.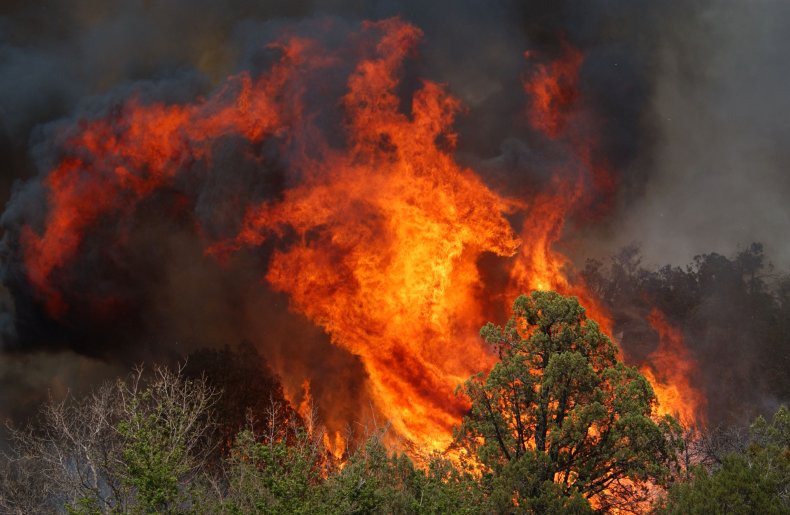 Riser faces charges of building a fire during restrictions, residing in the national forest and possession of a controlled substance (marijuana), all of which could result in jail time or fines. He previously told investigators that he had observed signs in the area warning campers not to set campfires, as the conditions in the area were ideal for wildfires, authorities said.
Riser's defense attorneys argued against these charges, insisting that there was no firm evidence that their client started the fire, as the area he was in was heavily trafficked at the time. They also argued that he was not living in the park. Riser's detention hearing is slated for Thursday.
Newsweek reached out to the U.S. Attorney's Office in Flagstaff for comment.
As of Monday, 13 fire engines, nine fire crews, six prevention patrol units, three bulldozers and one water tender were dispatched to combat the pipeline fire. Additional helicopters and water tankers were set to deploy the same day.
For miles around, massive plumes of smoke were visible as of Monday, with the blaze engulfing an area of 15 miles. At the moment, no injuries or deaths have been reported and no structures have been destroyed.