Arizona Tunnel Fire Map, Update as Blaze Forces Thousands To Evacuate
Thousands have been forced to evacuate after Arizona's Tunnel Fire spread to over 6,000 acres.
The Coconino National Forest service issued a warning on Tuesday and spoke about the difficulty of containing the fire.
"The Tunnel Fire, located 14 miles northeast of Flagstaff along U.S. Highway 89 is at 100-plus acres and 0 percent containment," the statement, issued around midday on Tuesday, said.
"Fire is rapidly spreading in a northeast direction due to high winds with medium-to-high-range spotting occurring in timber and grass. Area evacuations have been ordered, and up-to-date evacuation information can be found via Coconino County.
"While closure orders have not yet been issued, the public is asked to avoid the northern portion of U.S. Highway 89 from Elden Springs Road to the forest boundary for safety. Resources on scene include three Type 1 handcrews, two dozers, two water tankers and seven engines.
"This includes approximately 80 personnel. The fire was reported at 4:22 p.m. Sunday and its cause is under investigation."
The Coconino National Forest service also released a map showing the scale the wildfire had reached.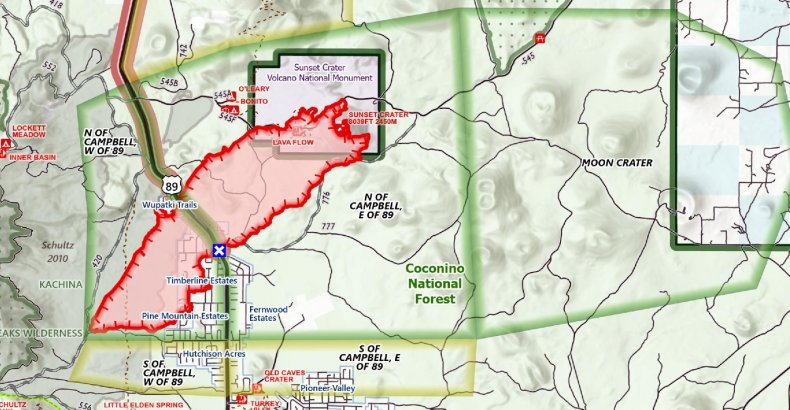 Around 6 p.m. on Tuesday evening, the Yavapai County Sheriff's Office issued evacuation updates for multiples areas that could be impacted by the wildfire.
They also showed a map of the areas that must be evacuated as part of the "Ready, Set, Go" evacuation program.
"Groom Creek is on SET status. Please prepare to evacuate on a moment's notice. the following areas are on GO and should be evacuated," the Facebook post stated.
"Walker Road South of Lynx Lake, Breezy Pines, Potato Patch, Kamp Kipa, Lookout Mountain, Mt. Tritl, Mtn. Pines Acres.
"Even if you are not in one of the areas mentioned above, or think you aren't in the path of the current fire, YCSO still urges you to remember that all of Yavapai County has the potential for a wildfire. It only takes one spark."
Flagstaff Fire Management Officer True Brown spoke at the Tunnel Fire press conference on Tuesday and gave an update on the scale of the wildfire.
"At this time, the fire is currently is estimated at upwards of 6,000 acres, 0 percent contained," he said.
"We currently have over 200 personnel working actively on the incident right now. Including five hand crews, 15 engines and three bulldozers with more on order.
"That includes a mix of both wild land and structure engines out there, it is a coordinated effort with all those resources and partners that were listed. The fire is rapidly moving in a north-easterly direction [due to] the significant winds that we have experienced today.
"We did have aviation resources ordered and on scene earlier today, as this fire was moving but had to set those resources down due to the unprecedented winds we were experiencing out there."
He continued to say that their number one priority remained public safety and then private property. He also warned that smoke will be "ever-present" as teams attempt to deal with the wildfire.
Brown also reiterated the importance of the public evacuating their homes if they have been told to do so due to the immense speed of the wildfire.