Responders were working to battle two wildfires Monday that broke out over the weekend in two southwestern U.S. states.
The Cooks Peak Fire in New Mexico, which was burning near the Mora and Colfax County lines, had burned an estimated 300 acres and was zero percent contained, according to state fire authorities. Responders had made more progress in their efforts to fight the Duck Pond Fire in western Colorado, which has burned about 88 acres and was 60 percent contained, according to Eagle County authorities.
Faced with dry and windy conditions, the two fires that erupted over the weekend are the most recent of several fires that both states have been forced to battle lately. Another recent fire in southern New Mexico killed two people and destroyed more than 200 homes, the Associated Press reported, while recent wind-driven grass fires in Colorado were less destructive in comparison but still took down two homes and spurred temporary evacuations.
The Cooks Peak Fire began on Sunday afternoon and is located on private land north of Ocate, according to New Mexico Fire Information, a state fire and restriction information source from federal and state agencies. Grass, pinon, juniper, ponderosa pine and mixed conifer were all fueling the fire as it burned, the agency said.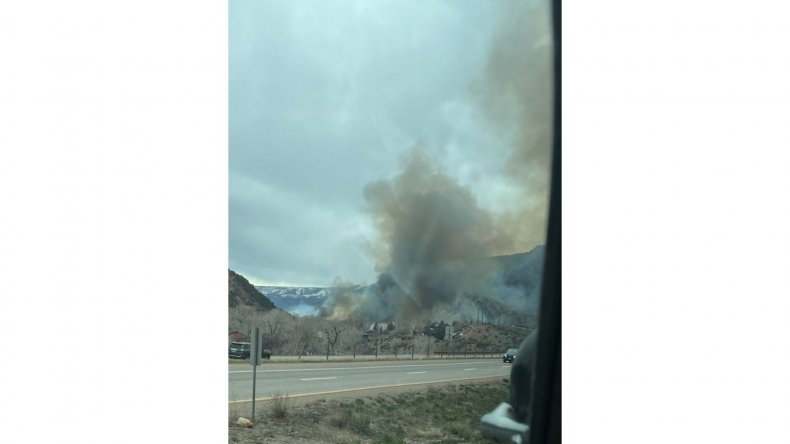 A precautionary evacuation order was issued for several residences, but the agency said that there was no "immediate threat" to the homes at this time. The agency said Sunday evening that 100 personnel had been assigned to fight the fire and that they would work overnight to contain it.
People sensitive to wildfire smoke were warned to take precautionary measures. The National Weather Service of Albuquerque said that the "summit cam...shows limited visibility."
Authorities were still investigating to determine the cause of the fire.
For the Duck Pond Fire, which started Saturday afternoon, authorities have already determined that it was human-caused. The Eagle County Public Information Officers Group said in an update Sunday evening that no structures had been lost.
Hugh Fairfield-Smith, the incident commander, said during a briefing Sunday that "overall it was a really good successful day for the firefighters out there."
"They were able to continue to mop up and secure the area to continue to make sure that that was safe for residents in the entire subdivision," he added.
The update said that despite success in fighting the blaze, the incident was not over and that officials recommended residents stay alert for updates.
Tennessee and Texas have also both dealt with destructive wildfires in recent weeks.
Newsweek reached out to the forestry divisions for New Mexico and Colorado for updated information and comment.