Texas Wildfire Map, Update as Big L Fire Sparks Lipan Evacuations
The wildfires which have killed one, scorched thousands of acres and burned down at least 50 homes in west and central Texas continued to be fueled by unfavorable weather conditions over the weekend, according to fire officials.
Gusty winds and warm and dry temperatures have helped fuel several new fires on Sunday, including one the firefighting crew has dubbed the "Big L Fire," which started around 2 p.m. approximately 15 miles north-east of Stephenville, in Erath County.
Early on Monday, the Texas A&M Forest Service said that the area affected by the Big L Fire remains an estimated 6,000 acres and 5 percent contained.
Thousands of residents of areas of central Texas, including Eastland County, had to be evacuated to escape the threat of the Big L Fire and several other blazes which exploded in the region on Sunday.
Residents of Lipan and Tolar, 55 miles west of Fort Worth and 75 miles west of Dallas, were ordered to leave their homes as firefighters rushed onto the scene of the raging new fires. They were evacuated to three shelters in Granbury, 69 miles from Dallas.
Two new fires which began on Sunday are now being considered by authorities as part of the Eastland Complex. The Cedar Mountain Fire is an estimated 179 acres and zero percent contained, and the Blowing Basin Fire is an estimated 250 acres and 50 percent contained.
The complex now contains seven fires. Besides the new additions of the Cedar Mountain Fire and the Blowing Basin Fire, the Eastland Complex includes the Kidd Fire (42,333 acres, 40 percent contained), the Oak Mott Fire (4,031 acres, 75 percent contained), the Wheat Field Fire (7,268 acres, 55 percent contained), the Mangum Fire (11 acres, 85 percent contained) and the Walling Fire (383 acres, 100 percent contained).
The whole Eastland Complex is now an estimated 54,015 acres, 30 percent of which firefighters consider contained.
Most of the first fires hitting western and central Texas started burning on Thursday last week.
Over 90,000 acres have been estimated to have been burned by the blazes as of Sunday. Eastland County Deputy Sergeant Barbara Fenley lost her life to the flames on the night of March 17 as she was trying to evacuate people in the town of Carbon.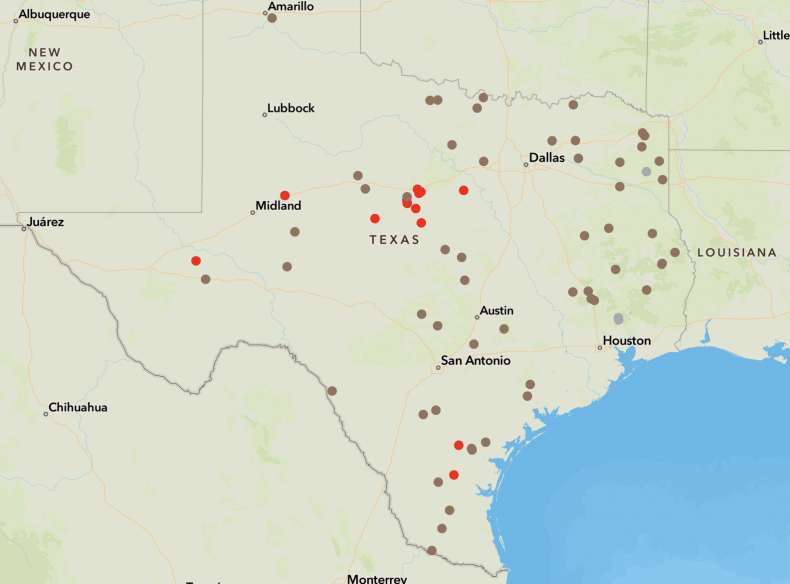 The Texas Wildfire Incident Response System has recorded around 70 incidents, but while most have been contained and extinguished, 13 are still active.
Weather forecasts estimated a 90 percent chance of rain on Monday as part of a spring storm which could help extinguish the many flames still burning, but the National Weather Service foresees that "gusty winds and dry conditions" will likely continue to create a favorable environment for the fires in parts of West-Central Texas while thunderstorms hit East and Central Texas.