A group calling itself "White Lies Matter" has reportedly stolen a monument to Confederate President Jefferson Davis and is holding it hostage while threatening that it will be "turned into a toilet" if ransom demands are not met.
The Jefferson Davis Memorial Chair, which is a chair carved out of stone, was stolen from Selma, Alabama's Old Live Oak Cemetery in March. White Lies Matter took responsibility for the theft in emails reportedly sent to multiple local media outlets.
The ransom the group is demanding is for the group United Daughters of the Confederacy hangs a banner bearing a quote from Assata Shakur outside its headquarters in Richmond, Virginia. White Lies matter is demanding that the banner be hung for 24 hours beginning on Friday, the anniversary of the Confederacy's Civil War surrender.
"Failure to do so will result in the monument, an ornate stone chair, immediately being turned into a toilet," the group's emails state, according to AL.Com. "If they do display the banner, not only will we return the chair intact, but we will clean it to boot."
"We took their toy, and we don't feel guilty about it," they continue. "They never play with it anyway. They just want it there to remind us what they've done, what they are still willing to do. But the south won't rise again. Not as the Confederacy. Because that coalition left out a large portion of its population. All that's left of that nightmare is an obscenely heavy chair that's a throne for a ghost whose greatest accomplishment was treason."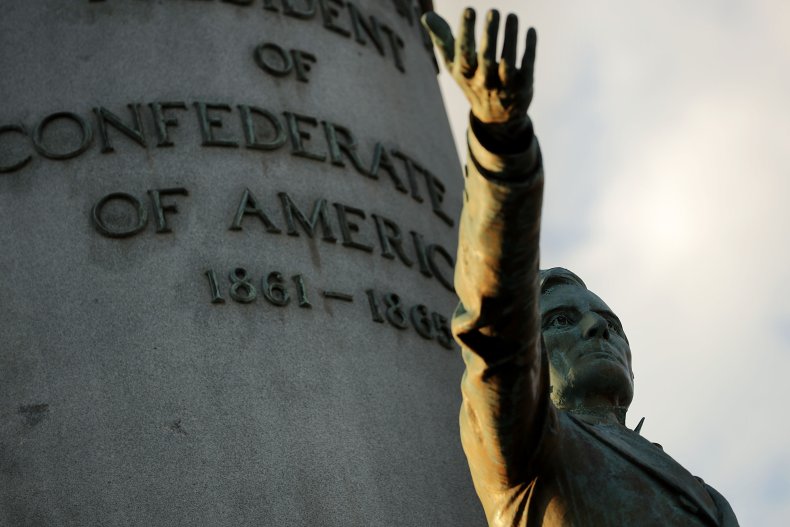 The chair, described as being around three feet tall and weighing several hundreds of pounds, is said to be valued at $500,000. It was one of several Confederate monuments in the Old Live Oak Cemetery. A bust of Confederate General and Ku Klux Klan leader Nathan Bedford Forrest was stolen from the cemetery in 2012.
The Shakur quote that White Lies Matter is demanding be displayed in return for the monument reads, "The rulers of this country have always considered their property more important than our lives." Shakur, a fixture on the FBI's Most Wanted Terrorists List since 2013, was convicted of murdering a New Jersey police officer in 1977 but escaped prison two years later and has avoided U.S. authorities by living in Cuba for the past several decades.
Calls to remove Confederate monuments and symbols throughout the country have been increasing in recent years but spiked in 2020 when Black Lives Matter protests erupted in the wake of the killing of George Floyd. At least 167 of the symbols were removed last year, almost all voluntarily, according to the Southern Poverty Law Center.
Newsweek reached out to the United Daughters of the Confederacy for comment.
Correction (4:00 p.m., 4/6/2021): This article originally cited Shakur as the mother of rapper Tupac Shakur. Tupac Shakur's mother is Afeni Shakur. Newsweek regrets the error.