Activists Sleep Outside Kyrsten Sinema's Office Demanding Action on Climate Change
Arizona activists staged an overnight protest outside Arizona Senator Kyrsten Sinema's office on Monday to demand she fight for climate change and other issues in the Democrats' reconciliation bill.
Sunrise Movement Tempe organized the event outside Sinema's Phoenix office. Pictures and videos posted to social media showed participants in sleeping bags outside the senator's building.
"We, her constituents, have decided to take action by staying outside of her office to show that we are dedicated to creating good jobs while also protecting climate" Josie Mitz, Sunrise Tempe action lead, said in a statement.
Jake Stoner, a member of the Tempe group, said Sinema has "turned her back on us to cater to Big Pharma and Exxon, which is why I'm here to fight for the biggest public investment in America since The New Deal. No climate. No deal."
More rallies are planned for Tuesday and Wednesday by Sunrise Movement Tempe and other Arizona groups.
"We will demonstrate that we will not stop, we will not back-down, we will not quit, until we win the first major legislative victory for our movement," Sunrise Movement Tempe's website reads.
Issues the group wants to see Sinema support in the multitrillion-dollar spending package are a fully funded Civilian Climate Corps and investments in renewable energy. Public housing investments, expanding Medicare and lowering prescription drugs are other top priorities for the group.
All eyes are on Sinema, as well West Virginia's Joe Manchin, as negotiations continue on Capitol Hill. Democrats can't afford to lose the support of either senator if they want to pass a spending package via reconciliation, which would allow them to approve the bill without any Republican votes.
Sinema and Manchin have made it clear they won't support the $3.5 trillion price tag that was originally proposed by the White House. Now, Democrats are working to cut the legislation down to the $2 trillion range.
Sinema told The Arizona Republic in September that "a changing climate costs Arizonans. And right now, we have the opportunity to pass smart policies to address it—looking forward to that."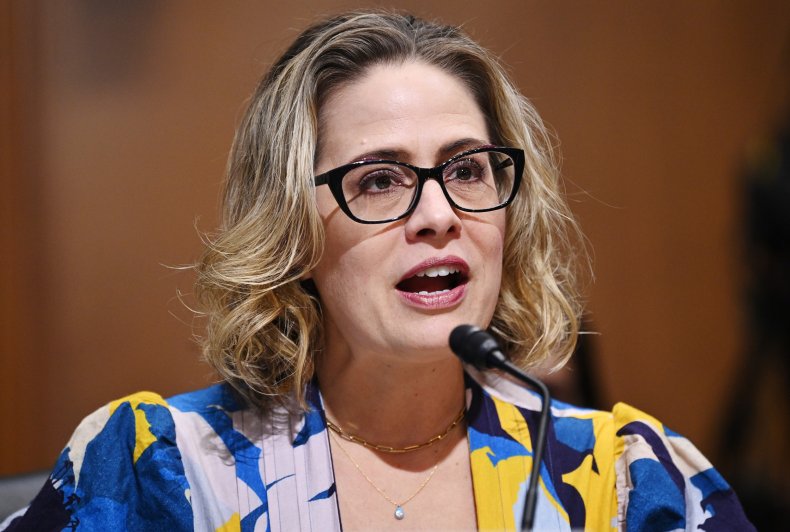 But the New York Times later reported that Sinema wants to cut at least $100 billion from climate programs in the reconciliation bill.
Manchin has also expressed opposition to a $150 billion climate proposal that would financially reward utilities that make the shift to renewable energy.
Still, the White House has promised that whatever climate policies land in the final bill will have a "historic" effect.
"There's no question in our minds—there is important debating right now happening about what the components of the climate proposals will be in these package—that these packages will have a historic impact on addressing our climate crisis," press secretary Jen Psaki told reporters Monday.
Newsweek reached out to Sinema's office for comment but didn't receive a response before publication.