Actor and comedian Nick Offerman urged Americans to set aside politics and get vaccinated to help end the COVID-19 pandemic in testimony before Congress on Wednesday.
Offerman spoke at a House Energy and Commerce subcommittee hearing focusing on vaccine hesitancy. Just over 50 percent of U.S. adults have received full courses of a COVID-19 vaccine, while close to 62 percent have had at least one dose as of Wednesday, according to the Centers for Disease Control and Prevention (CDC). However, vaccination rates have slowed recently and polling indicates that Republicans are significantly less likely to desire the vaccine than Democrats.
The Parks and Recreation star admitted that he was not qualified to give out medical advice, calling himself an "authority" on "ignorance" instead, while asking Americans to defer to the advice of the overwhelming majority of medical experts who recommend the vaccine. Offerman also stressed that the vaccine should not be made political.
"Ignorance is an area in which I can claim some authority," Offerman said. "I urge anyone who has not yet been vaccinated to catch my enthusiasm and hear the smart people who are about to speak. Medicine doesn't care who you voted for."
"We amazing humans have created a vaccine that serves the common good," he added. "The vaccine doesn't take sides, unless you count alive vs. dead."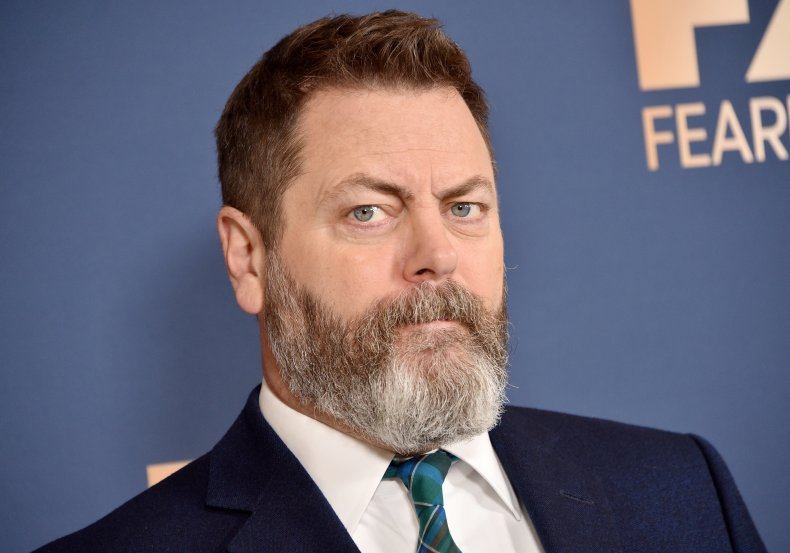 Offerman praised the vaccine as a "gift from the world's greatest scientists and thinkers and activists" who had "saved us from endless death and destruction." He also described vaccine hesitancy among 38 family members still living in his hometown of Minooka, Illinois, where his father, Ric, recently became mayor.
"Unfortunately, because of disinformation on social media platforms with no oversight, a few of them have refused masks from the get-go and they now also refuse the vaccine," said Offerman. "We also have a couple of immunocompromised nephews. Which means we all have to avoid the anti-vaxxers, whom we love, for the safety of the family. It breaks my heart."
Offerman's House testimony was part of an ongoing effort to convince more people to get vaccinated. During an interview on MSNBC's The Mehdi Hasan Show earlier this week, the actor insisted that his Parks and Recreation character Ron Swanson, a devoted small-government Libertarian, would get the vaccine despite his political views.
"Ron, I think at first would, of course, scoff at a vaccine, and say, 'I've never been to the doctor. I rely on my preternatural immune system to protect me," said Offerman. "But then his wife, Diane, played by the great Lucy Lawless, would step up and say, 'Hey, buddy, you're no longer alone here. You got me. I teach at a school, we got kids to worry about. Your responsibilities are no longer limited to your own body.'"
"He's a good guy," he continued. "And once a good guy sees that he's taking care of others and that it's for the common good, of course, he would get the damn vaccine."
Newsweek reached out to Offerman's representative for additional comment.