95 Out of 211 House Republicans Say They Have Been Vaccinated
An inquiry found that 95 of the 211 House Republicans—or 45 percent—have been vaccinated against COVID-19.
The inquiry, conducted by CNN, also found that 219 of the 219 House Democrats have been vaccinated, a full 100 percent of the lower chamber's Democratic voting membership.
CNN only reported the vaccinations that had been verified by House members. Though the network's reporters reached out to Republican House members multiple times to verify their vaccinations, not all responded. As such, it's possible that more Republican House members have been vaccinated than CNN reported.
Comparatively, at least 25.8 percent of each state's population has been fully vaccinated against COVID-19. At least 32 percent of each state's population has received at least a single dose of the COVID-19 vaccine. These statistics come from the Mayo Clinic, a nonprofit American academic medical center.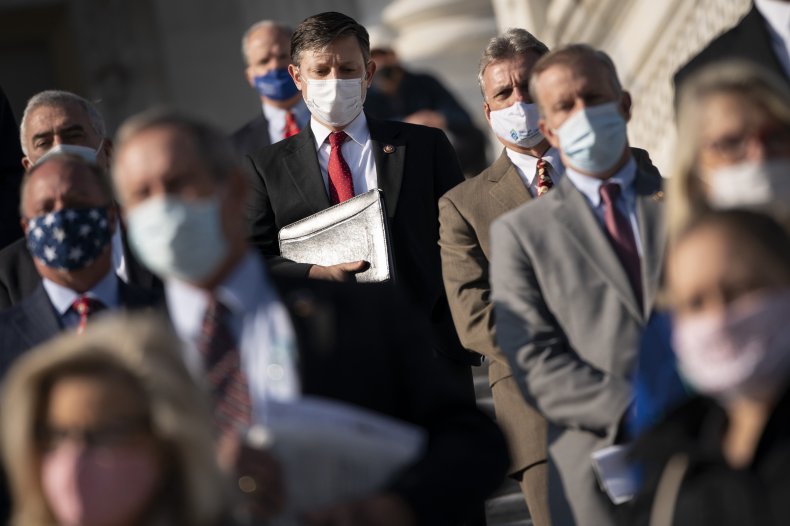 Of the 211 Republican House members, 26 are women.
The distinction between genders matters seeing as a March poll from PBS NewsHour/NPR/Marist found that 49 percent of Republican men said they would not get the vaccine. A December 2020 poll found that Republican women were even less inclined to get the vaccine.
Despite this, Republican Senate Minority Leader Mitch McConnell has urged all men to receive the vaccination. Republican former President Donald Trump has urged all conservative people to get the vaccine, including those who feel opposed to it.
On March 16, Trump told Fox News host Maria Bartiromo that he would recommend the vaccine to the network's conservative audience.
"I would. I would recommend it," Trump said. "I would recommend it to a lot of people who don't want to get it, and a lot of those people voted for me, frankly."
"But again, we have our freedoms and we have to live by that, and I agree with that also," he added. "But it's a great vaccine. It's a safe vaccine and it's something that works."
However, Fox News host Tucker Carlson, one of the network's most-watched hosts, continues to cast doubt on the vaccine's safety. In past broadcasts, he has accused federal and health authorities of lying about the vaccine's safety. He has also called the government's vaccine rollout a form of "social control."
Epidemiologists estimate that 70 percent of the population will need to develop immunity to COVID-19 in order to end the pandemic, whether through vaccinations or other means, according to Science Magazine.
Not everyone who fears the vaccine is an anti-vaxxer, according to the Vaccine Confidence Project at the London School of Hygiene and Tropical Medicine.
People adverse to receiving the vaccine often fear negative health effects or feel suspiciously of medical authorities, the project said. Also, some people reject vaccines, the project added, because they haven't had their concerns addressed by the information available on the websites of the World Health Organization or Centers for Disease Control and Prevention.
Newsweek contacted House Minority Leader Kevin McCarthy of California for comment.