Johnson & Johnson COVID Vaccine Could Bring Herd Immunity by These Dates
The Food and Drug Administration issued an emergency use authorization for the Johnson & Johnson vaccine last week, with health experts telling Newsweek that its approval could enable the United States to achieve herd immunity by early summer.
Researchers said the rollout of the J&J shot, in addition to the two mRNA vaccines already available, would significantly accelerate the mass immunization program, especially because the former is easier to distribute, store and administer.
Peter Pitts, president and co-founder of the Center for Medicine in the Public Interest, said that given the current rate of vaccination—the U.S. is administering nearly 2 million shots a day—the country could reach herd immunity by Memorial Day on May 31 at the earliest or Independence Day on July 4 at the latest.
Researchers estimate that herd immunity will be reached when 65 to 85 percent of the U.S. population—which numbers around 330 million people—has been vaccinated.
Johnson & Johnson has produced around 4 million doses, but the company estimates that it will have 100 million ready by June. These will arrive in addition to the 600 million shots that Pfizer and Moderna have said they will deliver by July, meaning the country will have more than enough to cover the population.
The approval of the J&J shot "means 100 million more people should be able to get the vaccine by summer," said Virginia Tech public health expert Lisa Lee. "Having another vaccine available will help us get closer to herd immunity."
She said two aspects of the Johnson & Johnson vaccine were especially helpful in terms of the rollout.
"First, it is one shot instead of two, which means we'll not need to follow up to be sure everyone gets the second shot and, two, it requires only refrigeration, not the cold and ultra-cold storage and transport necessary for the two mRNA vaccines. So, getting it distributed to every corner of the country and into other countries that lack the ultra-cold infrastructure will help us reach more people," she said.
If the percentage of the population that needs to be vaccinated is 70 percent, this would require about 230 million Americans to be immunized, according to Thad Stappenbeck from Cleveland Clinic's Lerner Research Institute.
"If J&J can provide 100 million doses by July 1, then 260 million doses of the mRNA vaccines would be needed. If these numbers hold up, herd protection may occur in the U.S. by the summer," Stappenbeck added.
Johan Bester, a vaccine expert and director of bioethics for the University of Nevada, Las Vegas School of Medicine, said one model suggested that herd immunity could be reached as early as next month, although this scenario might not be realistic.
"The model is plausible, but seems a tad optimistic with the variety of challenges we are facing. Most models seem to assume herd immunity later in 2021," he added.
Although herd immunity is a good goal to aim for, said Bester, protecting people from severe illness—patients ending up in hospital, dying or suffering serious complications—should be the priority.
The J&J vaccine, which appears to be highly effective at preventing serious illness, will help with that, he said. "The impact of the J&J vaccine is likely to be significant in protecting people against COVID and in turning the tide on the pandemic," Bester added.
Henry Dirk Sostman, a vaccine expert at Houston Methodist Hospital, said: "We can easily get to herd immunity by summertime, if everything goes well and according to plan."
Sostman added, however, that several factors could delay the achievement. Two of his concerns are pandemic fatigue and the emergence of new variants.
"We are all just so tired of this pandemic," he said. "I'm worried that this will lead us to relax our behavior before we have population immunity, which could give the virus a foothold to break out once again. Have we learned our lesson? I don't know. I hope so."
"The biggest concern is the evolving viral variants, and here we just don't have the answers yet. Viruses will continue to evolve but, as the number of infected people who can serve as 'living petri dishes' for viral evolution decreases, so will the rate at which we see viral variants. It's not clear yet how much of a problem 'immune escape'—where the virus becomes so resistant to the immunity granted by previous infection or vaccination that the population once again becomes susceptible to infection—really is with these variants."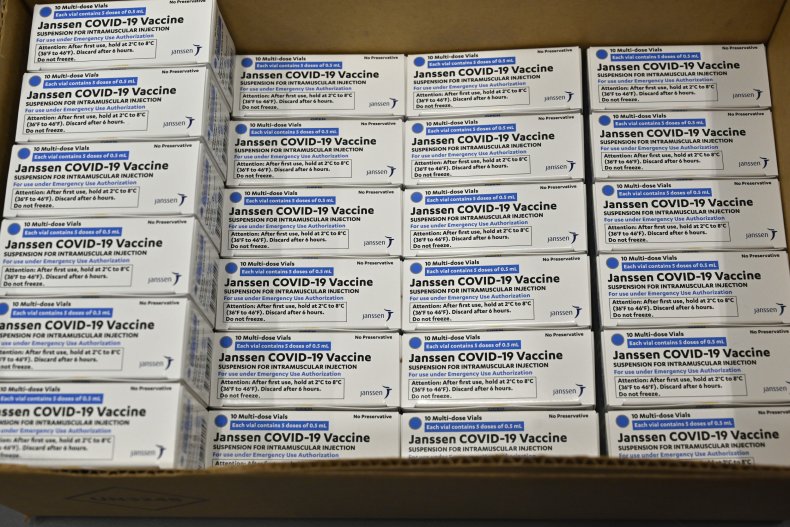 Sostman said he was "optimistic" that variants would not be a "game changer," however, in part because infection and vaccines produce a variety of immune responses "that may make it harder for viral variants to truly escape from immune control."
He added that manufacturing or distribution issues, vaccine skepticism and delays in getting children vaccinated could also push back the timeline.
Once herd immunity is reached, what happens next? According to Sostman, it does not mean COVID-19 infections will stop occurring.
"There's a lot of confusion about herd immunity. It's not a situation where no one will get sick with COVID ever again. It's a situation where society can function normally without fear of COVID epidemics. This is not going to be like flipping a switch.
"The more people who are immune—either from previously being infected with COVID or from being vaccinated—the safer everyone will be and the less chance there will be for dangerous viral variants to evolve.
"Ultimately—and we're probably talking about a generation or more—SARS-CoV-2 will probably be first encountered in childhood, cause a mild infection and ultimately become the fifth endemic coronavirus circulating in the human population, causing seasonal respiratory infections."
Sostman and other specialists predict that we may need booster shots for at least the next several years if the immunity granted by vaccines dissipates with time or if the virus evolves.
Mark Cameron, an immunologist from Case Western Reserve University School of Medicine in Ohio, said: "Herd immunity may be fleeting. We may find the virus going in and out of control, especially thinking globally, depending on how long our immunity lasts against the virus and how many variants emerge that continue to undermine vaccine efficacy. Booster shots are very likely, both to boost immunity to the existing viruses and to cover any new variants. Work has already begun on these booster shots."
If we allow the virus to mutate without appropriate booster vaccines, authorities may have to go back towards mitigation, according to Pitts.
The graphic below, provided by Statista, illustrates which nations and blocs have ordered Johnson & Johnson's vaccine as of February 15.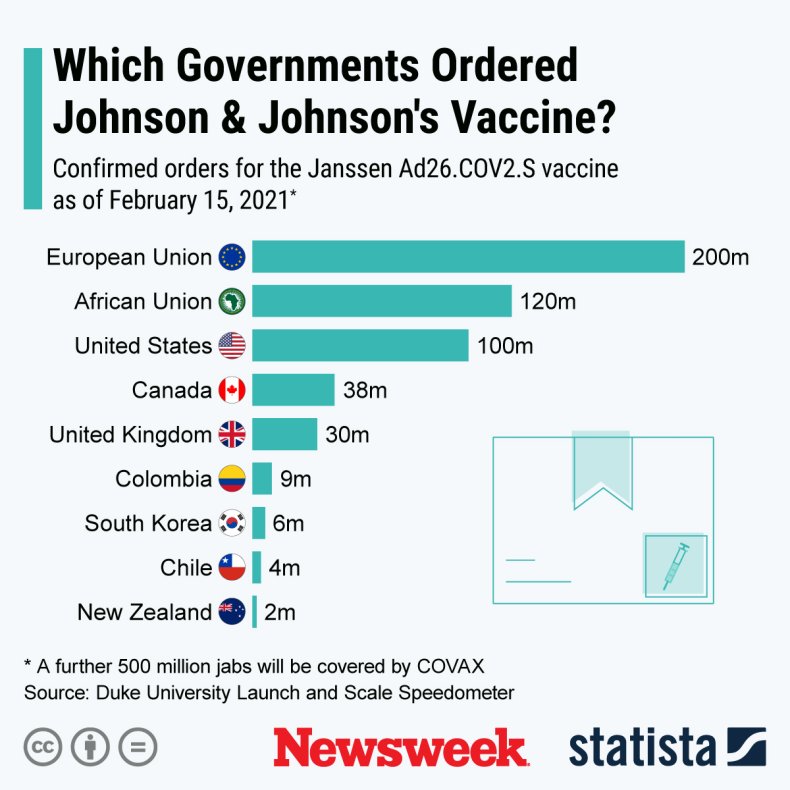 This article was updated on March 10 to include comments from Thad Stappenbeck.