An Actor's Lessons: What Sidney Poitier Taught About How to Live and Act
He was the first African American to win the best actor Academy Award, for his performance in Lilies of the Field in 1963. He starred in a string of hit movies, starting in the 1950s with Blackboard Jungle and The Defiant Ones and then, in just a single year, 1967, with three of the nation's top-grossing movies: In the Heat of the Night, To Sir, With Love and Guess Who's Coming to Dinner. In his remarkable body of work, Poitier didn't just teach us about ourselves and the world around us. He taught us how to live and act.
The beloved actor and civil rights activist died last Thursday at his home in Los Angeles. But it's where and how he grew up—and the parents who raised him—that shaped the man the world knew. And the choices he made as an actor.
His life started in Miami on February 20, 1927. "He was born small and sickly," Aram Goudsouzian wrote in his 2004 biography. "A premature baby of seven months, he weighed less than three pounds, and he seemed closer to death than life."
Poitier's father, Reginald, a tomato farmer who lived on Cat Island in the Bahamas and sold his produce in Miami, accepted the prevailing opinion that his son would not survive. "The gaunt farmer had come to Miami to sell tomatoes, not bear a son," Goudsouzian wrote. Having endured children dying in infancy before—either by stillbirth or disease—Reginald went about finding an undertaker. He even purchased a tiny casket, certain his son's life would soon end.
But Poitier's mother, Evelyn, was not about to give up on her son. "Desperate for some reassurance, she paid a visit to a soothsayer," Goudsouzian wrote. She sat before "a wizened old clairvoyant with gray, braided hair and a string of beads tumbling over a loose dress" in search of answers.
In a scene straight out of a movie, the soothsayer rendered her verdict: "Don't worry about your son, he will survive and will not be a sickly child." The soothsayer wasn't finished. "He will walk with kings. He will be rich and famous. Your name will be carried all over the world."
Those words would propel Poitier's parents to action. "Evelyn paid fifty cents, marched home, and insisted that Reginald expunge any trace of lost hope, starting with the miniature casket," Goudsouzian wrote. "For the next three months Evelyn and Reginald remained in Miami, far from their six children, nursing Sidney back to health."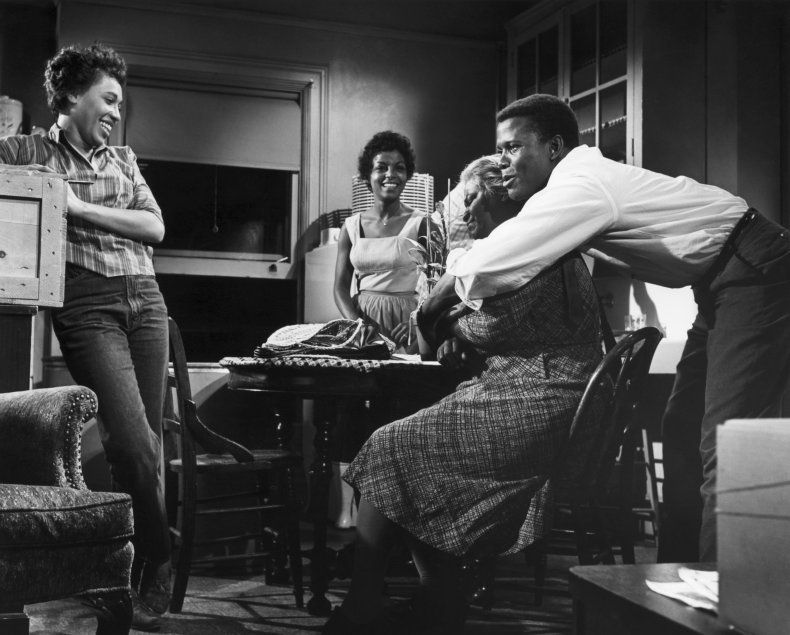 Poitier's premature birth, which almost killed him, had an upside: It gave him automatic U.S. citizenship, something he would rely on 15 years later to change his life. Back in the Bahamas, he and his siblings—he was the youngest of seven—lived in a small stone hut with a thatched roof and an outhouse in back. All were required to start working on the farm at the age of 6; none worked harder than their dad.
"As the family patriarch, he instilled the discipline that ensured survival," Goudsouzian wrote. "The children not only worked in the fields, but fetched water, shucked corn, fed chickens, washed clothes, ground grits, and slopped hogs."
Poitier's mother reinforced her husband's work ethic with an ethic of her own: She insisted the Poitier children conduct themselves properly. "If Sidney sassed her, she slapped him across the mouth. He learned to respect his elders and himself."
Poverty was no excuse for bad behavior or uncleanliness in the Poitier household. Their mother would tear empty flour sacks into strips, bleach them and turn them into shirts for the boys. "She used to say that it was all right to wear patches as long as you were clean," Poitier remembered. "Well, I want you to know that I wore me some patches!"
But life on Cat Island wasn't all deprivation. Indeed, it was one big playground. "After chores, Sidney often roamed the island unsupervised, wandering down narrow flower-lined paths, building mud huts, collecting turtle eggs, swimming in the Atlantic, and climbing sapodilla trees to shake down the plump, gray-brown fruit and eat until his stomach ached," Goudsouzian wrote. "He caught fish, added peppers and limes, and stewed it in a can over a fire on the beach. His imagination drifted out to sea, to the world beyond Cat Island."
It was near the water that Poitier's imagination was most engaged. "I'd stand on the piers," he recalled, "and watch the ships until they disappeared and then I'd just stare at that line and dream. I'd conjure up the kind of worlds that were on the other side and what I'd do in them."
When he was 10, the family moved from the isolation of Cat Island to Nassau, where Poitier was exposed to some of the modern conveniences of life. Poitier recalled never having seen his face in a mirror before the move. "I saw my teeth. and they were quite acceptable, they looked pretty OK. And my eyes, my hair...me! I was looking at myself," Poitier told NPR in 2009.
When he was barely 12, Poitier quit school and worked day-labor jobs. He soon began to get in trouble, enough for his worried parents to send him off to live in Miami with a married brother, Cyril.
It was the 1940s, and Miami was a Southern city. "I never had an occasion to question color, therefore, I only saw myself as what I was...a human being," Poitier told The Philadelphia Inquirer. He was stunned to see signs that said "White" and "Colored."
"Hired as a delivery boy but ignorant of service entrance rules, he knocked at the front door of a Miami Beach estate to leave a parcel," the Inquirer reported. What Poitier didn't know was that the city's harsh segregation laws compelled Black men to deliver packages to the back door. Members of Miami's chapter of the Ku Klux Klan would soon threaten his life for refusing to comply with such rules.
"It was all over the place like barbed wire," he later said of the racism he encountered in Miami. "And I kept running into it and lacerating myself."
He left Miami for New York City's Harlem, poor and homeless at the age of 16, washing dishes by day and sleeping at Penn Station at night. To land three square meals a day and a place to sleep at night, he enlisted in the Army in 1943, securing a job as an orderly at a local veterans hospital. After his discharge, he saw an ad in a local paper for an actors' tryout at the American Negro Theatre.
The theater's co-founder, Frederick O'Neal, didn't pull any punches at Poitier's first audition, doing the thoroughly unprepared young actor what turned out to be the biggest favor of his life. "He came up on the stage, furious, and grabbed me by the scruff of my pants and my collar and marched me toward the door," Poitier told the Los Angeles Times.
Used to such treatment by his parents, Poitier was determined to improve. He purchased a radio and practiced his English by mimicking the on-air personalities. But what he really needed help with was his reading skills: He had barely a sixth grade education. In stepped one man to help.
"It was one of the waiters, a Jewish guy, elderly man," Poitier recalled. "I had a newspaper, and he walked over to me, and he said, 'What's new in the paper?' I looked up at this man, and I said, 'I can't tell you what's in the paper, because I can't read very well.' He said, 'Let me ask you something: Would you like me to read with you?' I said to him, 'Yes, if you like.'
"Now let me tell you something: Every night, the place is closed, everyone's gone, and he sat there with me, week after week. I learned a lot. A lot. And then, things began to happen," Poitier said, holding back tears.
Having learned how to speak without the heavy Bahamian accent, and with his newfound ability to read, Poitier landed an acting apprenticeship at the same theater company where he had been nearly thrown out of the building. Poitier studied with some of the great Black actors of his generation: Ossie Davis and Ruby Dee. By 1950, he was starring in his first movie, No Way Out. The rest was history.
Much of which explains the character of the man and the character choices he made as an actor. In the more than 50 movies in his career, Poitier was proud that he'd never once played anyone who was immoral or cruel. "If you go through my career," he said, "you'll find that I didn't. I didn't ever."
Most of his characters were dignified, strong, well-educated and ethical men trying to do their best against tough odds. His role as Virgil Tibbs, a Philadelphia police detective who reluctantly helps a small-town police chief in Mississippi solve a murder in In the Heat of the Night, is a perfect example.
Poitier told CBS News that he demanded a significant change in a scene in which his character is slapped by a white, rich Southern man. "I said, 'If he slaps me, I'm going to slap him back. You will put on paper that the studio agrees that the film will be shown nowhere in the world with me standing there taking the slap,'" Poitier said. It would turn out to be one of the most important scenes in movie history, known as "the slap heard round the world."
Poitier knew what he wanted from his acting career. "I did not go into the film business to be symbolized as someone else's vision of me," Poitier said. "If the screen does not make room for me in the structure of their screenplay, I'd step back. I couldn't do it."
In the late 1960s, he expected to face racism from a mostly white industry, and a mostly white country in the grips of a civil rights struggle that included riots and assassinations. But he took flak from radical quarters of the Black community too, which charged him with being an Uncle Tom. His militant critics believed his characters were too decent and too forgiving for the revolutionary moment.
Asked if those charges hurt him, Poitier was dignified. "Hurt me for what?" he replied. "I just simply say, 'I live by a certain code.' I have to have a certain amount of decency in my behavioral pattern. I have to have that."
Poitier, who marched with Martin Luther King Jr., told the Inquirer in 2006, "I had allies who fought the civil rights struggle." He added, "I fought another battle in Hollywood, in an industry I tried to change." And change it, however slowly, he did.
In his memoir, The Measure of a Man: A Spiritual Autobiography, he revealed some insights into the things that most moved and motivated him. One had to do with the rage he experienced in his life because of racism and other injustices. "I've learned that I must find positive outlets for anger or it will destroy me," Poitier wrote. "I have to try to find a way to channel that anger to the positive, and the highest positive is forgiveness."
He also wrote about how life in the Bahamas influenced him. "By having very little, I had it good," he wrote. "Children need a sense of pulling their own weight, of contributing to the family in some way, and some sense of the family's interdependence. They take pride in knowing that they're contributing. They learn responsibility and discipline through meaningful work."
Perhaps the most important life lessons he imparted in his autobiography came from his father. "Of all his teachings, the most enduring was the one about the true measure of a man," Poitier wrote. "That true measure was how well he provided for his children, and it stuck with me as if it were etched in my brain."
Etched in his brain indeed. In an interview with Caribbean Heritage Magazine while their dad was still alive, three of his daughters talked about the values their dad passed along to them.
"Daddy always says that what you do in your life reflects on your family, so keep that in mind, whatever your choices are, you're doing in the name of your family," his daughter Beverly said.
"He always told us when we were younger to be the captain of your own ship," daughter Sydney explained. "What that meant was that you had to know where your moral compass lies, where your true north lies, and you have to set your sights on that, and not veer from that course despite whatever outside forces are trying to push you off it."
Anika echoed the words of her sisters. "I think not letting anyone define you, telling the truth, your word is your honor—all of those things are things he carried with him from the Bahamas. He held on to those things and they are what got him through difficult situations, and it was important to him to pass those things along to his children."
He passed those things along to the world too, through the choices he made as an actor. And a human being.
In 2013, Poitier published a novel called Montaro Caine. "I was not intending to make an impression," he explained when asked why he wrote the book. "I was finding release for myself within myself. I was looking for who I am at this point in my life."
"Did you find out?" a CBS reporter asked. "Somewhat, yes," he replied. "Who are you?" she asked. "I'm a good person," Poitier replied, smiling.
He is survived by six children, eight grandchildren and three great-grandchildren. He also left behind the characters he created on the screen, characters for the world to forever emulate.