30 Actors Who Play Enemies on Screen But Are Friends in Real Life
They may have made fearsome adversaries on screen, but these actors nevertheless made lasting friendships while facing off. Hundreds of hours spent filming and promoting films and TV give actors plenty of time to get to know each other, forging friendships both likely (Vanessa Hudgens and Ashley Tisdale, Robert de Niro and Pacino) and unlikely (Jodie Foster and Mel Gibson, Alan Rickman and Bruce Willis).
30 actors who play enemies on screen but are friends in real life
Christian Bale and Heath Ledger, The Dark Knight
They may have played maybe the most famous enemies in popular culture, but the two actors bonded on set of the Batman movie, and Bale has become emotional in multiple interviews when asked about his one-time co-star.
Glenn Close and Michael Douglas, Fatal Attraction
The pair's love affair in Fatal Attraction may have had a bloody end, but in reality the pair stayed in touch in the four decades since. "He's a great friend," Close said to Entertainment Tonight. "He and [wife Catherine Zeta-Jones] came to see Sunset Boulevard, and it was really wonderful. He came [backstage] with tears in his eyes. It really meant the world to me."
Daniel Craig and Mads Mikkelsen, Casino Royale
While the movie sees Mikkelsen's Le Chiffre inflicting pain on some very sensitive areas of James Bond's body, the pair have remained friends. Most recently, Craig sent Mikkelsen an email congratulating him on his performance in movie Another Round.
Bryan Cranston and Giancarlo Esposito, Breaking Bad
Cranston's Walter White may have been the man who finally brought down Gus Fring's empire on the show often voted one of the best of all time, but the pair bonded on set. Their best friend moment, however, came when Cranston congratulated Esposito for winning an award with a prank video he filmed while sitting on the toilet.
Russell Crowe and Hugh Jackman, Les Miserables
Years before playing cat-and-mouse in revolutionary France, the Australian actors were friends. Jackman also has Crowe to thank for his X-Men and Australia roles after Crowe turned them down and suggested Jackman. "We were good friends before. We knew each other a lot. And Russell has given me advice several times at key moments in my life that helped with my career," Jackman said to Entertainment Weekly.
Benedict Cumberbatch and Andrew Scott, Sherlock
Plunging to your death from a waterfall must bring actors together, as the Sherlock and Moriarty actors became friends on the BBC show – and Scott attended Cumberbatch's 2015 wedding.
Robert De Niro and Al Pacino, Heat
The legendary actors have been friends for over 50 years, which is part of why their eventual face-off in Heat was so electric. "We got together early on, and we shared something, which was a big thing at the time," Pacino said to GQ.
Peter Dinklage and Lena Headey, Game of Thrones
The Lannisters may have spent multiple seasons trying to finish each other off, but the pair actually lived together while filming the show.
Dakota Fanning and Kristen Stewart, Twilight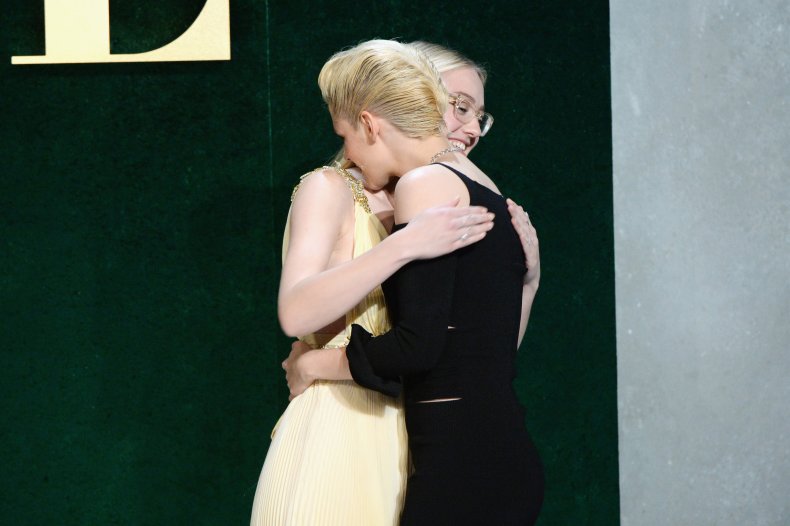 "My friendship with Kristen is one of the most special bonds in my life," Fanning said at a 2016 Elle event after the pair faced off in the vampire franchise.
Tom Felton and Rupert Grint, Harry Potter
Gryffindor and Slythern may not be easy bedfellows, but the Ron Weasley and Draco Malfoy actors became friends across the eight films they filmed. Their followers on social media have seen the pair partying together, and Grint even once wore a "I Heart Tom Felton" t-shirt at a premiere.
Tom Felton and Matthew Lewis, Harry Potter
Essentially growing up together has clearly bonded the Harry Potter cast. Felton is also close with the Neville Longbottom star, with the pair reportedly being golf buddies.
Ralph Fiennes and Alan Rickman, Harry Potter
Snape may have died at the hands of Voldemort (of at the not-hands of his snake to be specific), but the actors who played them were real-life friends. Three years after Rickman's death, the actor told Heart radio, "I was friends with the wonderful Alan Rickman and I miss him very much...He would always come and see you in a play and he would give you wonderful insightful guidance about a perfomance, he had a brilliant understanding of how actors function, he was a very kind man."
Jodie Foster and Mel Gibson, Maverick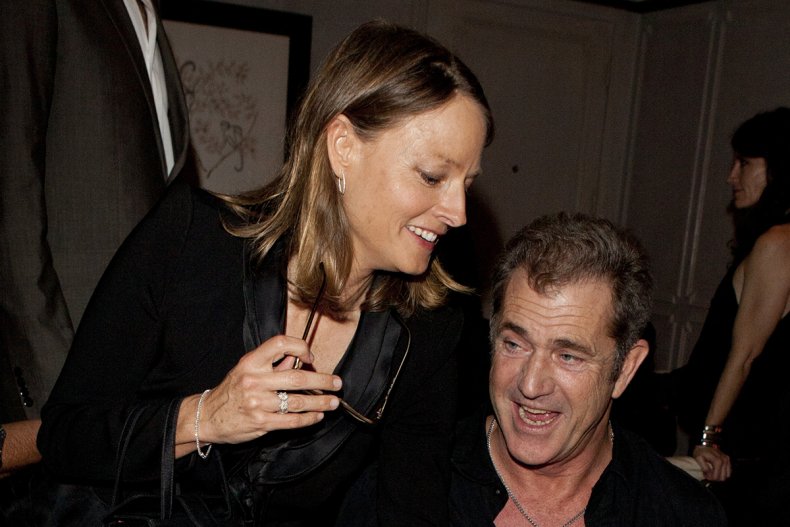 While playing card-sharks who scam and double-cross each other, Foster and Gibson developed at decades-lasting friendship. "I knew the minute I met him that I would love him the rest of my life," Foster said of the actor in a Hollywood Reporter interview.
Ginnifer Goodwin and Lana Parrilla, Once Upon a Time
Snow White and the Evil Queen may be legendary adversaries, but the actors who played them on the fantasy drama are anything but. Instagram users may have seen the pair hanging out when cameras are not rolling.
Chris Hemsworth and Tom Hiddleston, Thor
After playing feuding brothers, the actors developed a self-described "bromance" across the multiple Marvel movies they worked on.
Vanessa Hudgens and Ashley Tisdale, High School Musical
Though they played rival musical stars in the Disney Channel movie, they now have a friendship that has lasted for 15 years. "She's one of those girlfriends who will be my friend forever," Hudgens said of Tisdale in 2017 to Teen Vogue.
Michael B. Jordan and Lupita Nyong'o, Black Panther
The Wakandan warriors may have faced off in the Marvel movie, but in real life the pair have nothing but love for each other. They often pay tribute to each other on social media, with a typical post from Nyong'o reading, "I admire your focus, your ferocity, your vulnerability and even your struggle to accept compliments. You work harder than you show, and you give us a window into your beautiful soul. Happy Birthday, from someone who loves you!"
Janet Leigh and Anthony Perkins, Psycho
Janet Leigh and Anthony Perkins became close on the set of the Hitchcock classic, despite Perkins murdering Leigh's character. They were photographed attending many Hollywood events together in the years after the 1960 film was released.
Andrew Lincoln and David Morrisey, The Walking Dead
Before playing hero Rick Grimes and the evil Governor on the long-running AMC show respectively, Lincoln and Morrissey had known each other from drama school.
Ian McKellen and Patrick Stewart, X-Men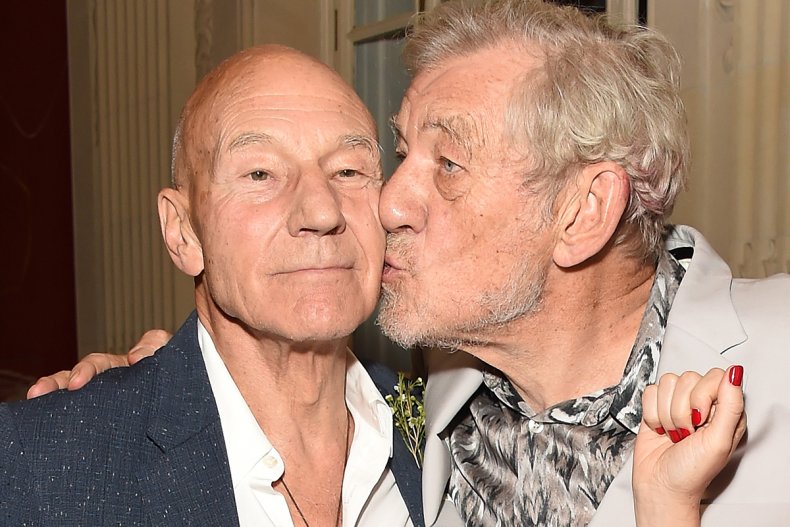 Professor X and Magneto may have destroyed entire cities trying to end each other, but the British actors have been best friends since the 1970s. As well as working together on stage multiple times, McKellen even officiated Stewart's 2013 wedding.
Jeffrey Dean Morgan and Norman Reedus, The Walking Dead
Negan's evil ways may not have won him many friends, but according to Jeffrey Dead Morgan's interview with ABC News he talks to Daryl actor Norman Reedus daily.
Dylan O'Brien and Will Poulter, The Maze Runner
Their character may have faced off in the dystopian YA franchise, but at a press junket O'Brien said, "[Will's] my boyfriend here. You have to latch onto somebody while you're working."
Jim Parsons and Will Wheaton, The Big Bang Theory
Though Sheldon Cooper had a very one-sided rivalry with the i star on the CBS comedy, in reality the pair are buddies. "I am really grateful that I've gotten to do good work that the audience loves with people that I love," Wheaton said of his cameos on the show in a TV Insider interview.
John Pertwee and Roger Delgado, Doctor Who
The Master is one of The Doctor's greatest foes, but the character spent a number of years missing from the show after Third Doctor Jon Pertwee said he would not work with another actor in the role following the death of his friend Roger Delgado in 1975.
Alan Rickman and Bruce Willis, Die Hard
After throwing his Hans Gruber off a building, Bruce Willis became friends with Alan Rickman. At the time of his death, Willis wrote on Twitter, "another dear friend gone ... Yippe Kaye aye dear chap. We will always have Nakatomi. RIP Alan Rickman."
Daisy Ridley and Adam Driver, Star Wars
The pair may have spent three films on rival sides and faced off in lengthy lightsaber battles, but in real-life Ridley and Driver are "besties" (according to a V Magazine piece where they interviewed each other).
Andy Serkis and Elijah Wood, Lord of the Rings
The Lord of the Rings cast is one of the most famous group of friends who bonded during a movie – even if the rest of the cast had to contend with Serkis going full Method by crawling around the set.
Kristen Stewart and Charlize Theron, Snow White and the Huntsman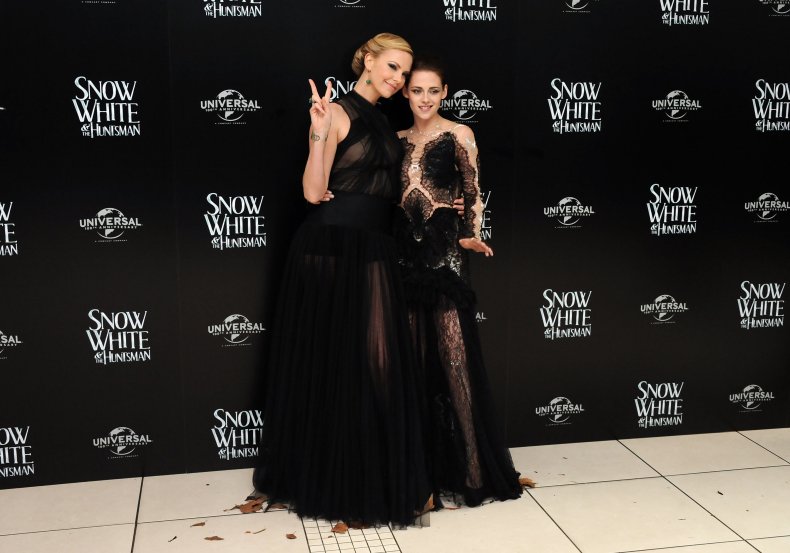 Another pair to bond after playing Snow White and the Evil Queen. "It happened within the first five minutes of meeting her. We were on a plane going to San Diego, for ComicCon, and I just fell in love with her," Theron told Celebuzz.
Ben Stiller and Vince Vaughan, Dodgeball
The pair have faced off in movies like Dodgeball and Starsky & Hutch, but in real life they are part of the so-called Frat Pack, a group of comedy friends that also includes Owen Wilson and Will Ferrell.
Kate Winslet and Shailene Woodley, Divergent
After playing the hero and villain in Divergent, the Oscar-winning Winslet acted as a mentor to the younger star. "One of the greatest gifts I've had in my life is to receive the sisterhood of Kate," Woodley said in a Variety interview.