Adam Kinzinger Blasts Trump for Insulting McConnell at GOP Donor Retreat: 'Classy as Always'
Illinois Republican Congressman Adam Kinzinger criticized former President Donald Trump for insulting Senate Minority Leader Mitch McConnell at a GOP retreat over the weekend.
"Classy as always. I remember when my fellow Republicans would have condemned this stuff but, that was a whole 4 years ago," Kinzinger wrote in a tweet on Saturday night.
Kinzinger's Twitter post comes in response to remarks Trump made while speaking to a Republican National Committee (RNC) gathering at his Mar-a-Lago Club in Palm Beach, Florida. During his speech, Trump spoke of the Republican lawmakers who voted in favor of his second impeachment following the January 6 Capitol riot.
However, he focused much of his criticism toward McConnell. The former president called McConnell a "dumb son of a bitch" for not helping him overturn the results of the 2020 election. Trump also referred to the Senate Republican leader as a "stone cold loser" during his address.
This is also not the first time Kinzinger has fired back at Trump for criticizing the Republican Party. In a tweet on March 8, he responded to Trump's statement amid a dispute with the Republican National Committee and their use of his name and image in fundraising.
"As i have said: Trump demands loyalty and gives none. Statement of a man desperate for relevance but feeling the changing tides," Kinzinger wrote in the tweet.
Newsweek reached out to Kinzinger for comment.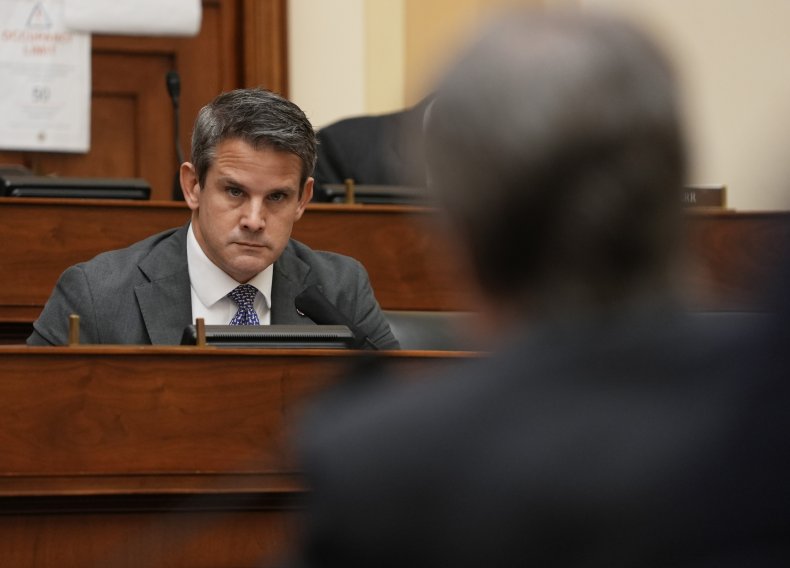 While McConnell was once seen as a long-time ally to Trump, the Kentucky senator has become one of the former president's critics since leaving office.
McConnell did not vote in favor of impeaching Trump during the latter's trial in the Senate. However, McConnell said that the former president "provoked" the mob that breached the Capitol in protest of Congress certifying the election results. He also said that Trump was "practically and morally responsible for provoking the events of the day."
"The people who stormed this building believed they were acting on the wishes and instructions of their president. And having that belief was a foreseeable consequence of the growing crescendo of false statements, conspiracy theories, and reckless hyperbole which the defeated president kept shouting into the largest megaphone on planet Earth," McConnell said on the Senate floor on February 13, following Trump's acquittal by the Senate in his impeachment trial.
Trump issued a statement shortly after McConnell's remarks, calling him a "dour, sullen, and unsmiling political hack."
"The Republican Party can never again be respected or strong with political "leaders" like Sen. Mitch McConnell at its helm. McConnell's dedication to business as usual, status quo policies, together with his lack of political insight, wisdom, skill, and personality, has rapidly driven him from Majority Leader to Minority Leader, and it will only get worse," Trump said.
During a recent interview on a podcast hosted by Fox News contributor Lisa Boothe, Trump said: "Guys like Mitch McConnell, they don't fight," adding that "And now he's hanging by a thread."
Newsweek reached out to McConnell's office for comment, but did not receive a response in time for publication.