Trump-McConnell Feud Heats Up as GOP 'Kiss the Ring' at Donor Retreat, PAC Endorses Murkowski
A feud between Senate Minority Leader Mitch McConnell and Donald Trump is heating up after a McConnell-aligned Super PAC on Friday announced its support for Alaska Senator Lisa Murkowksi—an outspoken Trump critic—as the former president strategizes how to take down his adversaries at a GOP donor event in Florida.
This weekend, Trump and a number of high-profile GOP lawmakers and supporters are meeting for a Republican National Committee spring retreat in Palm Beach, Florida. In a keynote speech Saturday night, Trump called McConnell a "dumb son of a bitch" for not helping him overturn the 2020 presidential election, as well as a "stone cold loser."
Participants at the event are discussing unity within the party and upcoming campaign plans after Trump vowed to punish his opponents in next year's GOP primary races. Among those opponents are Murkowski and other Republican senators who voted to convict Trump during his second impeachment trial in February.
Trump has pledged to fight against lawmakers who have publicly criticized him, highlighting an ongoing divide within the GOP as the party struggles to break away from the former president's influence.
McConnell, once considered a long-time ally, is among those Trump has recently gone after. Last month, Trump said McConnell was "hanging by a thread" and warned Republicans that his endorsement determines "the difference between victory and massive defeat."
Trump's criticism of McConnell comes after the Kentucky senator said the former president's actions on January 6 "provoked" a violent mob of his supporters to storm the U.S. Capitol. Though McConnell did not vote to convict in the impeachment trial, he called Trump "practically and morally responsible," for the riot that resulted in five deaths.
In response, Trump called McConnell a "dour, sullen, and unsmiling political hack."
Now a McConnell-aligned Super PAC, the Senate Leadership Fund, has publicly endorsed Murkowski in a move that could add further fuel to the fire.
Last month, Trump said the Alaska senator was "disloyal and very bad" and confirmed that he would be campaigning against her next year after she joined six other Senate Republicans in finding Trump guilty of inciting an insurrection.
"She represents her state badly and her country even worse," Trump said in March. "I do not know where other people will be next year, but I know where I will be—in Alaska campaigning against a disloyal and very bad senator."
The upcoming Alaska race is thought to be a focal point between McConnell and Trump over the future of the Senate and the Republican Party.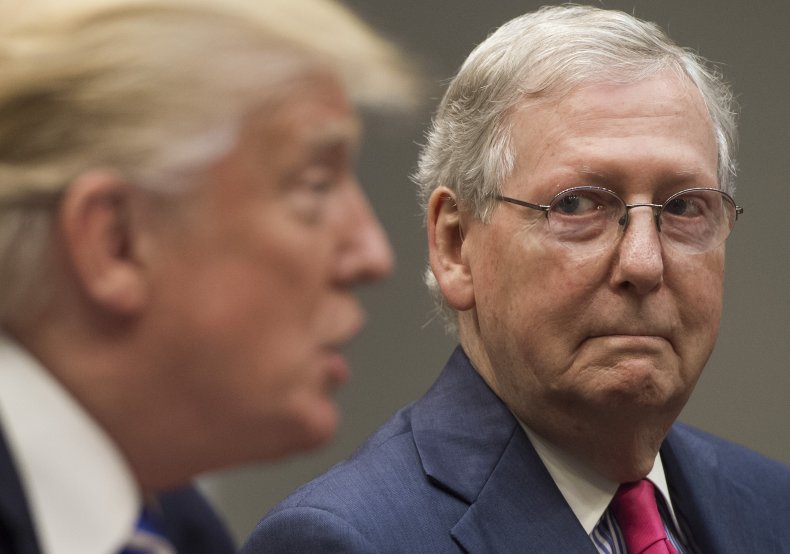 Many believe that Trump has maintained a tight grip over the GOP since leaving office.
The former president was the highlight speaker at February's Conservative Political Action Conference (CPAC). At the event, Texas Senator Ted Cruz said "Trump ain't going anywhere," while others praised the former president. A gold statue of him was erected in his honor.
According to GOP strategist Doug Heye, Trump's control over the party also remained obvious at this weekend's convention in Florida.
"Everyone who is considering running for president is making the pilgrimage to Florida to kiss the ring and, more importantly, echo Trump's rhetoric," Heye told USA Today. "Those who have been critical of Trump—people like me—are the outliers," he added.
Those prospective presidential candidates who signed up for the retreat include Florida Governor Ron DeSantis, South Dakota Governor Kristi Noem, Arkansas Senator Tom Cotton, former Secretary of State Mike Pompeo and Florida Senators Rick Scott and Marco Rubio.
Notably absent from the retreat was McConnell, who also did not attend CPAC in February.
Newsweek contacted representatives for Trump and McConnell for additional comment, but did not hear back in time for publication.
Update: 7:40 a.m. ET April 11—This article has been updated to add Trump's comments about McConnell at the retreat Saturday night, and has been corrected to state the event is in Palm Beach, not Palm Springs.