Mitch McConnell Warns Trump 'Didn't Get Away With Anything,' Can Still Be Criminally Prosecuted
In a scathing floor speech, Senate Minority Leader Mitch McConnell on Saturday warned former President Donald Trump that he "didn't get away with anything," after the Senate acquitted him a second time following a historic impeachment trial.
Seven GOP senators joined Democrats in voting to convict Trump, but the 57-43 majority fell short of the two-thirds needed for a conviction. Trump was the first president to face an impeachment trial after leaving office and the first to be impeached twice by the House of Representatives.
McConnell voted to acquit Trump, but he supported Democrats in blaming the former president for the Capitol riot.
"There's no question, none, that President Trump is practically and morally responsible for provoking the events of the day," he said on the Senate floor. "The people who stormed this building believed they were acting on the wishes and instructions of their president. And having that belief was a foreseeable consequence of the growing crescendo of false statements, conspiracy theories, and reckless hyperbole which the defeated president kept shouting into the largest megaphone on planet Earth."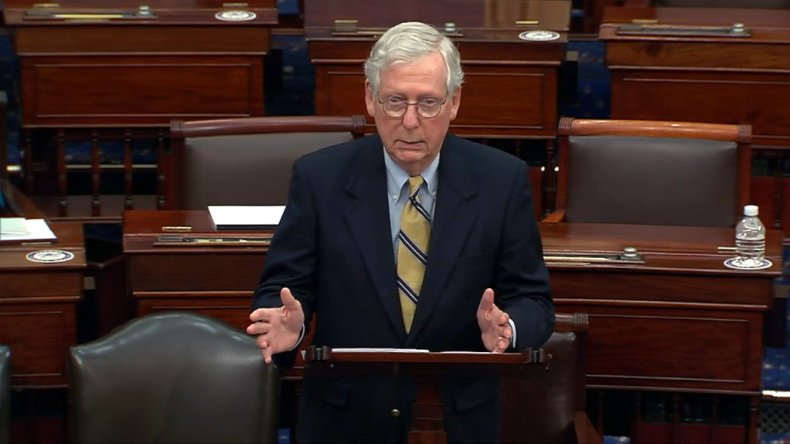 "These criminals were carrying his banners. Hanging his flags and screaming their loyalty to him. It was obvious that only President Trump could end this... Former aides publicly begged him to do so. Loyal allies frantically called the administration. The president did not act swiftly. He did not do his job... Instead according to public reports he watched television happily as the chaos unfolded, kept pressing his scheme to overturn the election," McConnell continued.
The Republican leader also warned Trump that he could still face criminal prosecution or civil litigation for his actions.
"President Trump is still liable for everything he did while in office," he said. "He didn't get away with anything yet. We have a criminal justice system in this country. We have civil litigation."
McConnell emphasized that the Senate does not endorse Trump's actions with its decision not to convict and argued that he voted to acquit because the matter fell outside the upper chamber's jurisdiction.
"It simply says that senators did what the former president failed to do. We put our constitutional duty first," he said. "The leader of the free world cannot spend weeks thundering that shadowy forces are stealing our country and then feign surprise."
With an acquittal, the Senate cannot hold another vote to disqualify Trump from running for office again.
Trump celebrated the decision by vowing to continue his Make America Great Again movement in the coming months.
"Our historic, patriotic and beautiful movement to Make America Great Again has only just begun," he said. "In the months ahead I have much to share with you, and I look forward to continuing our incredible journey together to achieve American greatness for all of our people. There has never been anything like it! We have so much work ahead of us, and soon we will emerge with a vision for a bright, radiant and limitless American future."
Newsweek reached out to Trump's representatives for comment.