Adam Kinzinger Calls Lauren Boebert 'Trash,' Says Kevin McCarthy Tried to 'Hug a Skunk'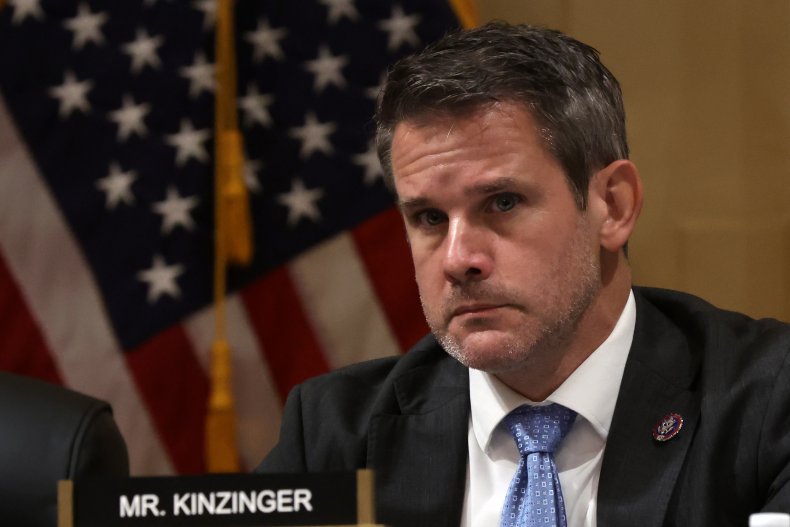 Representative Adam Kinzinger (R-Ill.) slammed Representative Lauren Boebert (R-Colo.) and House Minority Leader Kevin McCarthy (R-Calif.) on Friday, tweeting that "Boebert is TRASH" for her anti-Muslim rhetoric against Representative Ilhan Omar (D-Minn.), and that McCarthy had tried to "hug a skunk" in reference to his alliance with Representative Marjorie Taylor Greene (R-Ga.).
On an article about Greene saying McCarthy "doesn't have the votes" to retain leadership if the GOP takes control of the House after next year's midterm elections, Kinzinger tweeted, "I hate to LOL this but I must, @GOPLeader is a living example of what happens when you try to hug a skunk."
Greene said that McCarthy "doesn't have the full support to be speaker" if Republicans take over the House, during a podcast interview with Representative Matt Gaetz (R-Fla.) that was released on Thursday. Greene said that she and other far-right Republicans were "very unhappy about the failure to hold" other Republicans "accountable" for not fending off criticism of their behavior or being conservative enough.
Kinzinger, who is not running for re-election, has been at odds with McCarthy, Boebert and other loyalists to former President Donald Trump this year after voting in favor of the ex-president's second impeachment for inciting the January 6 insurrection. He has also been targeted for serving alongside Representative Liz Cheney (R-Wyo.) as the only Republicans on the House committee investigating the attack.
Greene and other members of the conservative House Freedom Caucus called on Kinzinger and Cheney to be expelled from the House Republican Conference over the summer after the pair joined the January 6 committee. Boebert is also a member of the House Freedom Caucus.
Kinzinger's damnation of Boebert came after she made a series of escalating remarks referring to Omar, who is a Muslim, as a member of the "Jihad Squad." Boebert used the phrase last week to blast Omar during a hearing on censuring Representative Paul Gosar, her fellow House Freedom Caucus member who posted a doctored anime video that showed him killing Representative Alexandria Ocasio-Cortez (D-N.Y.) with a sword.
Omar called Boebert an "insurrectionist who sleeps with a pervert" after the first "Jihad Squad" remark. Boebert upped the ante in a video shared online over Thanksgiving, when she again used the phrase and said that a Capitol police officer she and Omar shared an elevator with seemed concerned about her Democratic colleague but should not have worried because she did not "have a backpack." Boebert later apologized to anyone she had "offended" following backlash but described the criticism as a "distraction."
"Saying I am a suicide bomber is no laughing matter. @GOPLeader and @SpeakerPelosi need to take appropriate action, normalizing this bigotry not only endangers my life but the lives of all Muslims," Omar tweeted on Friday. "Anti-Muslim bigotry has no place in Congress."
Newsweek reached out to the offices of McCarthy and Boebert for comment.