Adam Kinzinger Shares Chilling Threats He's Received Over Jan. 6 Hearings
A flurry of voicemails posted online Tuesday by Republican Representative Adam Kinzinger included myriad threats against him and his family for his outspoken criticism of former President Donald Trump and his participation with the January 6 House committee.
The Illinois congressman and Representative Liz Cheney of Wyoming are the only Republicans who are part of the committee investigating multiple facets of the January 6, 2021, Capitol attack, including the culpability of former President Donald Trump.
Kinzinger wrote on Twitter that while political violence "has increased heavily in the last few years...the darkness has reached new lows," posting a three-minute video compilation of recent calls made to his Washington, D.C., office and collected by high school- and college-aged interns.
"I guess I can't say a whole lot more other than I hope you naturally die as quickly as f**king possible you f**king piece of s**t," one voicemail said.
Another person called Kinzinger a "backstabbing son of a b**ch" in reference to his criticism of Trump, adding that he and the other committee members are "liars."
"Hey you little c**ksucker," another voicemail said. "Going to protest in front of your house this weekend. We know where your family is and we're going to get you, you little c**ksucker....Gonna get your wife, gonna get your kids."
One caller referenced a reported $200 GoFundMe donation allegedly made by Kinzinger to U.S. Capitol security guard Michael Byrd—who shot and killed protester Ashli Babbitt. Byrd raised $164,206, which Kinzinger called "a worthy cause" due to the "onslaught of misinformation and extreme threats" Byrd received following the riot.
"I hope somebody like him kills your nasty mom, and your nasty wife," the caller said. "It's not a threat; it's a hope."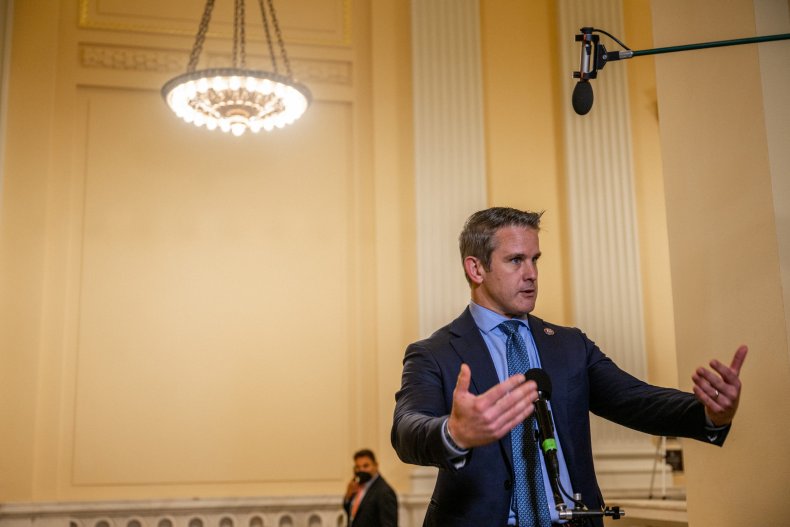 One woman invoked the "wrath of the Lord God Almighty" against Kinzinger and his family, saying she hopes it negatively affects his health, home and livelihood.
"I'll pray if it be God's will, that you suffer," the woman added.
Others called him a "communist f**k" and a "Marxist traitor," including one mention of Kinzinger being a "Democratic operative and a f**king Obama d**k suck."
Another caller said, "We're gonna get you and Liz Cheney"—the latter of whom is the committee's vice chair and who recently made mention of potential criminal referrals against Trump following the testimony of Cassidy Hutchinson, who worked as an aide to former White House Chief of Staff Mark Meadows.
Kinzinger also defended Hutchinson's testimony after she was disparaged by Trump and other conservatives, with the congressman calling her a "credible" witness.
In October, Kinzinger, a military veteran, announced he would not run for reelection after 12 years in the House of Representatives.
Newsweek reached out to Kinzinger for comment.