Adam Kinzinger Rips Mike Pence for Bragging About 'Staying in Touch' With Trump
Representative Adam Kinzinger took aim at former Vice President Mike Pence, criticizing the politician for continuing to tout his close ties to former President Donald Trump.
The Illinois Republican retweeted a post highlighting reporting from The New York Times that outlined how Pence declined to cave to Trump's pressure to postpone the certification of the Electoral College votes on January 6. While the Republican lawmaker said Pence deserved credit for that decision, he slammed him for publicly promoting his ongoing relationship with Trump.
"He gets credit for THAT, but lately he's gone to Hungary, and bragged about staying in touch with fat Donald. Really is incredible how close we came, and how some want to just 'move on,'" the Republican congressman, a staunch Trump critic, tweeted on Sunday.
Kinzinger was referring to a speech Pence gave in Budapest at a far-right summit last month, during which the vice president touted his conservative values and highlighted his ties to Trump. More recently, Pence suggested that he has been in fairly regular communication with the former president over the past several months.
"We've spoken probably a dozen times since the inauguration [in January]," Pence told the Ruthless podcast on Thursday last week. Although Pence described the pro-Trump attack against the U.S. Capitol on January 6 as a "difficult" and "dark" moment, he said he had repaired his relationship with the former president.
"We moved past it. We finished the work," Pence said, adding that he is now focused "entirely on the future."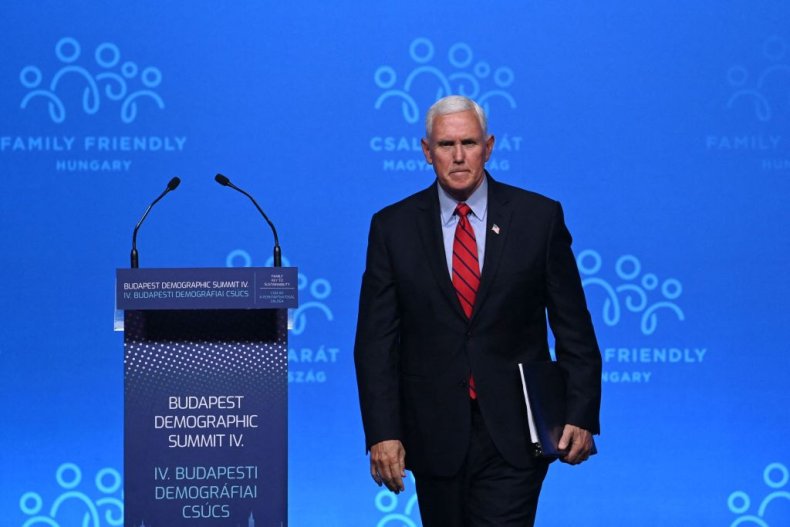 Trump repeatedly urged Pence publicly to block the certification of Biden's election victory on January 6. At a rally at the Ellipse near the White House during the formal certification process taking place at the Capitol, Trump urged his followers to march toward the legislative building and to "fight like hell."
Hundreds of Trump supporters proceeded to do as the former president suggested, attacking the Capitol and threatening the lives of Democratic and Republican lawmakers there. Some expressed a desire to "hang Mike Pence" and a large noose was erected by rioters near the Capitol.
"Now, there are those in our party who believe that in my position as presiding officer over the joint session, that I possessed the authority to reject or return electoral votes certified by states," Pence said during June remarks at the Ronald Reagan Presidential Library in California.
"The Constitution provides the vice president with no such authority before the joint session of Congress. And the truth is, there's almost no idea more un-American than the notion that any one person could choose the American president," the former vice president said of Trump's January 6 demand.
Newsweek reached out to Pence for comment but did not immediately receive a response.