Adam Kinzinger Admits 'Trump Is Winning,' Urges GOP to Stand Up to 'Lies'
Representative Adam Kinzinger, an Illinois Republican and staunch critic of former President Donald Trump, admitted in a Saturday video statement that Trump is currently "winning" the battle for party control but urged GOP lawmakers to take a stand against his "absolute lies."
Kinzinger, along with nine other House Republicans, voted to impeach Trump for inciting his supporters to attack the U.S. Capitol on January 6. Along with Representative Liz Cheney, a Wyoming Republican, Kinzinger has become one of Trump's most outspoken House Republican critics and serves on the select committee investigating 1/6.
"A couple days ago my friend [Representative] Anthony Gonzalez announced he won't run again. And now the pundits and politicos are discussing whether this means that Trump won," Kinzinger said in a Saturday video posted to Twitter. "So let me answer this question: Yes, as of now, Trump is winning," the Illinois Republican said.
Gonzalez, an Ohio Republican, also voted to impeach Trump. The former president endorsed Gonzalez's challenger Max Miller in February, and the GOP congressman announced on Thursday that he would not seek re-election in 2022, calling Trump a "cancer for the country."
Kinzinger said that Trump is "winning" because many lawmakers within the Republican Party have declined to stand up to the former president. He urged fellow GOP colleagues to publicly reject Trump and the misinformation he continues to spread about the 2020 election.
"The Republican Party will not get better unless you stand up," he said. "Will you allow the former president to continue his absolute lies? Ten of us voted to impeach Trump, 180 remain silent and now it's their turn. When we all publicly take sides then we can answer the question once and for all, 'Whose party is this?'"
Kinzinger and Cheney have received significant backlash from their Republican colleagues due to their repeated criticism of Trump and their willingness to be part of the January 6 select committee.
The House Freedom Caucus, a staunchly conservative group of GOP lawmakers, has urged House Minority Leader Kevin McCarthy, a California Republican, to expel Cheney and Kinzinger from the House Republican Conference. McCarthy has also criticized Cheney and Kinzinger, referring to them as "Pelosi Republicans" due to their roles with the January 6 committee established by House Speaker Nancy Pelosi.
Trump and many of his allies continue to claim that the November election was "rigged" or "stolen" in favor of President Joe Biden. They have not provided evidence to substantiate this extraordinary allegation. Dozens of election challenge lawsuits have failed in state and federal courts, with even judges appointed by Trump and other Republicans readily dismissing the cases.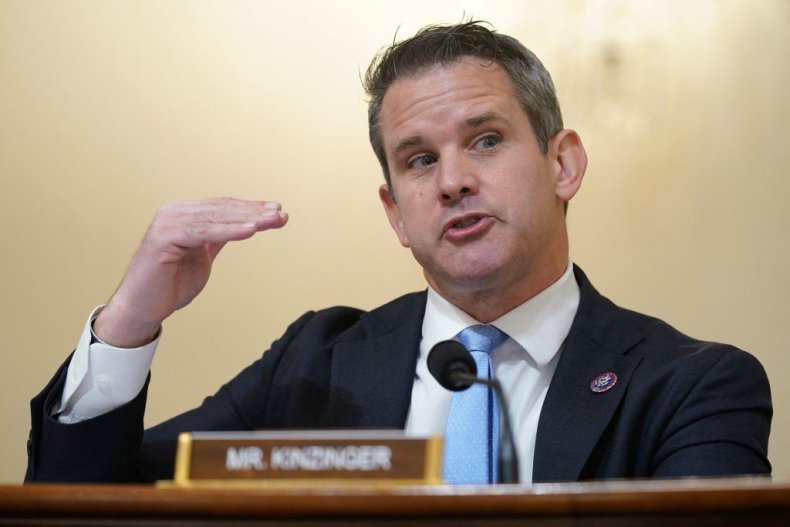 The baseless claims of widespread election fraud animated many in the crowd of hundreds of Trump supporters that attacked the U.S. Capitol on January 6. Trump told his supporters to "march" to the Capitol and to "fight like hell" at a nearby rally just ahead of that assault. While Kinzinger, Cheney and several other Republicans criticized Trump in the aftermath of the January 6 attack, most GOP lawmakers either remained silent or continued to vocally back the former president.
Newsweek reached out to Trump's press office for comment but did not immediately receive a response.