Trump Endorses Michigan AG Candidate Who Served as Attorney in Failed Election Fraud Suit
Former President Donald Trump is backing a Republican running to become Michigan's attorney general who filed an unsuccessful election-fraud lawsuit after the 2020 presidential race.
Matthew DePerno, a lawyer from the Kalamazoo, Michigan, area, continues to push baseless claims that the election was fraudulent, as does Trump and many of his allies. In a statement late Thursday evening, Trump endorsed DePerno, who aims to unseat Democratic Attorney General Dana Nessel in the November 2022 election.
Trump described DePerno as a "super lawyer," saying the candidate has "defended the Constitution for 20 years." He also praised DePerno for fighting to "reveal the truth about the Nov. 3rd Presidential Election scam."
"Dana Nessel, the Radical Left, and the RINOs are targeting Matt because he gets results and has exposed so much Voter Fraud in Antrim County, and many more places, in the 2020 Election," the former president said. "He will never give up, and that's why they absolutely cannot stand him!"
Trump asserted that DePerno has his "Complete and Total Endorsement. He will never let you down!"
DePerno shared a photo of himself with Trump on Twitter late Thursday evening.
"One of the great honors of my life to meet President Trump. I spent an unforgettable time with the greatest President ever. We talked about real conservative ideas on how to bring law and order back to Michigan," the lawyer wrote. "No longer will we allow socialists to dictate our lives."
The Michigan attorney first announced his candidacy in mid-July. Following the 2020 election, DePerno represented William Bailey, a resident of Michigan's Antrim County, who alleged in a lawsuit that Dominion Voting Systems' voting machines distorted the election results in the county. Initial unofficial results posted by the county showed President Joe Biden and other Democratic candidates had won there by a significant margin, despite the area's history of generally backing GOP candidates.
Antrim County officials realized quickly there was an error with the results and corrected the mistake. While Trump allies have alleged that this error was due to an algorithm used to rig the election, local county and state officials said it was caused by human error—not the software. Furthermore, the mistake was caught almost immediately and corrected long before the state's official results were reported and eventually certified.
In May, a judge in Antrim County dismissed the lawsuit filed by DePerno on behalf of Bailey. The county's Republican clerk admitted publicly she made the error by updating just some of the election tabulators after there were last-minute changes to two of the down-ballot races.
A Michigan state Senate committee led by Republicans dismissed concerns about what happened in Antrim County. "Ideas and speculation that the Antrim County election workers or outside entities manipulated the vote by hand or electronically are indefensible," the GOP state lawmakers wrote in a lengthy document debunking baseless claims of widespread election fraud in the state.
DePerno's website continues to promote false claims about the election, however. The home page includes a prominent image of the Constitution and links to an "Election Fraud Defense Fund." A May post on his website said, "We have the proof that voting machines used in the 2020 elections can be compromised and votes easily transferred from one candidate to another."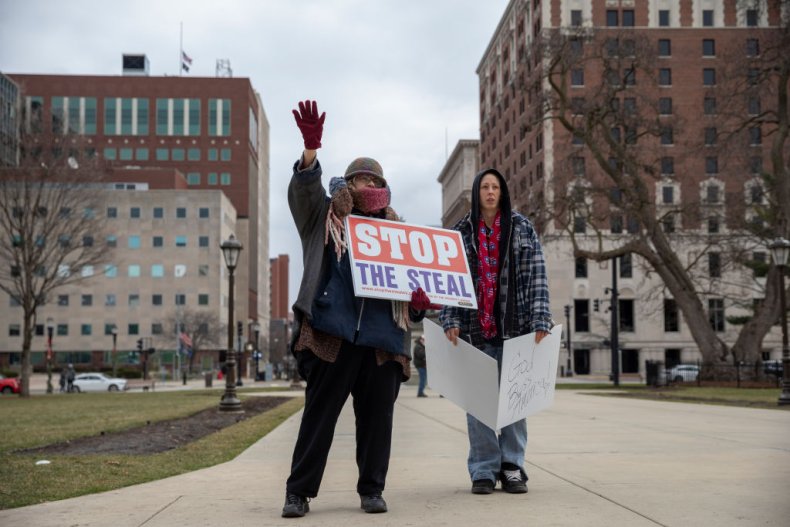 Although Trump and many of his supporters continue to claim that the presidential election was "rigged" or "stolen," they have not provided any evidence to substantiate these allegations. Dozens of election challenge lawsuits filed by Trump and his allies have failed in state and federal courts. Even judges appointed by Trump and other Republicans have dismissed the lawsuits.
Recent polling shows that most Republican voters think that believing Trump won the election is important to identifying as a member of the GOP. The survey, conducted by CNN, showed that nearly 6 in 10 (59 percent) of Republicans said it's "somewhat" or "very" important for GOP voters to believe the former president defeated Biden.
Newsweek reached out to DePerno for comment but did not hear back before publication.