GOP Sends Out Fake Pence Email Calling 2020 Election 'Contested Takeover,' Then Apologizes
The National Republican Senate Committee (NRSC) sent out a fundraising email calling the 2020 election a "contested takeover," which it signed with former Vice President Mike Pence's name—but he didn't approve the message.
Pence refused to cave to former President Donald Trump's pressure to not formally certify the official election results on January 6, the day the U.S. Capitol was assaulted. The former vice president went on to attend President Joe Biden's inauguration on January 20. In June, Pence said he was "proud" to have certified the official election results early on the morning of January 7.
But on Thursday the NRSC, which works to elect Republicans to the Senate, sent out an email in which Pence appeared to be suggesting that he did not believe the 2020 election results were valid. "Since their contested takeover, the Biden-Harris administration has unleashed a tidal wave of Left-wing policies that threaten to wipe out the progress we made for a safer, more prosperous, more secure America," the email said. Punchbowl News first reported on the email.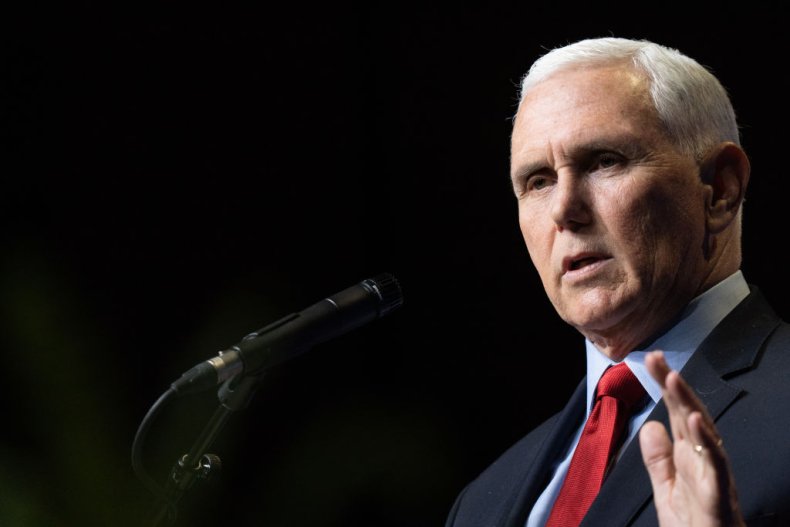 The email message was a clear departure from Pence's previous position on the 2020 election. An NRSC spokesperson later admitted that the former vice president had not approved the email and apologized.
"We appreciate Vice President Pence's support in helping us win back the Senate. Our team made a mistake and a vendor sent the wrong version of an email. It was not approved by Vice President Pence's team and we regret the error," NRSC communications director Chris Hartline told Punchbowl News and Newsweek in a statement.
Hartline did not respond to a question about whether a clarification email was sent out to GOP supporters. Newsweek reached out to Pence's press representatives for further comment but did not immediately receive a response.
Trump continues to baselessly claim that the 2020 election was "rigged" or "stolen" in favor of Biden. "The 2020 Election was potentially the most corrupt in the history of our country. It's clear the nearly 75 MILLION patriots who voted for me agree," a Tuesday email sent by Trump's Save America PAC told supporters, requesting donations.
Ahead of the January 6 certification of November's election results, Trump repeatedly urged Pence to unconstitutionally refuse to certify them. The former vice president declined to support Trump's efforts.
"It is my considered judgment that my oath to support and defend the Constitution constrains me from claiming unilateral authority to determine which electoral votes should be counted and which should not," Pence said in a statement at the time.
Trump and his allies have not provided evidence to substantiate their claim that the election was fraudulent. Dozens of election challenge lawsuits filed by the former president and his supporters have failed in state and federal courts. Even judges appointed by Trump and other Republicans have rejected the allegations.
Former Attorney General William Barr, who was widely viewed as one of Trump's most loyal Cabinet members, said in December there was "no evidence" to show widespread voter fraud. Audits and recounts in key battleground states—including where the election was overseen by pro-Trump Republicans—have reaffirmed Biden's victory.
The Cybersecurity and Infrastructure Security Agency at the Department of Homeland Security described the 2020 election as the "most secure in American history." The federal agency, which was led by a Trump appointee at the time, asserted that there was "no evidence that any voting system deleted or lost votes, changed votes, or was in any way compromised."