Adam Laxalt's Chances of Beating Catherine Cortez Masto in Nevada: Polls
Former Nevada Attorney General Adam Laxalt, a Republican, aims to unseat Democratic Senator Catherine Cortez Masto to flip her seat red in November, and recent polls show a potentially close race.
Laxalt, who was endorsed by former President Donald Trump, won the GOP primary on Tuesday with well over 50 percent of the vote. Meanwhile, Cortez Masto handily beat her Democratic opponents with about 90 percent support. Recent polls suggest the incumbent has an edge in the race, but Nevada has been leaning toward the GOP, giving Republicans hope of winning the seat in November's midterm race.
Polling and news analysis site FiveThirtyEight's average of recent polls for the Nevada Senate contest gives Cortez Masto a 4.3 percent lead. The Democrat has the support of about 43.4 percent of Nevada voters, compared with approximately 39.1 percent who back Laxalt. Meanwhile, FiveThirtyEight also assesses that Nevada has a 2.5-point lean in favor of Republicans, compared with the rest of the country.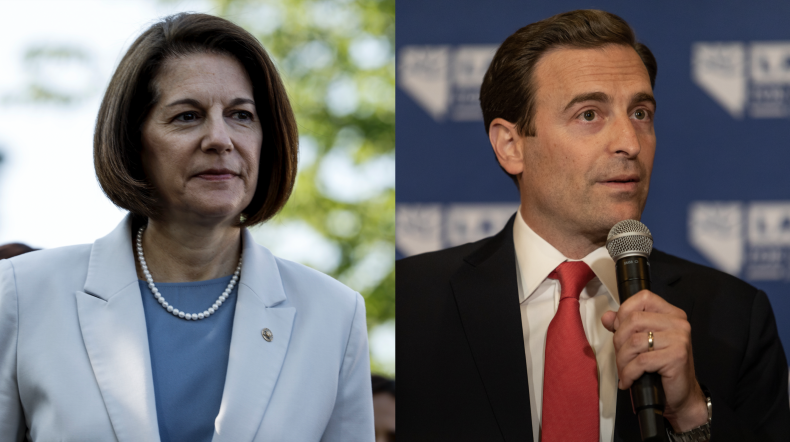 However, the most recent poll carried out in Nevada shows Cortez Masto with a wide double-digit lead over her Trump-backed challenger. The survey, conducted by the University of Nevada, Reno from May 17 to 27, showed the Democrat 21 points ahead of Laxalt. Cortez Masto was backed by 48 percent of respondents, compared with just 27 percent who supported the Republican contender.
The poll had a margin of error of plus or minus 3.5 percent and surveyed 1,048 Nevadans.
An early-April poll by Reno Gazette-Journal/Suffolk showed Laxalt leading Cortez Masto by 3 points. The survey of 500 likely voters had the Republican at 43 percent and the Democrat at just 40 percent. It had a margin of error of plus or minus 4.4 percent.
Another April survey, from The Nevada Independent and OH Predictive Insights, showed Cortez Masto in the lead by 8 points. The Democrat had the backing of 43 percent of registered voters, compared with 35 percent who supported Laxalt. The poll included 748 registered voters and had a margin of error of plus or minus 4.4 points.
Polling released in April by McLaughlin and Associates on behalf of Battle Born Values PAC, which supports Laxalt, showed the Republican narrowly ahead of Cortez Masto. The survey had the Republican at 47 percent and the Democrat at 46 percent. Six hundred likely voters were surveyed for the poll, which had a margin of error of plus or minus 4 points.
Notably, both of Nevada's senators are Democrats. The state has gone for Democratic presidential candidates in every election going back to 2008. The state's governor, Stephen Sisolak, is a Democrat as well.
Republicans aim to flip at least one Democratic-held Senate seat blue in November in order to take back control of the legislative chamber. With an evenly split Senate, Democrats maintain only the slimmest majority, as Vice President Kamala Harris can cast tie-breaking votes. If the GOP manages to gain just one seat in the midterms, Democrats will lose their narrow majority.