Republicans' Chances of Beating Democrats for Control of Senate in Midterms
As the midterms approach, Republicans feel emboldened by President Joe Biden's tanking approval rating and widespread criticism of the Democrats' leadership in Washington, D.C.—giving them hope they'll be able to flip the Senate back to GOP control in November.
Democrats currently hold the Senate with the slimmest possible majority. The legislative body has 50 Republican members and 48 Democrats, as well as two independents who caucus with their Democratic colleagues. With that even split, Vice President Kamala Harris, in her role as Senate president, can cast tie-breaking votes, which gives her party narrow control of the upper chamber of Congress.
When voters go to the polls across the country in just over five months, 35 Senate seats will be up for grabs. Of these, 14 are held by Democrats and 21 are held by Republicans. With a zero margin of comfort, Democrats cannot lose even one seat and maintain their control of the Senate. At the same time, most of these seats are considered safe, as they are held by incumbents in states that largely vote for Democrats or Republicans, respectively.
Seven seats are considered by analysts to be the most competitive in the 2022 election cycle, although some are more likely to flip than others. Notably, while Republicans may manage to win one or more of these races, Democrats could also pick up a seat or two held by a GOP lawmaker.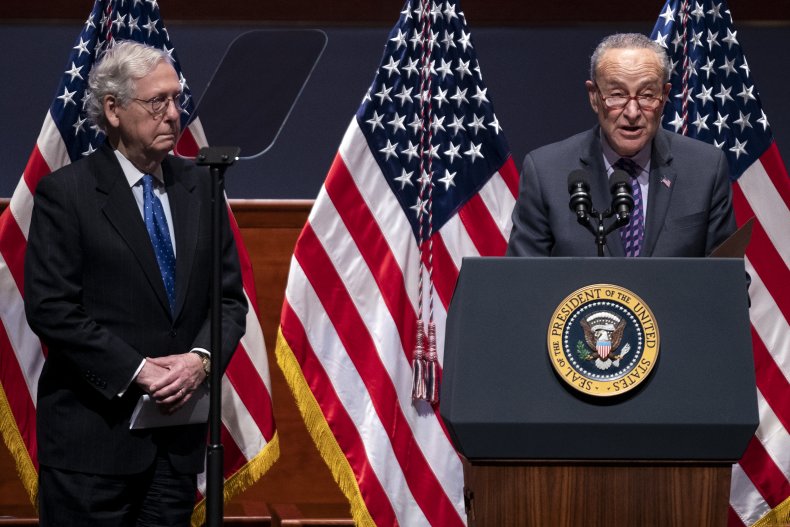 Analysts are keeping their eyes most closely on Pennsylvania, Georgia, Nevada, Arizona, Wisconsin, New Hampshire and North Carolina. In recent assessments, CNN, NPR and FiveThirty Eight have all said these Senate races as among the most likely to flip. Of those seats, four are held by Democrats.
Overall, polling shows Republicans are favored to perform well in the midterms. A CNN/SSRS Opinion Panel carried out from May 3 to 5 showed that 49 percent of registered voters said they'd vote for a generic Republican candidate if the election were held today. Just 42 percent said they'd cast ballots for generic Democratic candidates—giving the GOP a 7-point advantage. Meanwhile, the Real Clear Politics average of recent generic congressional ballot polls currently has the GOP in the lead by 1.9 percent.
Recent historical precedent also suggests that one or both congressional chambers are likely to flip to Republican control. Last June, the University of Virginia's Center for Politics released an analysis of midterms going back to 1946. That report showed that the president's party has lost more than three Senate seats, on average, during the midterms. The biggest loss has been 13 seats, while the largest gain has been just four seats.
Here's a closer look at the four races where Republicans appear to have the best shot at flipping the seat on November 8.
Arizona
Democratic Senator Mark Kelly managed to flip a red seat blue in a special election in 2020. The seat was previously held by Martha McSally, a Republican who was appointed to serve Arizona in the Senate until the special election for the remainder of deceased GOP Senator John McCain's term. Kelly won in that race by a margin of 2.4 percent, with the support of 51.2 percent of Arizona voters, compared with 48.8 percent that backed McSally.
It's unclear whom Kelly will face off against in November. The leading GOP contenders are Arizona Attorney General Mark Brnovich, businessman Jim Lamon and venture capitalist Blake Masters. Recent polls show Masters in third place among the Republican contenders, with the primary set for August. Former President Donald Trump formally endorsed Masters on Thursday shortly after this article initially published.
The latest survey data from Blueprint Polling shows Kelly would perform well against any of the top three Republicans, however. He leads all three by margins ranging from 14 percent to 17 percent. But a Data for Progress poll in January, which surveyed Arizona's likely voters about a Kelly vs. Brnovich match, showed a much closer competition. The incumbent Democrat was supported by 47 percent, compared with the 49 percent who preferred the Republican challenger.
The Data for Progress poll additionally showed that more likely voters viewed Kelly unfavorably than those who viewed him favorably. Nearly half, 49 percent, viewed the Democrat "somewhat" or "very" unfavorably, while just 46 percent viewed him "somewhat" or "very" favorably.
Georgia
The contest between Senator Raphael Warnock and former football star Herschel Walker is looking to be one of the closest watched in the midterms. Neither Warnock nor former GOP Senator Kelly Loeffler secured more than 50 percent of the vote in the 2020 general election. As a result, the race went to a runoff in January 2021, which the Democrat won with 51 percent of the vote, compared with Loeffler's 49 percent. Recent polls suggest a similarly close race is possible this November.
The current Real Clear Politics average of Georgia polls shows Walker with a very narrow lead over Warnock. The conservative Republican has the support of about 47.3 percent of Georgians, compared with 46.8 percent who back the Democratic incumbent.
However, the most recent poll included in the average shows Warnock with a notable lead over Walker. That survey, conducted by WXIA-TV/SurveyUSA from April 22 to 27, puts the Democrat at 50 percent, compared with his opponent's 45 percent. An April survey had nearly opposite results. That poll, carried out by The Hill/Emerson College from April 1 to 3, showed Walker at 49 percent, compared with Warnock's 45 percent—a lead of 4 points for the Republican.
Walker has been endorsed by Trump as well as Senate Minority Leader Mitch McConnell, a Kentucky Republican.
Nevada
Democratic Senator Catherine Cortez Masto looks likely to face off against Trump-backed Republican former state Attorney General Adam Laxalt. Laxalt, who is also endorsed by McConnell, is double digits ahead of his GOP primary rival, Sam Brown. The Republican candidate will be determined by voters on June 14.
Recent survey results show mixed results for Cortez Masto's chances of maintaining her seat against Laxalt. An early April poll conducted by The Nevada Independent found the incumbent Democrat had a lead of 8 points among registered voters. She was supported by 43 percent, compared with 35 percent who backed Laxalt.
But another early April poll, carried out for the Reno Gazette-Journal by Suffolk University, showed Laxalt ahead by 3 points. The Trump-backed Republican had the backing of 43 percent of likely voters, while Cortez Masto had the support of just 40 percent. Notably, Biden won Nevada with about 50 percent of the vote in 2020. He had a relatively narrow margin over Trump of less than 34,000 votes.
New Hampshire
Recent polls suggest that Democratic Senator Maggie Hassan may be in for a tough battle to maintain her seat against a Republican challenger. Her GOP opponent won't be officially determined until a September primary, but recent polling shows that retired Army Brigadier General Don Bolduc is well ahead of the other Republican contenders, although many GOP voters are undecided.
Survey data published in April by the University of New Hampshire showed that Hassan's favorability rating was significantly underwater. More than half, 51 percent, of New Hampshire's likely voters viewed her unfavorably. Only 35 percent viewed her favorably. Meanwhile, the same survey found that Hassan would beat Bolduc by only 1 point. The Democratic senator was supported by 47 percent of likely voters, compared with 46 percent who backed the Republican hopeful.
However, a previous poll conducted by Phillips Academy in April showed Hassan with a 15-point lead over Bolduc. The senator had the backing of 54 percent of registered voters, while the Republican was supported by just 39 percent. Notably, Hassan, while still in the lead, was only single digits ahead of several other GOP candidates.
Updated June 2 at 3:32 p.m. ET: This article was updated to report that Trump endorsed Masters in Arizona shortly after initial publication.