Herschel Walker's Chances of Beating Raphael Warnock, According to Polls
Herschel Walker, Georgia's GOP Senate candidate, will officially go head-to-head with Democratic Senator Raphael Warnock after both candidates won their primaries on Tuesday—and the former football star appears well positioned to pose a strong challenge to the incumbent.
Warnock, a pastor, hopes to maintain his seat, which he won in January 2021 in a runoff special election, flipping it blue after President Joe Biden became the first Democratic presidential candidate to win in Georgia since 1992. Walker has been endorsed by former President Donald Trump, who continues to hold a grudge against GOP leaders in the state after they refused to help him unconstitutionally overturn Biden's victory there.
While Democrats won big in the presidential and runoff elections, also flipping Georgia's other Senate seat blue, it's unclear whether that momentum will hold during the midterm race this November. Recent polls suggest that Walker is slightly favored to beat Warnock, while Democratic gubernatorial candidate Stacey Abrams appears to be trailing Republican Governor Brian Kemp.
The current Real Clear Politics average of Georgia polls shows Walker with a very narrow lead over Warnock. The conservative Republican has the support of about 47.3 percent of Georgians, compared with 46.8 percent who back the Democratic incumbent. That gives Walker an edge of about 0.5 percent, well within the margin of error.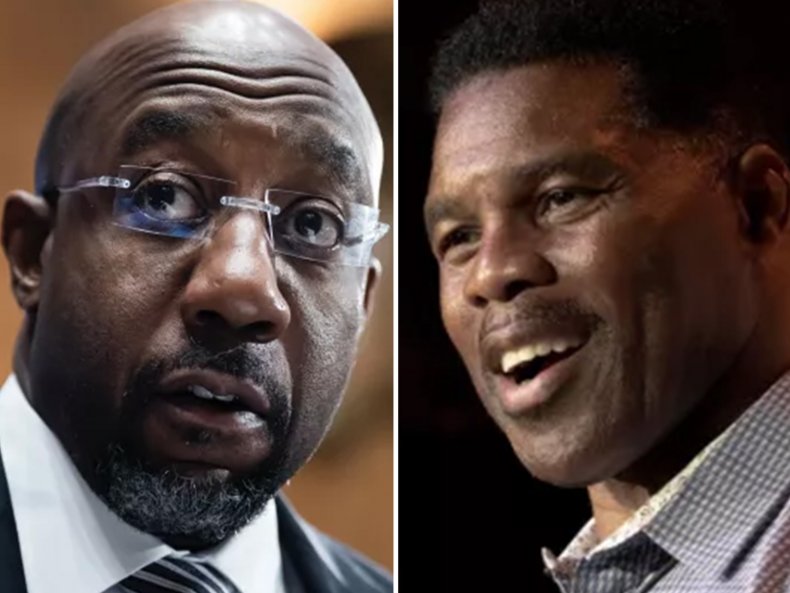 However, the most recent poll included in the average shows Warnock with a notable lead over Walker. That survey, conducted by WXIA-TV/SurveyUSA from April 22 to 27, puts the Democrat at 50 percent, compared with his opponent's 45 percent. It polled 1,278 likely voters and had a margin of error of plus or minus 3.4 percent.
Earlier in April, Walker appeared to be similarly ahead. A poll conducted by The Hill/Emerson College from April 1 to 3 showed Walker at 49 percent, compared with Warnock's 45 percent—a lead of 4 points for the Republican. Just over 1,000 registered voters were included in the survey, which had a margin of error of plus or minus 3 points.
Notably, in Georgia candidates must win more than 50 percent of the vote to be declared the winner. If neither Warnock nor Walker garners a majority of votes in the November 8 election, they will face off in a runoff. While the Republican and Democratic contenders are widely considered to be the candidates most likely to win, additional contenders will be on the ballot.
In 2020, neither Warnock nor GOP Senator Kelly Loeffler secured more than 50 percent of the vote in the general election. As a result, the race went to a runoff in which the Democrat won with 51 percent of the vote, compared with Loeffler's 49 percent, in January 2021. Recent polls suggest a similarly close race is possible this year.
Warnock and other Democrats in Georgia will continue to fight against the state's strong Republican lean. Polling and political analysis website FiveThirtyEight assesses that Georgia has a 7.4-point partisan lean in favor of the GOP. Biden may have been the first Democratic presidential candidate to win in the state in nearly three decades, but no Democrat has served as governor of Georgia since 2003.
With an evenly split 50-50 Senate, the race in Georgia is seen as vital to both Republicans and Democrats. If the GOP manages to flip the seat without any other seats shifting hands, the party will hold narrow control of the Senate. Democrats, conversely, are fighting to hold on to their slim majority, which allows Vice President Kamala Harris to cast tie-breaking votes.