Stacey Abrams' Chances of Beating Brian Kemp in Georgia, According to Polls
Stacey Abrams, Georgia's Democratic gubernatorial candidate, and Republican Governor Brian Kemp are set to face off for a second time this November after winning their primaries on Tuesday.
Abrams, the former minority leader of the state House of Representatives, previously ran against Kemp in 2018, ultimately losing to the Republican by a little under 55,000 votes—about 1.4 percent of the ballots cast. This year, the Democratic candidate aims to build on President Joe Biden's upset victory in the state in 2020 and unseat the GOP governor.
While Biden narrowly flipped traditionally conservative Georgia blue in the last presidential election, recent polls suggest that Abrams will face an uphill battle as she takes on Kemp in the general election on November 8. News and polling analysis site FiveThirtyEight reports that Georgia continues to have a GOP partisan lean of about 7.4 percent.
The current Real Clear Politics polling average shows that Kemp leads Abrams by about 5.2 percent. The governor is backed by an average of 49.5 percent of Georgia's voters, compared with about 44.3 percent who support Abrams.
A late April poll by WXIA-TV/SurveyUSA showed Abrams trailing Kemp by 5 points. The survey of 1,278 likely voters had the governor at 50 percent and his Democratic challenger at 45 percent. The poll's margin of error was plus or minus 3.4 percentage points.
A poll conducted earlier in April by Emerson College/The Hill found the governor with a slightly wider lead over Abrams. That survey had Kemp at 51 percent and Abrams at just 44 percent—a 7-point advantage. The poll, which surveyed 1,013 registered voters, had a margin of error of plus or minus 3 percentage points.
Abrams looked best positioned in a survey by Quinnipiac University conducted in January. That poll showed the Democratic contender behind Kemp by just 2 points. The Republican was backed by 49 percent, and Abrams was supported by 47 percent. A little more than 1,700 registered voters were surveyed, and the margin of error was plus or minus 2.4 percentage points.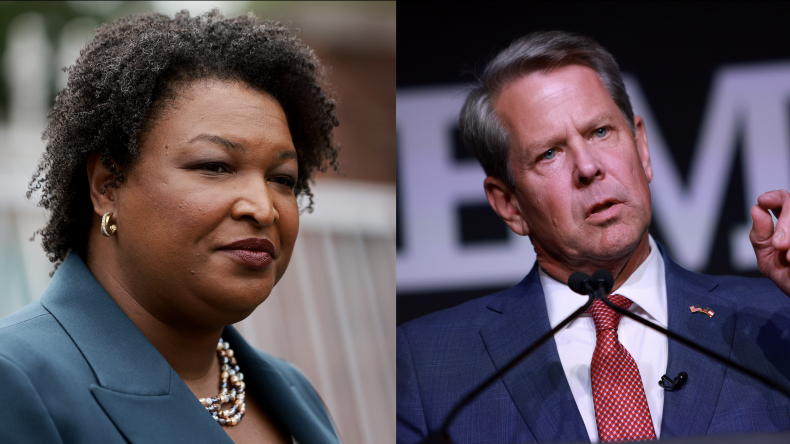 Georgia has not been led by a Democratic governor since 2003. However, a Democratic presidential candidate had not won the state since 1992 until Biden's narrow victory there in 2020. The president beat former President Donald Trump in Georgia by a little more than 12,000 votes.
Notably, Trump has expressed strong criticism of Kemp and unsuccessfully endorsed his primary opponent, former Republican Senator David Perdue. Kemp drew the former president's ire because of his refusal to help overturn Biden's Georgia win. Last September, Trump even told Georgia rallygoers that Abrams may be a better candidate than the Republican governor.
"Of course, having her [Abrams] I think might be better than having your existing governor, if you want to know the truth," the former president told supporters before the Democrat confirmed her plans to run. "Might very well be better."
He added, "Stacey, would you like to take his place? It's OK with me."