Brad Raffensperger Dismisses Trump-Backed Challenger as 'Liar'
Georgia's Republican secretary of state, Brad Raffensperger, has emerged as one of the most prominent villains of the 2020 presidential election in the eyes of those who believe Donald Trump's false claims that President Joe Biden won because of voter fraud.
Despite voting for Trump and donating to his reelection campaign, Raffensperger has faced threats, as well as a barrage of public attacks and insults from the former president and his supporters. When Georgians go to the polls on May 24 to cast ballots in the state's primaries, Raffensperger will go head-to-head with Trump-endorsed Representative Jody Hice, who aims to take his job managing the state's elections.
Raffensperger likes to tout his experience as a business owner and his training as an engineer, as well as all the ways he believes he's made Georgia's elections better and more secure. But Hice recently called him "a disaster." The secretary of state then shot back, calling Hice a "liar" for spreading misinformation about the 2020 election.
Raffensperger hopes that his message about "integrity" and the need to "follow the law, follow the Constitution" resonates with voters. When Trump infamously called him in January 2021, pressuring him to "find" enough votes to flip Georgia's election in his favor, the secretary of state responded with facts and data. As he campaigns for reelection, he's doing the same to push back against what he sees as Hice's misinformation and to inform voters who may be confused by all of the baseless allegations about a fraudulent election.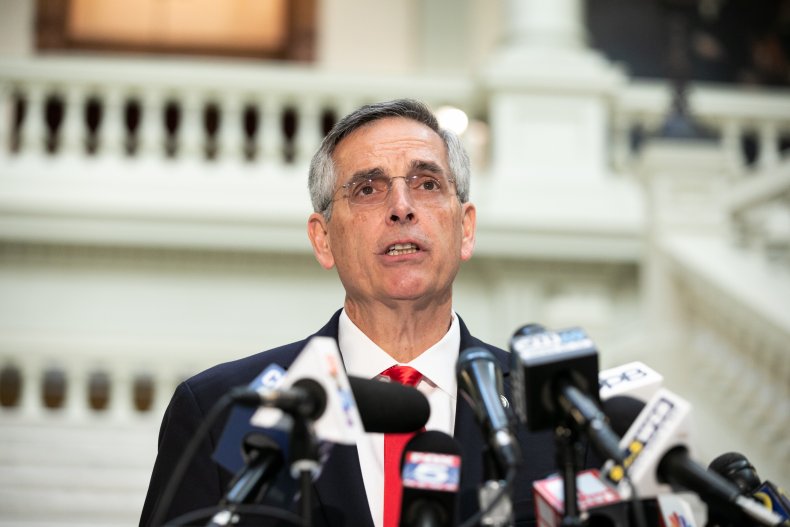 Newsweek spoke with Raffensperger by phone on Wednesday about his reelection campaign, his plans to keep Georgia's elections secure going forward and why he knows for certain that the 2020 results were accurate under his watch, even though they didn't produce the outcome he personally hoped for. The interview has been edited for brevity and clarity.
You're running for reelection against a Trump-backed candidate in the GOP primary. So much of this election has been focused on the claims that the 2020 election was fraudulent. Beyond pushing back against those false claims, as you have, what are you promising to do for Georgia voters?
I'm the only candidate in the Republican primary that is fighting noncitizen voting. I'm making sure that only American citizens can vote in our elections. In fact, I was onstage in a debate about two weeks ago. Jody Hice said, in a debate, that noncitizen voting wasn't his highest priority. It's my highest priority.
Also, I'm the only candidate with real business experience. I built a company from the ground up while Jody Hice has lived off the taxpayers the past seven years. And I've successfully outlawed ballot harvesting, introduced a verifiable paper ballot, audited an election. Now we cross-check our registrations with other member states that are members of the electronic registration information center, so we have clean, verifiable paper ballots.
And so we've accomplished an awful lot, and we're going to continue to work hard to make sure we have safe and secure elections—but also make sure that only Americans vote in our elections.
New York City recently allowed some noncitizens to vote in local elections. They are often taxpayers, legal, nonpermanent residents. What's your issue with allowing that?
You have to be an American citizen to be on a jury. Logically, it only makes sense that you'd have to be an American citizen to be on a government or commission authority. Logically, you have to be an American citizen to be voting in our elections. Eighty percent of all Georgians believe that only American citizens should be voting in our elections—all elections up and down the line. We have a lawful process for people to become American citizens, and once you become an American citizen, then you earn that right to vote. We don't need to devalue citizenship by allowing noncitizens to be voting in our elections. It's as simple as that.
Earlier this week, Congressman Hice, your top GOP opponent, said you were "a disaster" and you shot back by saying he's "lying" about the 2020 election. What's it like to run against an opponent whose campaign is largely built on an entirely false premise?
He's a dishonest person because he continues to lie. He's been lying for 18 months. He said that there are voters who lack confidence in the processes. That's because he's been spreading disinformation for 18 months. He said originally that there was 10,315 dead people that voted. There's just a total of four. And then they jumped over to the next thing and say there's 66,000 underage voters. There was zero. And then they said that there was thousands of felons. There was less than 74. Then they said that there was 2,423 nonregistered voters. There was zero.
Then they said, "Well, look at this video Rudy Giuliani presented in a state Senate committee meeting." Everyone debunked that. Meanwhile, it's been a year and a half and it's out there.
Many people don't realize that President Trump handpicked Bobby Christine, the U.S. attorney from [Georgia's] Southern District, who then replaced [Byung J. "BJay" Pak] when he resigned. So Bobby Christine, handpicked by President Trump, looked at that and he was quoted by [The Atlanta Journal-Constitution] that he thought there was gonna be something there. And that was one of the first cases that they dismissed.
Meanwhile, Hice continues to spread this misinformation, disinformation. So, therefore, I just have to say, Jody Hice is a liar.
Regardless of the truth, a lot of Republican voters in Georgia and across the country do believe that Trump won the election in 2020 and that Biden only won by fraud...
Well, because one of the things that I do when I talk to people, I say the top line from the election of 2020 is that 28,000 Georgia voters skipped the presidential ballot and yet they voted down-ballot in other races. The Republican congressmen collectively received 33,000 more votes than President Trump.
And if you add up all the votes of the Georgia state senators that ran in 2020, collectively they received 400,000 more votes than President Trump. And that's why President Trump came up short. Every single allegation we've investigated. I wrote a letter to Congress and I wrote a book, and see they're looking backwards.
The issue that we're facing right now is that [Democratic gubernatorial candidate] Stacey Abrams today, in the U.S. federal courthouse with Fair Fight Action, is trying to stop us from doing citizenship verification when people register to vote. Well, if you can't do citizenship verification, then how do you know that you don't have non-Americans on the rolls?
Jody Hice has been in Congress for eight years. He's done nothing on election integrity measures. He was there for eight years, but he's done nothing. Election security has been my number one priority
A lot of the Republican Party has realigned around this belief about the 2020 election, what many call "the Big Lie." Does that concern you, that so much of Republican politics is now about these false election claims?
My job is to speak the truth, and I'm an engineer. I like facts. I like numbers, and we always follow up. We follow the law, we follow the Constitution, and we follow the numbers. We've been doing that since day one. And so I'm the first one to do this 100 percent citizenship verification. I'm the first one that asked for a constitutional amendment so that only Americans vote.
We've also instituted verifiable paper ballots so we can audit any race. We can prove that the machines don't flip the votes when we do a 100 percent hand recount. And that's what we showed in 2020. That is just a basic grade-school mathematical logic. That if the machine gets one answer and then you do a hand recount of the machine count and you look at the human-readable texts to get the same answer, and many counties did, it shows you those are the results. And the machines did not flip the votes. And now I've gotten passed photo ID for all absentee ballots.
The proof is in the numbers because Heritage [Foundation] has just ranked Georgia, for the very first time under my watch, we were ranked number one for election integrity. The secretary of state has never been ranked number one for election integrity in the state of Georgia. So while people are talking, I'm out doing.
When it comes to the election reforms in Georgia, specifically after the 2020 election, a lot of the energy behind that seemed to be driven by these false claims from Trump and some Republicans. You've been largely supportive of those measures. Can you explain why?
Because when I ran in 2018, I said, "We need to have photo ID for all forms of voting." And that's what I got. During the pandemic, I set up for the first time ever an online portal. I couldn't go any farther than that because I had to stay within the structure of the law that we had right then.
But we stood up and gave voters the option to do it with a driver's license, an online portal to request absentee ballots. Put in your driver's license number, boom. We've got who you are, and we send you your application. We sent about—over 125,000 to 150,000 people used that online portal in the fall election. Then we put that into state law with the election integrity act. We led on that. We drafted most of that bill, and then a few things that were put in there...as you go through the legislative process, but that was number one.
Also accountability for Fulton County. I'm the first secretary of state to get them under a consent agreement because they just had tremendous issues. I understand we're in the middle of a pandemic. I get that. But the June 2020 primary, they had tremendous issues. Then we started doing our research, and this has been going on since 1993, and every other secretary of state had just kind of turned a blind eye. I'm not turning a blind eye, I've got them under consent agreements. And now we have accountability panels. And right now they're being reviewed. It's a bipartisan review panel, and they can replace that board, who will then find a new election director if they can't run an election. So notice has been served. Little Johnny's homework is being checked, and they got the message.
I know a couple of months ago MyPillow CEO Mike Lindell showed up with dozens of boxes of what he described as affidavits. He also called for you to be put in prison. When it comes to the work that you and your office are doing, how do these kinds of stunts impact that? Do they hinder your ability to do your job effectively?
No. My job is to follow the law, follow the Constitution. If people have serious accusations and credible evidence, then we investigate. And as secretary of state, I have moved over 400 investigations over to the attorney general's office and local DAs [district attorneys] for prosecution. And that's a record number. We prosecute in Georgia. I make sure we have fair and honest elections and make sure that people follow the law.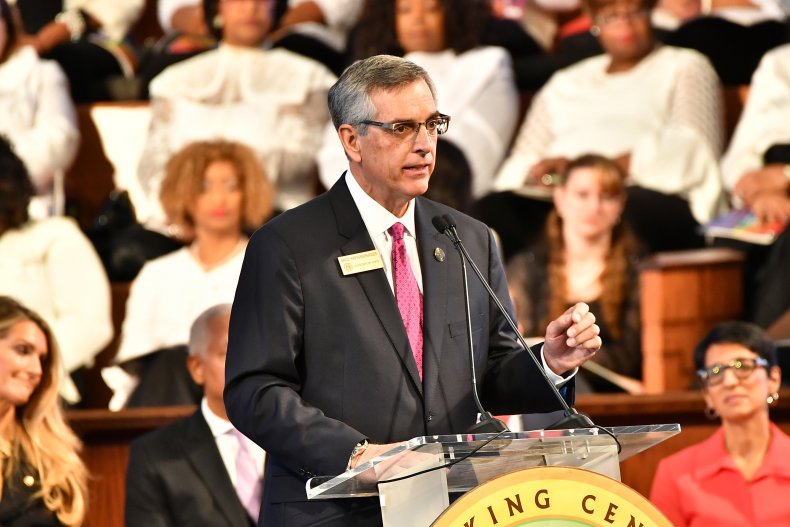 After the 2020 election, you talked about threats that you or your family had received. Do you still receive any threats at this point?
It's mostly just sometimes, from time to time, you get some random insults, with, you know, grade school language or stuff I used to hear at the job site all the time.
In the upcoming midterms, there may likely be Republicans on the ballot who have personally attacked you and promoted these false claims that you've pushed back against. As a Republican, would you still cast votes for them?
Well, I don't share who I endorse as secretary of state. Because as the chief election official, that's been my policy since day one.
It's looking increasingly like Trump could be the 2024 GOP presidential nominee. He hasn't announced another campaign, and it's still more than two years away. But if it is Trump in 2024, are you open to voting for him?
As secretary of state, I've always taken the position that I don't endorse candidates during election season. I want everyone—as the chief election official, I don't think that's a position that I should take. So in the 2020 race, I did vote for President Trump, but I did not endorse him. If we wouldn't have had the issues post-2020, I wouldn't have, perhaps, let people know that I did vote for President Trump. But I'm a conservative Republican, and, you know, I support my brand. But I don't make personal statements because I don't think it's appropriate when you're the chief election official.
Does it worry you that a presidential candidate who is so public about discrediting the nation's elections could potentially be president again?
I think my job as secretary of state is to provide information and facts, and then it's for the voter determination—to make their decisions based on what they believe the facts are. And so therefore, you know, I wrote a letter to Congress. I wrote a book called Integrity Counts. I've been very clear.
If people look at my record going all the way back to 2018, when I ran back in 2018, at the beginning of every one of my speeches, I said, "Hi, I'm Brad Raffensperger, and the reason I'm running for secretary of state is to make sure that only Americans vote in our elections and to make sure that George is a great place to raise a family and a great place to build a business."
Therefore, I care passionately about fair and honest elections where only Americans vote. I want to make sure we get a great business climate. Particularly for our small- business owners because if a small business does well, our computer communities will do well. And I believe our entire state does well. In fact, America does well.
The Fulton County district attorney's investigation into Trump's efforts to flip Georgia's election in his favor recently selected a grand jury. I know you've previously said your office would cooperate with that probe. What have you provided that investigation thus far? Have you personally been interviewed by those investigators?
We gave them all the information that they requested at no cost to them. We provided any documentation that they wanted. Some people already have given interviews to them. Obviously, they're now at that phase where every witness that they bring in they'll bring in with subpoenas, and we will follow the law and follow the Constitution. We'll just find out who they want to talk to and who they'd find of interest, but other than that, they don't really tell us. They're doing what they do. I don't know really what that is, and you'd have to give them a call, find out where they stand.
Some people are saying that District Attorney Fani Willis is a Democrat and that makes this a partisan investigation. Do you believe that she'll be conducting a fair and nonpartisan probe?
My job is just to make sure that I follow the law. And as I said, if they need additional documentation or they ask for testimony, we'll make those people available that can provide that testimony that she so requires. Because we respect the law in our office.
In November, you spoke with the House select committee investigating January 6. Have you been asked for any more information from that committee since then? Can you talk briefly about what you discussed with the committee in that interview?
No, I haven't been asked since the committee hearing. They had lots of witnesses to talk about or to talk with. So they're looking at other things, but you know what we faced, during the election and then post-election, it's really already out there. I wrote a 10-page letter to Congress. They have it. I did let the committee know that my letter has been updated in one area. We said that there's two dead people [who voted], and there was actually four. The allegation was there was 10,315 dead people, but there's actually four.
Other than that, I can stand by the book and the letter that I wrote. Integrity Counts goes through all the facts, and that stands on its own. There's not much I could really add. There's other people that are much more involved and know a lot of the details. We'll see where that all goes.
You've kind of lumped Stacey Abrams' allegations of voter suppression in 2018 with Trump's false claims in 2020. Can you explain that criticism of her and why you think Abrams' actions compare to Trump's?
In 2018, Stacy Abrams lost [the Georgia governor's race] by nearly 55,000 votes, and she never conceded. And sometimes people say, "Well, yes, she did." No, she didn't, because when she was campaigning for the Democrat nominee for governor up in Virginia, in October of 2021, just this past fall, she said, "Just because you win doesn't mean you've won."
I understand exactly what she's saying. And she's sly with her words like that. Just like when she said that she was going to win with a blue wave of quote, "documented and undocumented," which means she supports nonsense in voting.
Let's get back to your point. Her claim was based on "voter suppression." But when we had depositions and lawsuits, we got one of her people to actually admit under oath that it is a poll-tested strategy. That was their get out to vote strategy, "You've been aggrieved. And these people are suppressing you, and you need to get out to vote."
So "voter suppression" was just poll-tested. It was an emotional hook on people. It wasn't based on a fact, it was based on "This is our get out to vote strategy." And then she lost, and so that was her stolen election claim. But what both [Abrams and Trump] do is they undermine voter confidence in the process.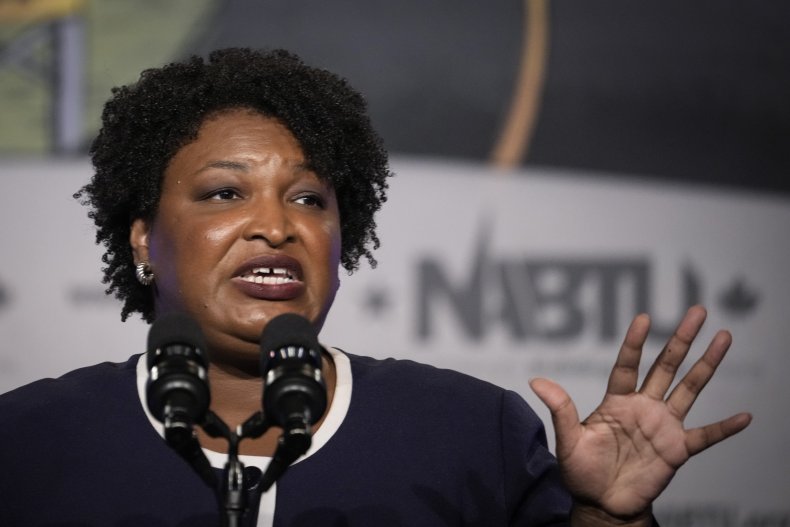 A lot of Democrats are concerned that if some of these Trump-backed GOP candidates at the local and state level win, they could help Trump or other Republicans overturn future elections, as was attempted in 2020. Do you believe the system will prevent that from happening? Are you concerned about that?
I believe that we have the appropriate laws in place for accessibility with security. But also I believe that when you have principled conservatives, such as myself, run on the facts, on the truth, against people like Jody Hice, who've been lying for 18 months, at the end of the day, I'm going to lean into the goodness of my fellow Georgians. And I fully expect that I will prevail as secretary of state. And I'll be serving here for four more years.