Joe Biden's Approval at Near Record Low Six Months Before Midterms
President Joe Biden's approval rating is at a near-record low as the Democratic Party prepares for crucial midterm elections where Republicans could be poised to retake the House of Representatives and the Senate.
The president's approval rating has shown no sign of significant improvement as the country experiences high inflation with just over six months to go until Americans go to the polls on November 8.
Poll tracker FiveThirtyEight assessed Biden's approval rating by analyzing a wide variety of polls and using its own system of pollster ratings. They found the president's approval stood at 40.7 percent as of Monday, while 54.1 percent disapproved of Biden.
Those figures represent a decline over the past month as Biden's approval stood at 41.7 percent on April 29 and his disapproval rating was 52.3 percent.
At 40.7 percent, Biden's approval is also at a near-record low, according to FiveThirtyEight's analysis. The president's lowest approval rating came on February 27 when the poll tracker found his approval stood at just 40.4 percent, while disapproval of Biden was 53.3 percent.
Though there have been some fluctuations over the past month, individual polls also show disapproval of Biden outstripping approval.
A Morning Consult poll from May 25 found that 56 percent of registered voters disapproved of Biden compared to 42 percent who approved, while an Emerson College poll conducted from May 24 to 25 showed Biden's approval at just 38 percent, while 52 percent of registered voters disapproved.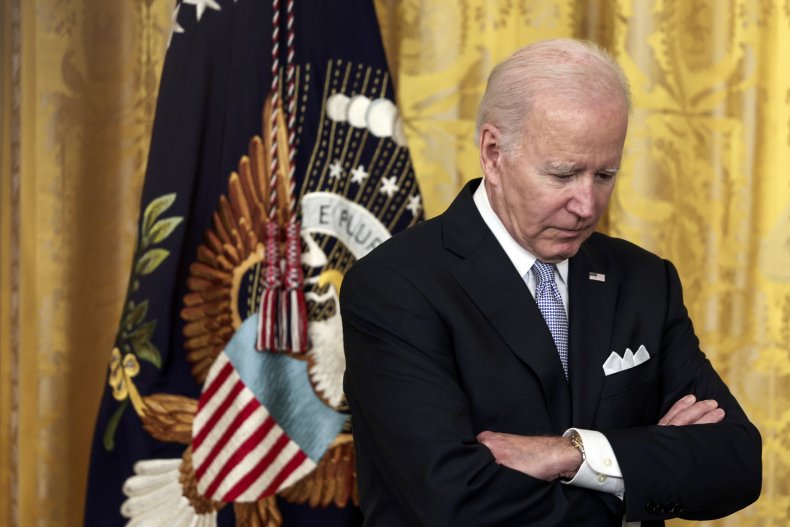 An Ipsos poll conducted from May 23 to 24 found Biden's approval was just 36 percent among U.S. adults and disapproval stood at 59 percent.
Democrats are facing potentially disastrous midterm losses that could see Republicans retake either the House, the Senate or both and stymie Biden's agenda for the next two years heading into the 2024 presidential election.
FiveThirtyEight's generic ballot also showed Republicans with a slight but possibly decisive edge in the upcoming midterm elections. The GOP enjoyed 45 percent support as of May 30, while Democrats had 42.8 percent.
Republicans have led Democrats in FiveThirtyEight's generic congressional ballot since November 16, while Biden's approval rating has been in negative territory since August 30 - the day before the final withdrawal of U.S. troops from Afghanistan.
Biden is facing pressure amid the rising cost of living and Americans' concerns about inflation. The annualized inflation rate in April was 8.3 percent, a slight decline from March but still at a near 40-year high, while the price for a gallon of gas hit another new record high of $4.62 on Monday.
On Tuesday, the president is due to discuss inflation with Jerome Powell, chairman of the Federal Reserve.
A White House official said Biden will discuss the "state of the American and global economy and discuss the president's top economic priority: addressing inflation to transition from an historic economic recovery to stable, steady growth that works for working families."