Joe Biden Approval Rating Hits New Low as Pile of Problems Becomes Mountain
President Joe Biden's approval rating has reached a new low, according to analysis by poll tracker FiveThirtyEight, as the administration appears to be dealing with a mountain of problems.
FiveThirtyEight found that the president's approval rating stood at just 40.7 percent as of May 20, while 53.9 percent of Americans disapproved of how Biden is handling his job.
Those figures amount to net disapproval of minus 13.2 points and represent the president's lowest point since February 27, when his approval stood at just 40.4 percent against disapproval of 53.3 percent, a net rating of minus 12.9 percent.
FiveThirtyEight arrives at its rating through analysis of a large number of polls and its own system of pollster ratings.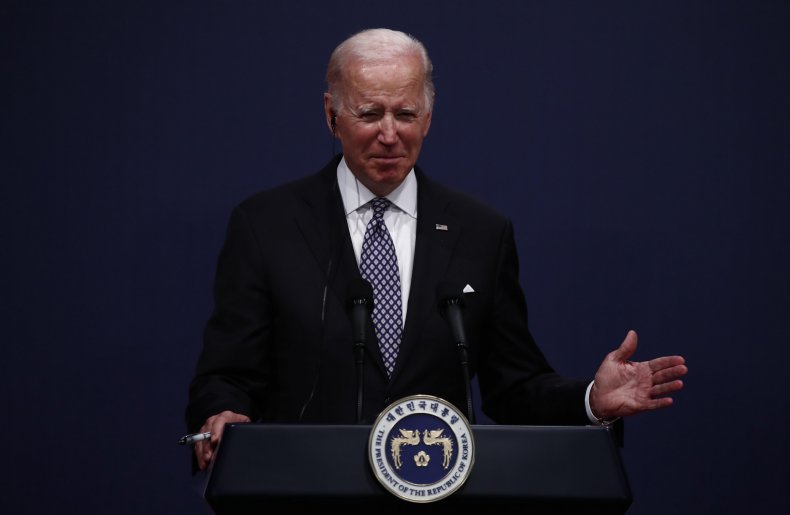 Foreign Affairs
Biden's new low comes as his administration is beset with problems both foreign and domestic.
The president is currently on a visit to Asia—his first since assuming office last year—and affirmed a commitment to "enhance" deterrence directed against North Korea in a joint statement with South Korean President Yoon Suk Yeol early on Saturday.
There are concerns about recent North Korean missile tests and the possibility of further tests of long-range missiles amid an increase of what the Biden administration said was destabilizing activity, but North Korea is only one of the issues facing the president.
Biden signed a near-$40 billion aid package for Ukraine on Saturday during his visit to South Korea after it finally cleared the Senate.
That package was subject to vocal criticism from Republicans who said the money could be better spent at home due to the ongoing cost of living crisis, while polls have recently indicated that Americans' support for assisting Ukraine may be slipping.
The president may also have to deal with a brewing crisis in the NATO military alliance as Finland and Sweden are seeking membership but Turkey, already a member, has moved to block their accession.
Meanwhile, the administration's efforts to revive a nuclear deal with Iran have stalled as the country wants Islamic Revolutionary Guard Corps (IRGC) removed from the U.S. list of foreign terrorist organizations, which has proven a major stumbling block.
Problems at Home
Back in the U.S., the Biden administration has faced strong criticism over an ongoing shortage of baby formula. The president has invoked the Defense Production Act in order to ease shortages, but there is no immediate end to the crisis in sight.
Inflation remains at near-40-year highs and stood at an annualized rate of 8.3 percent in April, while the price of a gallon of gas has continued to hit new record highs.
Meanwhile, the American economy is in retreat—U.S. Gross Domestic Product (GDP) also declined by 1.4 in the first quarter of 2022 and JP Morgan has cut its GPD forecast for the second half of the year from 3 percent to 2.4 percent.
Beyond the economy, there has been a recent rise in cases of COVID-19 and hospitalizations arising from the virus, which has led to calls for children between five to 11 to be vaccinated.
Monkeypox cases have also now been identified in the U.S., creating new alarm about public health, though the disease appears to be less transmissible and dangerous than COVID.
A Stalled Agenda
Politically, Democrats are facing increasing pressure to act on abortion rights after a leaked Supreme Court draft majority opinion indicated five of the nine justices were poised to overturn 1973's landmark decision in Roe v. Wade.
However, it may not be possible for Democrats to take legislative steps to codify abortion rights into federal law after the Women's Health Protection Act failed in the evenly divided Senate last week.
Tight numbers in the Senate have stymied some aspects of Biden's agenda, including the $1.75 trillion Build Back Better plan and what would have been a major voting rights measure in the form of the For the People Act.
Democrats don't have the 60 votes to overcome the Republican filibuster and one key Democrat, moderate Senator Joe Manchin of West Virginia, has consistently resisted efforts to abolish it.
He's often been joined by another Democratic moderate, Senator Kyrsten Sinema of Arizona, which has effectively made filibuster reform impossible.
All of these problems seem to point to a tough midterm election year for Democrats, who are trailing Republicans in FiveThirtyEight's congressional generic ballot. That shows the GOP with 45 percent support to Democrats' 42.6 percent as of Friday.
As the problems facing Biden have mounted and his approval rating continues to decline, Democrats could be facing a nightmare scenario in November.
Newsweek has reached out to the White House for comment.