Joe Biden to 'Enhance' North Korea Deterrence After Kim Jong Un Nuclear Vow
President Joe Biden has said the U.S. will "enhance" deterrence aimed at North Korea amid renewed concerns that the country could perform more tests of long-range missiles.
Biden issued a joint statement with South Korean President Yoon Suk Yeol early on Saturday during his first visit to Asia since becoming president in January last year.
Yoon and Biden reiterated their commitment to the South Korea-U.S. Mutual Defense Treaty, while Biden affirmed the U.S. deterrence commitment to its ally "using the full range of U.S. defense capabilities, including nuclear, conventional, and missile defense capabilities."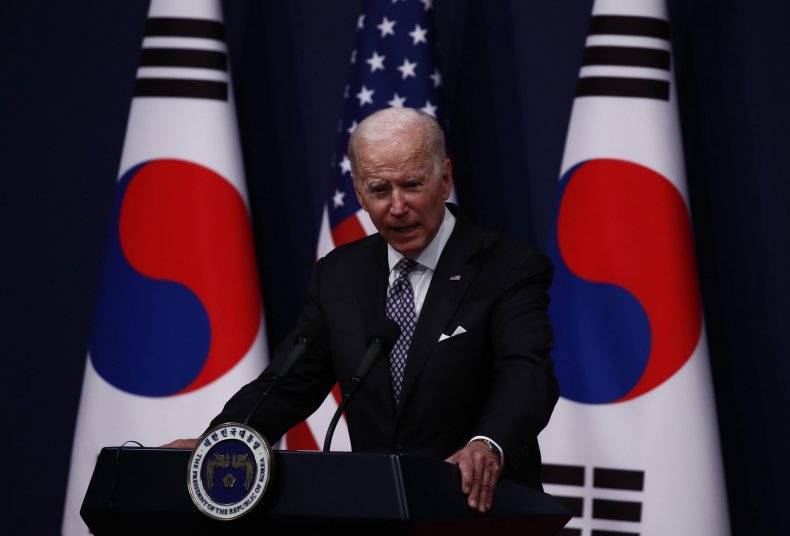 That renewed emphasis on deterrence comes about a month after North Korean dictator Kim Jong Un vowed to step up his country's nuclear weapons program during a speech at a major military parade.
Biden and Yoon said on Saturday that North Korea—which is officially known as the Democratic People's Republic of Korea (DPRK)—posed an "evolving threat" and said they had agreed to enter into discussions to "expand the scope and scale of combined military exercises and training on and around the Korean Peninsula."
"Both leaders also reaffirm the commitment of the U.S. to deploy strategic U.S. military assets in a timely and coordinated manner as necessary, as well as to enhance such measures and identify new or additional steps to reinforce deterrence in the face of DPRK destabilizing activities," the presidents' statement said.
They described North Korea's nuclear program as "a grave threat not only to peace and stability on the Korean Peninsula but also the rest of Asia and the world."
Biden and Yoon also renewed their call for the denuclearization of the Korean Peninsula and urged North Korea to "abandon its weapons of mass destruction and ballistic missile programs."
On April 25, Kim Jong Un told a military parade in the capital city of Pyongyang: "We will continue to take steps to strengthen and develop our nation's nuclear capabilities at the fastest pace."
The dictator added that the country's nuclear forces "must be ready" for exercises at any time.
That parade featured Intercontinental Ballistic Missiles (ICBMs) and the country has conducted missile tests in recent months that have led to significant concern, particularly in South Korea and Japan.
Biden will finish his Asian visit in the Japanese capital of Tokyo.
There is also concern that North Korea could carry out further missile tests, with National Security Adviser Jake Sullivan warning this week that U.S. intelligence "does reflect the genuine possibility that there will be either a further missile test, including a long-range missile test, or a nuclear test, or frankly both, in the days leading into, on or after the president's trip to the region."
North Korea is currently coping with what appears to be a major outbreak of COVID-19, while the 25 million North Koreans have not been vaccinated against the virus. The country has around 1.7 million suspected cases.