As Biden Sets Sights on Asia, New South Korea Leader Awaits with Open Arms
President Joe Biden is set to leave Thursday on his first trip to Asia since taking office more than a year ago. His first stop is South Korea, a U.S. ally on the front lines of tensions between the United States and some of its top rivals, including China, Russia and North Korea.
While the geopolitical climate remains fraught, Biden is expected to find a friendly face in Seoul, where newly sworn-in South Korean President Yoon Suk-yeol shares his U.S. counterpart's desire to revamp their alliance in the face of threats both emerging and longstanding.
At the center of this common pursuit is bringing South Korea firmly back into the U.S. orbit, while tempering a push by his predecessor, Moon Jae-in, to secure closer relations with China, and attempting to mend frayed ties with fellow U.S. ally Japan, with whom South Korea has a difficult history that still influences their dynamic.
"President Yoon, of course, is focused on domestic priorities, such as continuing to deal with COVID and to grow the economy," Sue Mi Terry, director of the Wilson Center's Hyundai Motor-Korea Foundation Center for Korean History and Public Policy, told Newsweek. "But when it comes to foreign policy, he has advocated for drawing closer to the U.S. and being more skeptical of China, while working to repair relations with Japan."
"Those priorities are very much in line with Biden's own," she added, "and should make U.S.-South Korea relations even more harmonious than usual."
Adding to the significance of Biden's trip is the backdrop of Russia's war in Ukraine. The so-called "special military operation" launched nearly three months ago has received widespread condemnation from the U.S. and its allies, including South Korea, where the conflict has raised concerns of U.S. security assurances and underlined the necessity for robust national defense capabilities.
Terry, who previously served in various U.S. government capacities including at the CIA and the National Security Council, said that for South Korea, "the invasion highlights the importance of having a substantial conventional and nuclear force to deter aggression, and could herald a new era of international lawlessness."
Yoon's campaign successfully seized upon a recent spike in support for South Korea to shore up its own conventional and nuclear posture, and the role the U.S. could best play to support that platform is likely to be a topic of discussion when he sits down with Biden.
"Although the U.S. has responded strongly to the invasion, it is not willing to get involved in direct combat against a nuclear armed state," Terry said. "That underscores the importance to South Korea of developing its own military capabilities, and will probably renew debate on whether South Korea should develop its own nuclear arsenal."
"At the very least," Terry said, "it will probably lead the South Korean government to consider asking the U.S. to once again station U.S. nuclear weapons in South Korea."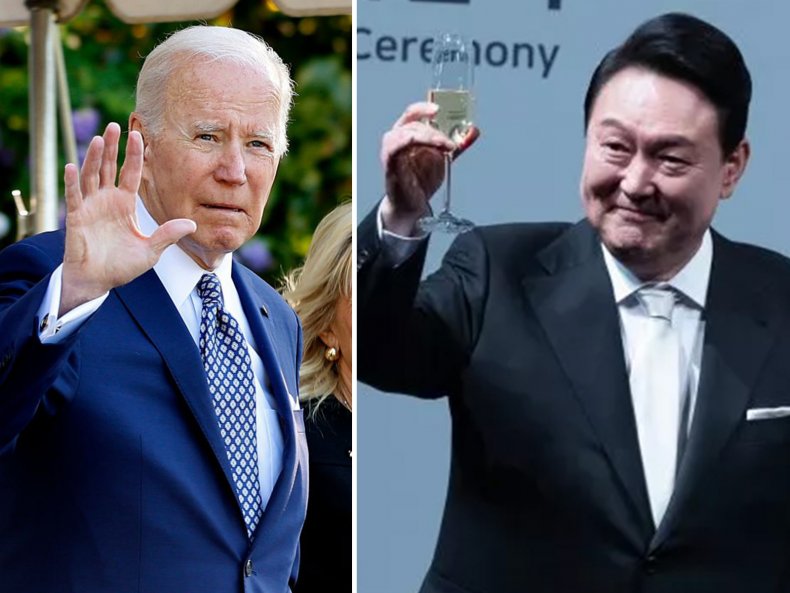 But Yoon is a newcomer to the international stage, and he was relatively unknown to many outside of South Korea prior to the presidential race.
South Korea's newest leader does not share the political experience of his predecessors, and he took advantage of his outsider status to portray himself as crusader for reforms. A staunch conservative, Yoon's background is in law, and he most recently served as Moon's prosecutor general before a falling out over an attempt by the Blue House to curtail the office's investigative powers led to his resignation about a year before the election.
And while Yoon, who railed against feminism and gender equality throughout his campaign, may not share the full extent of Biden's liberal agenda, the firebrand lawyer-turned-leader has sought to portray himself as a more accessible president showcasing his affinity for animals, a love of cooking and informal meetings with citizens. He's even planned to open the Blue House to the public, and instead work several miles away in a 10-story building he's tentatively referred to as "the People's House."
Even more important to his upcoming meeting with Biden, however, is Yoon's stated commitment to aligning South Korea with the U.S. leader's plans to emphasize Washington's leadership in the Asia-Pacific as it simultaneously invests in European security and extends open-ended assistance to Ukraine.
Whereas Moon sought to hedge South Korea's position while seeking warmer ties with China, Yoon is expected to emphasize an even closer relationship with the U.S.
"President Yoon had made it clear that he intends to put to rest any 'strategic ambiguity' involving Korea's stance as it relates to its security (vis-à-vis China and North Korea) and pursue a policy of 'strategic clarity,'" Jeong-Ho Roh, director of Columbia University's Center for Korean Studies, told Newsweek. "Central to the clarity he seeks is Korea's relationship and alliance with the United States."
The meeting also represents an important step in Biden's campaign to rebuild U.S. partnerships with allies across the globe, following a tumultuous period under his predecessor, former President Donald Trump, whose displeasure over U.S. costs of the alliances created stumbling blocks to diplomacy, and brought talks with South Korea to a halt.
"Biden's visit to Korea and Japan is meant to showcase and confirm that post-Ukraine Korea intends to stand firmly with the United States on matters of security," Roh said.
And he too felt this initiative would manifest itself in the form of a quest for strengthening military power, saying that, "based on this clear strategic choice, Korea, I believe, may seek from the United States support for building independent military capabilities (perhaps including introduction of extended deterrence on the Korean Peninsula)."
But Roh noted that Yoon's path is not without pitfalls, especially on the tasks of resetting relations with Japan and attempting to distance itself from China.
He pointed out the outstanding differences over Japan's interpretation of a 1965 agreement that Tokyo has argued resolved all of Seoul's compensation claims, and another deal made 50 years later over South Korean women forced into sex work, known as "comfort women," during the World War II years of Japanese occupation of the Korean Peninsula. These issues, he argued, "will undoubtedly be a source of continuing tension between Korea and Japan."
China also stands as a formidable challenge. Beijing remains Seoul's top trading partner, and Roh said "Korea will again have to walk a fine tightrope in balancing security and economic interests."
"But suffice to say," he added, "Yoon must surely understand that Korea's relations with the U.S. and China is not a zero-sum game."
And a common dilemma in the interests of South Korea, the U.S., Japan and China is North Korea, which has set its country firmly back on the path of advancing its nuclear capabilities after the breakdown of a peace process that was initiated in 2018 by Moon, Trump and North Korean Supreme Leader Kim Jong Un.
"Unlike strategic ambiguity, which defines the U.S. relations with Taiwan (in the event of hostilities from China), both Korea and Japan need to clarify and confirm without ambiguity the treaty obligations under the Mutual Defense Treaties in the event of military hostilities and threats of nuclear escalation by North Korea and/or China," Roh said.
"I ask rhetorically," he added, "do the treaty obligations under the Mutual Defense Treaties with Korea rise to the level of Article V of NATO?'"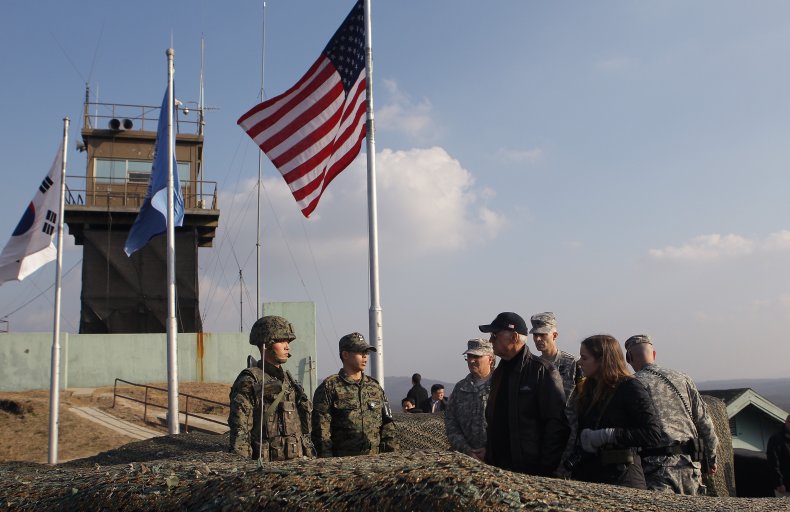 The question is vivid in the minds of many South Koreans watching as North Korea tests new nuclear-capable missiles while Pyongyang cheers on Moscow's attack on Ukraine.
"For South Korea, Ukraine adds another example to North Korea's list of why it will never give up its nuclear weapons, and why there is little reason to trust any security guarantee that might be offered in return for denuclearization," U.S. Naval War College professor Terrence Roehrig told Newsweek. "The likelihood of North Korea giving up its nuclear weapons was already near zero, and the events in Ukraine have helped cement that outcome."
Roehrig, who also holds the title of research fellow at Harvard University's Kennedy School in the International Security Program and the Project on Managing the Atom, as well as serving as a non-resident expert at Columbia University's Center for Korean Legal Studies, said the seemingly distant conflict in Europe hits home for many in South Korea.
"Many wonder if Pyongyang views Russia's invasion as a blueprint for using military force to alter the status quo while issuing nuclear threats that make the United States hesitate to come to South Korea's defense," he said. "Would North Korea be emboldened at some point to replicate this strategy on the Korean Peninsula?"
Though Roehrig also offers an alternative scenario in which Russian setbacks in Ukraine "may engender caution for North Korea to undertake such a dangerous action" against South Korea, he saw this question of security as central to Yoon's agenda going into his meeting with Biden.
Potentially key to assuaging these fears in Yoon's mind is an increasingly apparent effort to strengthen not only the U.S.-South Korea alliance, but also South Korea's engagement with the broader Quadrilateral Security Dialogue comprising the U.S., Australia, India and Japan. The group, which operates under the banner of a "free and open Indo-Pacific," is widely viewed as a direct counter to Chinese ambitions in the region.
Roehrig said that Moon had kept his country's engagement with the U.S.-led quasi-coalition "at arm's length, for fear of an adverse reaction from Beijing," but now "Yoon has indicated a greater willingness to work with Quad initiatives, though less interested in joining the organization."
And while Roehrig too pointed out the difficult tasks Yoon faced in growing closer to Japan and further from China, a goal "easier to say than achieve," he felt that both the U.S. and South Korea would emerge from Saturday's summit more closely aligned, and that the same could be expected of Biden's subsequent trip to Japan for a Quad conference the following day.
"Biden's trip to Asia will be an important opportunity to reemphasize the strength of both alliances, and the U.S. defense commitment to the region in the wake of Russia's invasion of Ukraine," Roehrig said.