North Korea's Kim Jong Un Begins Ultimate No-Vaccination Experiment
Kim Jong Un's decision not to inoculate North Korea's public for more than two years has resulted in 25 million people becoming the first to face down a potentially devastating COVID outbreak without vaccines.
This week, as Pyongyang acknowledged over 1.7 million suspected COVID cases suffering from "fever," the WHO warned "unchecked transmission" in the country could spawn new variants, which risk spilling over into its densely populated neighbors, in particular China.
North Korea was among the first nations to impose lockdowns and border restrictions in January 2020. It maintained a widely-doubted claim of zero COVID cases until acknowledging its first cluster of the BA.2 strain on May 12. The cases are believed to be linked to a military parade held in late April.
The state-owned Korean Central News Agency has quoted the nation's leader warning of a "great upheaval." But without effective vaccines, the health crisis, which KCNA said had led to 62 deaths as of Tuesday, can only be met with antibiotics and folk remedies.
The experiences of Shanghai and other major coastal cities in China point to evidence that the highly transmissible Omicron variant can't be contained with endless lockdowns and mass quarantine orders alone. But tens of millions of unvaccinated North Koreans are now at the mercy of what Pyongyang's party-state media is calling a mild COVID variant.
Maria Van Kerkhove, an infectious disease expert with the WHO's emergencies program, told a press briefing from Geneva on Tuesday that governments needed a "comprehensive approach" to managing COVID using all available tools.
She rejected the "deadly" narrative surrounding Omicron's mildness, saying those with underlying conditions were at risk of severe disease, and only those with effective vaccines have seen a reduced risk of developing the most serious symptoms.
North Korea's explosive tally of fever patients, which jumped more than 230,000 in the 24 hours between 6 p.m. Monday and Tuesday, appeared to demonstrate Van Kerkhove's argument.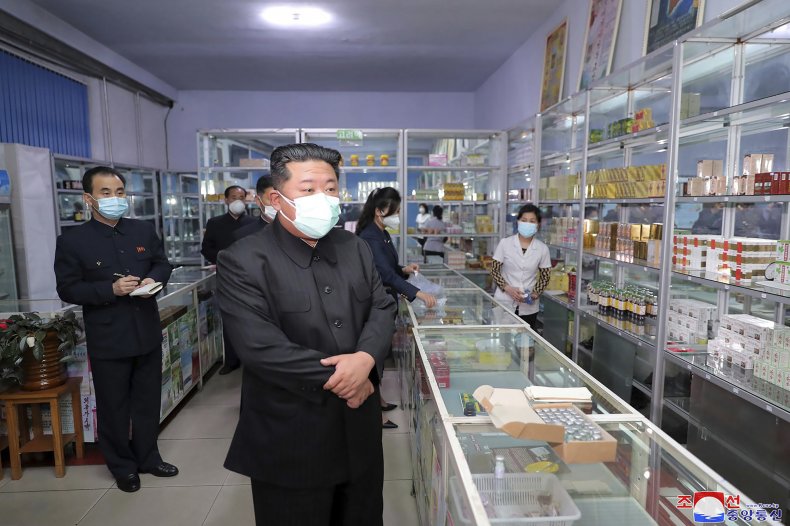 The dubious COVID figures reported by North Korean state media may be an attempt to maintain social stability at a time of great uncertainty, but the decision not to vaccinate the population would've been Kim's conscious choice, now tied to his political legacy for trying to go his own way for more than two years.
Last July, when effective vaccines became available, North Korea rejected shipments of the AstraZeneca shot offered through the WHO-backed COVAX sharing plan, according to reports out of Seoul. Two months later, still insisting it had no infections, Pyongyang then turned down millions of Chinese-made vaccines, UNICEF said.
In the past days, North Korea has ignored offers of help from the WHO, South Korea and China.
WHO chief Tedros Adhanom Ghebreyesus said the UN health agency was "deeply concerned" about the risk of further spread in North Korea, "particularly because the population is unvaccinated and many have underlying conditions, putting them at risk of severe disease and death."
"WHO has requested that the Democratic People's Republic of Korea share data and information," Tedros said. "WHO has offered to provide a package of technical support and supplies, including diagnostic tests, essential medicines and vaccines, ready to be deployed to the country."
A 2021 assessment by the UN estimated around 10.9 million North Koreans—or just over 42 percent of the population—were suffering from malnutrition as a result of a food crisis, which was exacerbated by international sanctions and by Kim's decision to lock down the nation's land borders.
Along with China's sweeping zero-COVID policy, which the WHO believes isn't sustainable, North Korea's no-vaccine approach will raise serious concerns in its neighborhood. The WHO acknowledged that Pyongyang's refusal to begin a rollout was a "governmental decision," but said it had enough vaccine supplies to deliver a variety of choices "as soon as possible."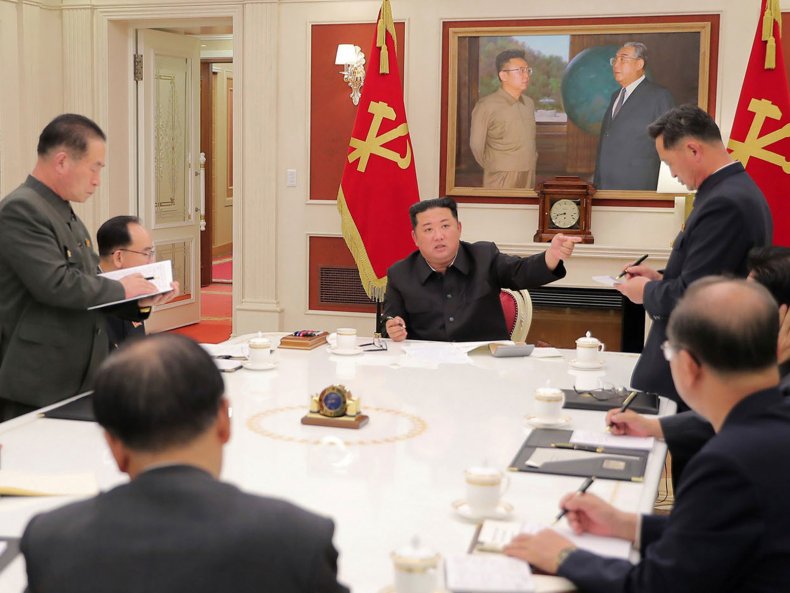 Outside experts believe Kim now faces a dilemma that is political rather than epidemiological. He can either take a hit to his regime's legitimacy by accepting assistance from his neighbors or risk millions of lives by allowing the COVID outbreak to spiral out of control.
Michael Ryan, who runs the WHO's emergencies program, told reporters the UN special agency was ready to help but had "no special powers" to compel North Korea or Eritrea, the only two countries with unvaccinated populations.
"WHO has repeatedly said that where you have unchecked transmission, there's always a higher risk of new variants emerging. Part of that strategy of suppressing infection and vaccinating is—yes—to save lives in terms of reducing hospitalization and deaths, but also to keep pressure on the virus so we don't see the same rate of evolution of the virus around the world," said Ryan.
"So certainly, it's worrying, if countries ... are not using the tools that are now available," he said.
"It would be clearly of interest to surrounding states and other states to work with both countries to encourage them to take the action necessary to protect their population, and by extension to protect populations in countries around them. But WHO bears no particular power and would not, and cannot, intervene in a sovereign state without the express wish and intent and invitation of that state," Ryan said.