Manchin Admits His Brand of Democrat is a Losing Strategy
Senator Joe Manchin acknowledged that moderate Democrats like himself are seemingly less popular among voters these days as he addressed a series of recent wins for progressives.
"The bases are looking for something that's more sensational, I guess, and more divisive," Manchin told CNN's Manu Raju about Rep. Conor Lamb's loss in Pennsylvania and Rep. Kurt Schrader's likely loss in Oregon.
Establishment Democrats were dealt a blow in Tuesday's primaries after progressive challengers appeared to edge out their more centrist rivals in a number of races.
In Pennsylvania, Lt. Gov. John Fetterman, who backed Senator Bernie Sanders' 2016 presidential run, easily won the Democratic primary against Lamb with nearly 60 percent of the vote. The Senate race in Pennsylvania has been one of the most-watched races this year, albeit there has been more focus on the GOP primary that features a Trump endorsement.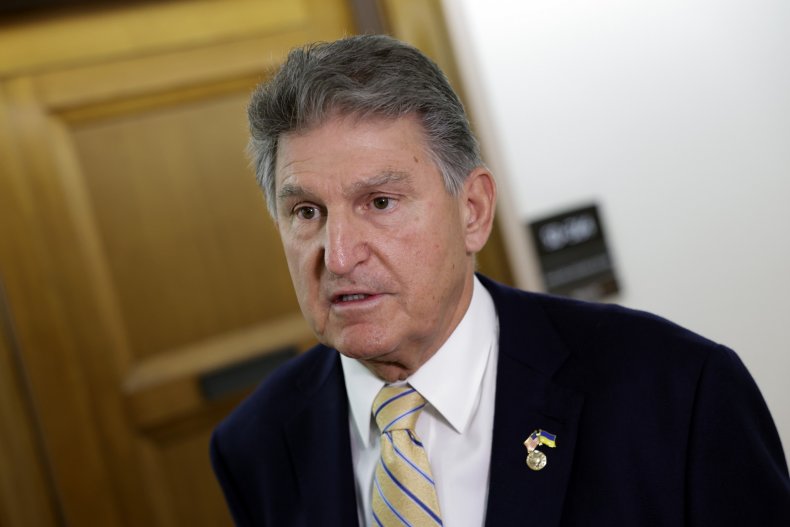 Fetterman ran on a campaign as a foil to moderates like Manchin and Sen. Kyrsten Sinema by pledging to "always be that 51st vote"—a cheeky nod to the senators' past of stalling the Democratic agenda in the evenly-divided senate. He also supports eliminating the filibuster, which is one thing Manchin and Sinema have refused to do despite pleas from their party.
Asked about Fetterman's remarks that he's "no Joe Manchin," the West Virginia senator said, "I always said to get to know me is to like me."
Labor activist Summer Lee, the progressive favorite who rallied with Sanders last week, is also holding onto a narrow lead over moderate Steve Irwin in Pennsylvania's 12th Congressional District. She is expected to join the House's so-called "Squad," alongside Representatives Alexandria Ocasio-Cortez and Ilhan Omar, if she wins the general election.
In Oregon, Democrats are preparing for Schrader to lose in a close congressional race against progressive Jamie McLeod-Skinner. With just over half of the ballots counted, McLeod-Skinner is leading with 60 percent of the vote.
The race had been anticipated to be another standoff between a centrist Democrat and a progressive one, with Schrader earning both President Joe Biden and House Speaker Nancy Pelosi's endorsement and McLeod-Skinner receiving Senator Elizabeth Warren's backing.
Schrader, whose rival dubbed him the "Joe Manchin of the House," has notably voted against some of the party's priorities—a record McLeod-Skinner capitalized on during her campaign.
"He's fought negotiating lower drug prices, raising the federal minimum wage, and forgiving debt for college loans," McLeod-Skinner told Pamplin Media Group. "When he does vote with Democrats, it is often after working to water-down the original ideas."
When asked about her lead over the president's candidate, White House Press Secretary Karine Jean-Pierre said Biden was not worried about the weight of his endorsements, saying that "Both candidates were running on a platform that supported, embraced the president's agenda."