You Shouldn't Be Surprised That Adam Sandler's 'Ridiculous 6' Is the Most-Streamed Netflix Film Ever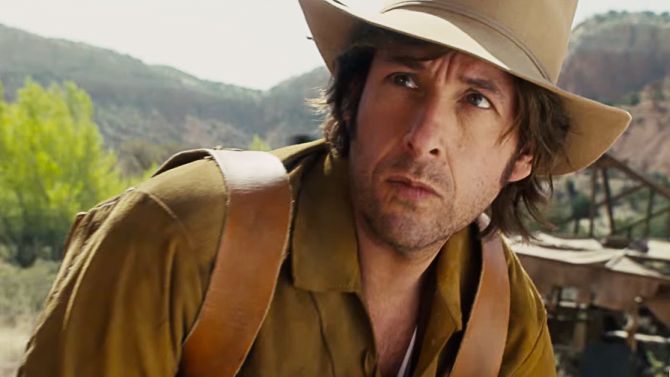 You may have heard by now that Adam Sandler's latest film, The Ridiculous 6, which was released exclusively on Netflix, drew the highest opening streaming numbers in the service's history. Yes, it's true.
"The Ridiculous 6, by way of example, in the first 30 days on Netflix it's been the most-watched movie in the history of Netflix," Chief Content Officer Ted Sarandos told reporters this week at the Consumer Electronics Show in Las Vegas. "It's also enjoyed a spot at No. 1 in every territory we operate in, and in many of them it's still No 1."
This is surprising not only because of the racism controversy that bubbled up during the film's production but also because of its piss-poor reviews. A month after its release, The Ridiculous 6's Rotten Tomatoes rating is holding steady at 0 percent.
Considering I've never seen a 0 percent rating before, I assumed that because it was not released in theaters, it didn't register in the Rotten Tomatoes database. I was wrong. Twenty-eight critical reviews have been posted, and every single one of them is negative. "An overly-dumb, obvious, often lazy, obtusely offensive Wild West farce," wrote Matt Fowler of IGN. "Thanks for nothing, Netflix," wrote Richard Roeper.
Big box-office numbers and low critical scores have been a hallmark of Sandler's career as a big-screen star. All those movies we see previews for and laugh off as garbage are actually killing it financially. Let's look at Sandler's 10 biggest blockbusters since 2004, according to Box Office Mojo.
1. Grown Ups (2010): $162,001,186
2. The Longest Yard (2005): $158,119,460
3. Click (2006): $137,355,633
4. Grown Ups 2 (2013): $133,668,525
5. 50 First Dates (2004): $120,908,074
6. I Now Pronounce You Chuck And Larry (2007): $120,059,556
7. Bedtime Stories (2008): $110,101,975
8. Just Go With It (2011): $103,028,109
9. You Don't Mess With the Zohan (2008): $100,018,837
10, Pixels (2015): $78,747,585
The average Rotten Tomatoes rating of these 10 films? A whopping 20.9.
So what gives? Sandler obviously has broad, mainstream appeal, but unlike other box-office smashes, Sandler's films cater almost exclusively to people who are not "plugged-in" media mavens who take pride in participating in a conversation about what we should be paying attention to.
Does Sandler care that critics are shitting on his movies? Of course not, because no one pays attention to critics anymore except other connoisseurs of the culturally relevant. This demographic has been circumvented entirely, and fortunately for Sandler's bank account, it's a demographic that represents a pretty small percentage of the moviegoing public.
The vast majority of Americans don't see movies because they are culturally relevant or because they want to be "part of the conversation." In fact, they go to the movies specifically because they don't want to think about these sorts of things. They go because want to forget about reality for 90 or so minutes. They go because they want to be entertained. They go because they want to take a load off and laugh at stupid antics and stupid jokes, often with their kids. No one has provided America with more opportunities to do this over the past 20 years than Adam Sandler.