Adam Schiff Says Mistake to Presume Americans Have Full Picture on Capitol Riot Incitement
Democratic Representative Adam Schiff of California said it would be wrong to assume that every American has a full picture of the events that led to the Capitol mob riot, ahead of former President Donald Trump's impeachment trial in the Senate.
During a Sunday appearance on NBC News' Meet the Press, host Chuck Todd asked Schiff what he thought was the biggest challenge for impeachment managers considering that many Americans witnessed the narrative that led to the insurrection on January 6.
"We may think that all the senators and American people know all the facts," said Schiff. "But in fact, when you look at the whole chronology of what the president did in the weeks and months leading up to January 6, his efforts to reject to the outcome if he lost,... Many Americans and indeed many senators may not be familiar with all those facts that led up to that incitement of that mob."
"So you can't presume that either the Senate or the country are aware of all the facts," Schiff added. "You really need to present that full picture and I'm confident that they will."
Schiff is the chair of the House Intelligence Committee and was the lead manager for Democrats during Trump's first impeachment in early 2020.
When asked about his opinion on witnesses during the trial, Schiff said: "We have the unusual circumstance where on the very first day of the trail when those managers walk on the floor of the Senate, there will already be over a hundred witnesses present, and those will be the House and Senate members."
"Whether you need additional witnesses will be a strategic call for the House managers," Schiff continued.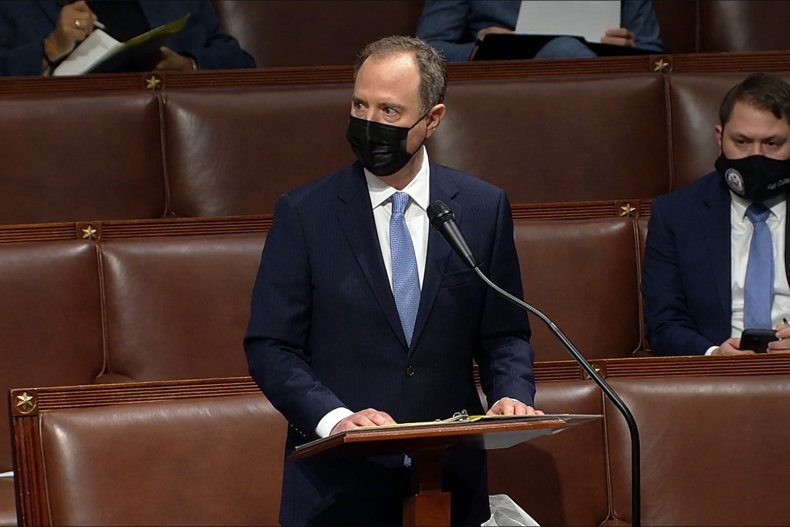 Trump became the first president to be impeached twice by the House of Representatives on January 13 for his role in inciting the insurrection that occurred at the U.S. Capital seven days earlier. The former president's Senate trial begins on Tuesday.
According to a Sunday ABC News/Ipsos poll, 56 percent of Americans believe that Trump should be convicted and never hold federal office again. Public support of Trump's conviction by the Senate is higher now than during his first impeachment in early 2020.
For Trump's conviction to pass, 67 senators must vote in favor of the impeachment, meaning that 17 Republicans would need to join Democrats in supporting Trump's conviction.
If enough senators vote to convict Trump, the chamber would then hold a second vote to determine whether or not to bar him from holding federal office again in the future.
Newsweek reached out to Schiff's office, but didn't hear back in time for publication.